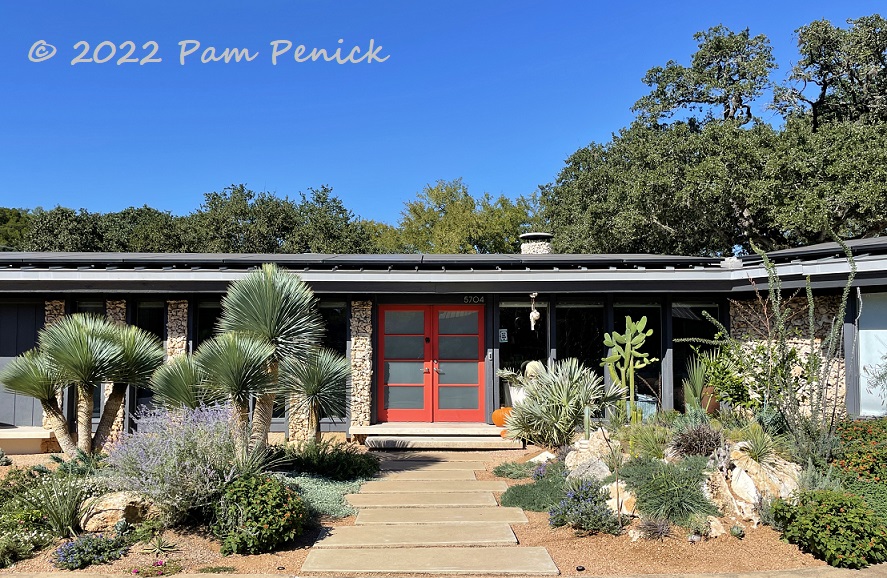 January 18, 2022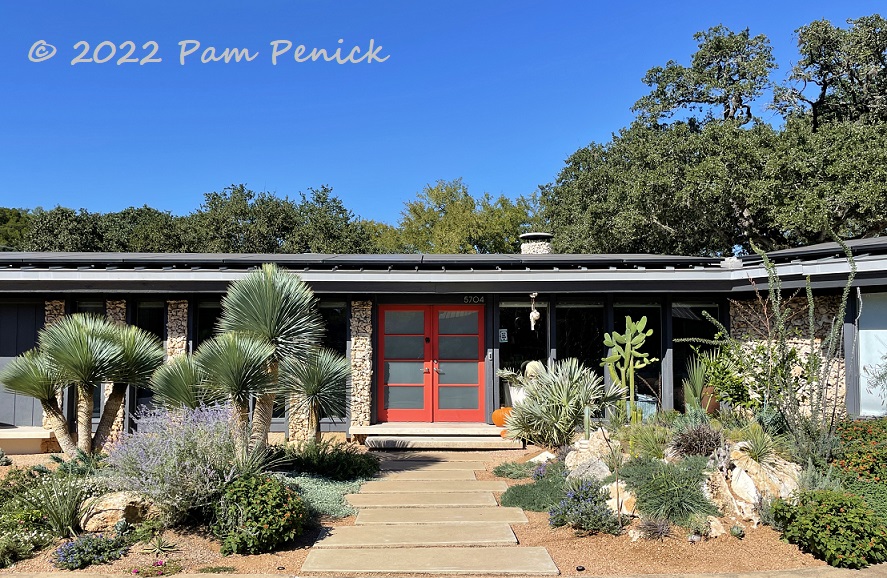 At the end of October, when Loree of Danger Garden was in town for her Garden Spark talk, we finagled an invitation to the tropicalesque garden of John Ignacio. John in turn introduced us to his friend and neighbor Coleson Bruce, who kindly allowed a couple of strangers to come see his Austin-meets-Palm Springs garden near Bull Creek in northwest Austin.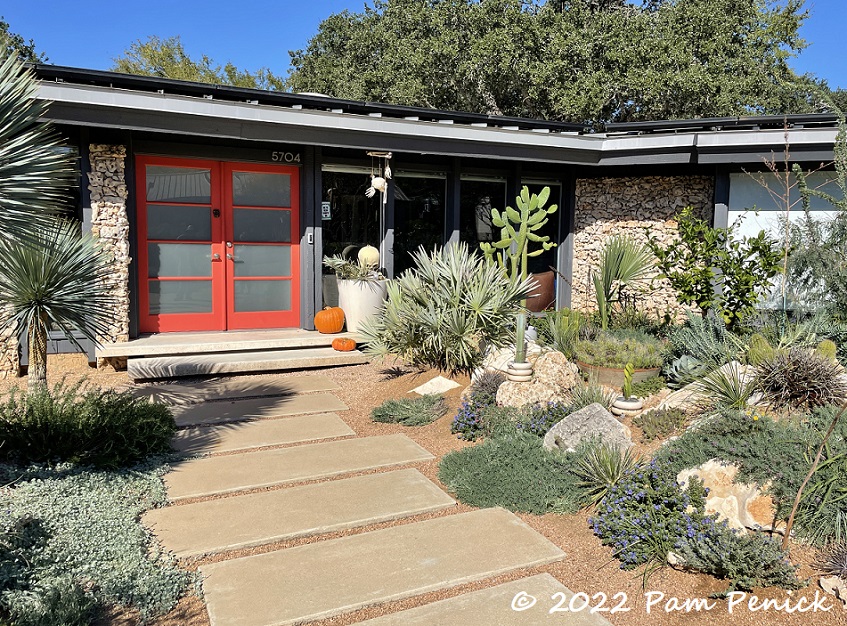 A few things make this one of the more special gardens I visited last year:
Two artfully constructed and Texas-appropriate crevice gardens anchor the front yard. I've seen a few crevice gardens in private gardens in Colorado and at botanical gardens (including Denver, Betty Ford, and Kew), where the focus is on alpine plants. But I'd never seen a large-scale crevice garden in Austin, nor one with plants that can thrive in our brutally hot summers plus humidity plus occasional killing freezes.
The garden was built during an intensive, 6-month collaboration between friends, and who doesn't love to see that? John shared his extensive plant knowledge, expertise, and even his plants, and Coleson — a busy lawyer with a young family, who'd never picked up a trowel — soaked it up like a sponge and applied his own artistic eye toward making it spectacular. The two did the work themselves, even placing the largest rock slabs in the crevice gardens.
Coleson's house sits high across the road from Bull Creek, and beyond the creek, the tall limestone bluff of the Balcones Escarpment is visible. Also, the midcentury house is uniquely faced with fist-sized, honeycomb limestone rock (often called holey rock). Both the natural and manmade rockwork make the stone-heavy crevice gardens feel inevitable rather than plunked down in a softer landscape.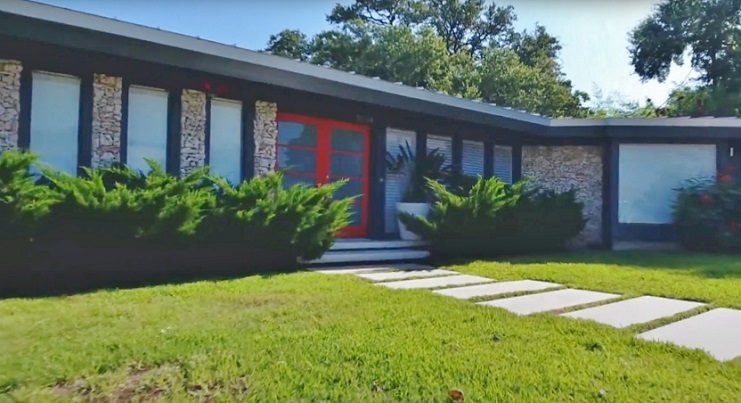 To see where Coleson started, here's a 2016 image from a realtor listing, before he moved in. Shaggy junipers crowd the foundation, and otherwise it's just uninspiring lawn. The modern, concrete-slab walk and floating steps remained, but everything else got pulled out.
Island crevice garden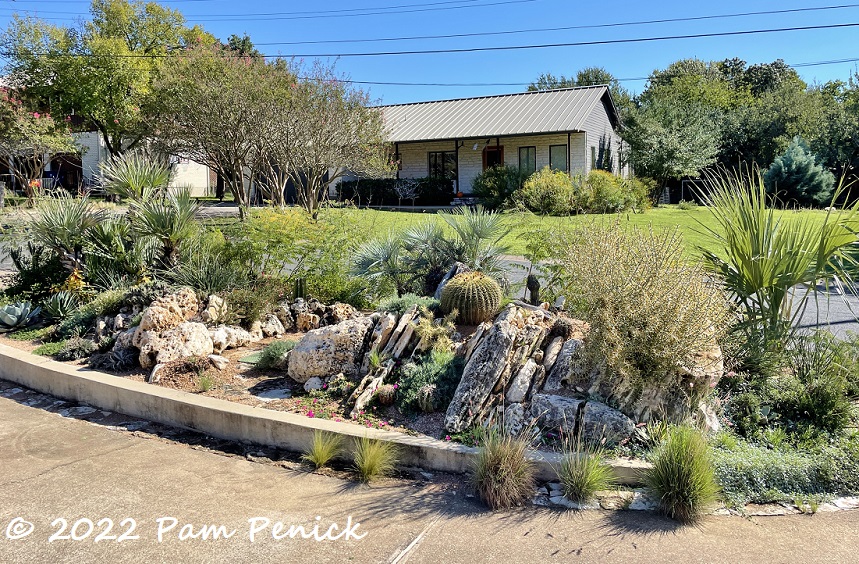 Let's turn around to see what visitors see when they first arrive: a large crevice garden in a canoe-shaped island bed between the circular drive and street. Palms dot the outer edge of the bed, presumably to screen the road as they grow.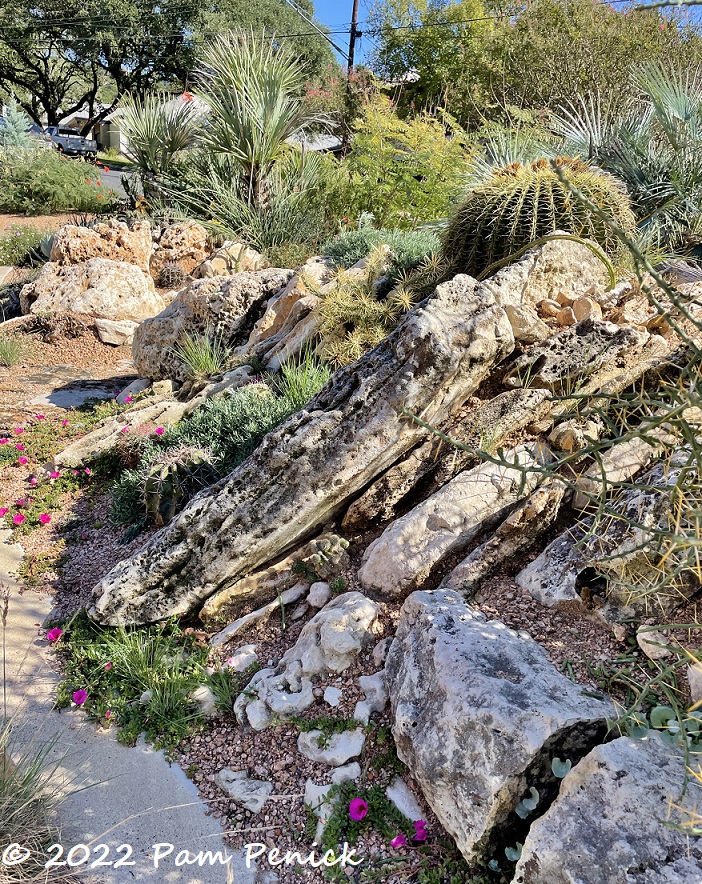 Uplifted slabs of limestone nestle on the diagonal, with chunks of holey rock and decomposed granite filling the gaps. Barrel cactus, cholla, little grasses, and moss rose (portulaca) soak up the Texas sun and thrive with roots dug into the cool crevices.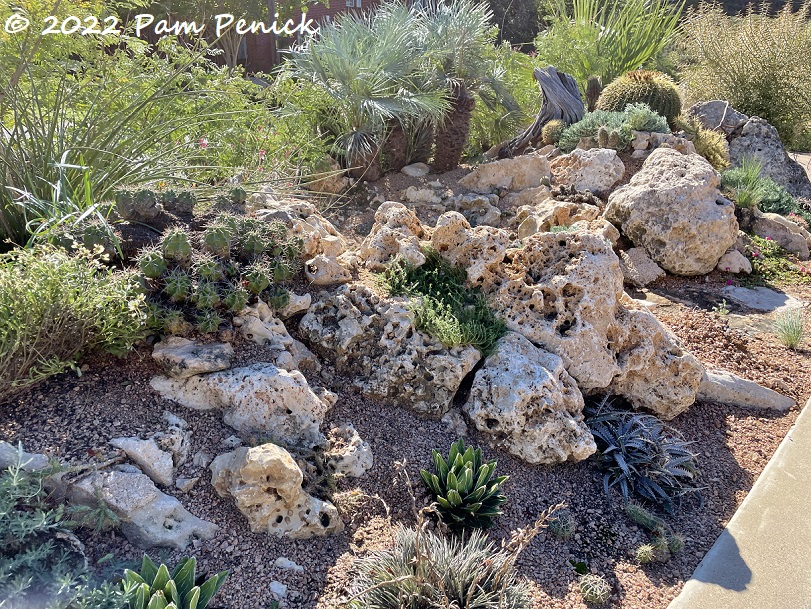 I asked Coleson what inspired his vision for the garden, and I'll quote from his detailed reply:
"I have some background in desert biology (having lived in the Mojave over 20 years ago as an assistant park ranger) and in sculpture (working with bronze and clay, purely as a hobby and creative outlet). The desert rat and sculptor in me were drawn to the idea of, in essence, a succulent-heavy rock sculpture.

I have vivid memories of working in the granite mountain range of the Mojave, where from a quarter-mile away the fluorescent flowers of a single echinocereus (claret cup or hedgehog cactus) mound would seem to light up a whole valley. Having a touch of that outside my front door was certainly part of the garden's vision. Each of my two crevice gardens prominently feature their own giant echinocereus mound, and by no accident!"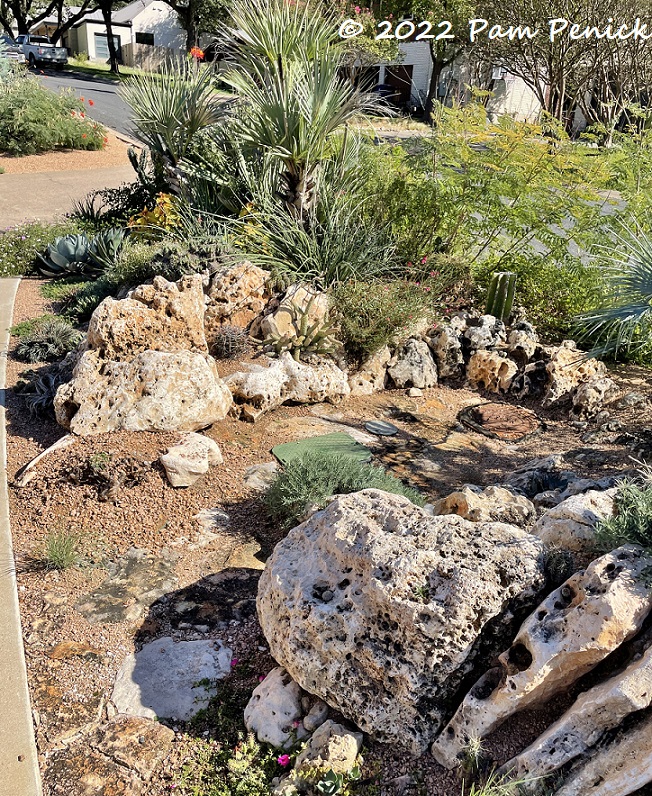 In the center of the bed, I noticed a clever solution to a common gardening obstacle, irrigation valve boxes or water meter lids: leave access so maintenance can be done and workers don't crush your plants, and build rock edging around it.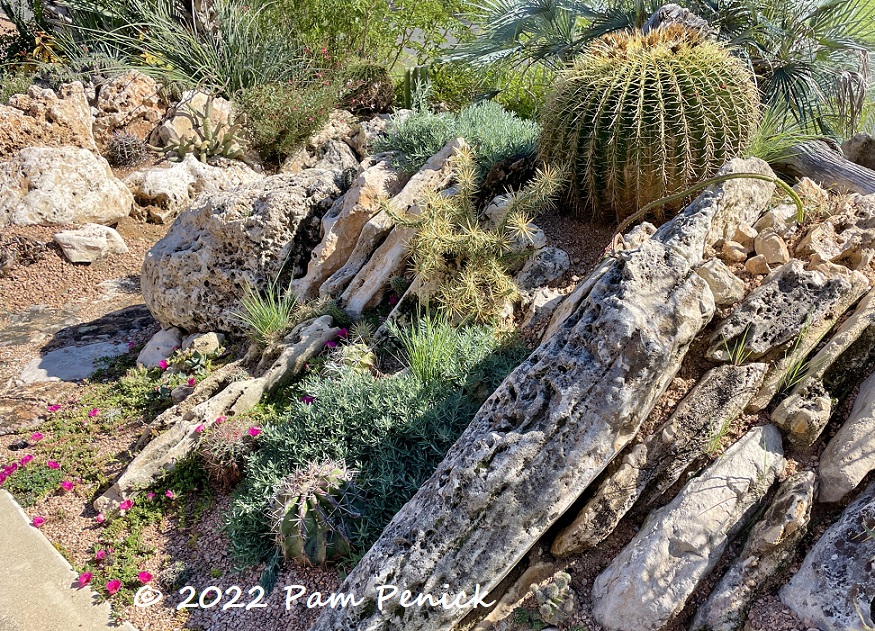 I asked Coleson how he learned to construct his Texas-style crevice gardens, and he explained:
"Around 2018 John introduced me to the idea of crevice gardens, and after that the vision of a crevice garden in my front island rattled around my head. I dived into YouTube. Several prominent names in crevice gardens have online videos regarding construction techniques, theory, etc. While attracted to the traditional alpine focus in both stone and plant selection, I wanted (or needed) a more Central Texas version. So I took what I'd learned and pivoted toward desert plants and Texas limestone rockwork.

The two crevice gardens in my yard collectively incorporate a few tons each of Texas limestone, with stones ranging from fist-sized to a quarter-ton. The larger stones were delivered as near as possible by forklift. From there the rocks were put in their final positions by equal parts ingenuity, manpower, and poor judgment. At one point there was a two-week break to allow my back to heal from some bad decisions. 

On the topic of rockwork and crevice construction, there's a secret I learned and would like to share: you must be willing to take it all apart and start over. A few times after I'd built significant portions of the rockwork, I'd sleep on it and later realize it simply wasn't correct, aesthetically. I'd tear apart the offending portions and edit. Once or twice, out of laziness, I'd try and ignore an issue, and then John would inevitably say, 'Does that look right?' thereby confirming my private suspicions and also motivating me to get it right. Looking at my garden today, I can see in my mind a dozen prior variations that, had I not been willing (or convinced) to bust apart and start over, would have resulted in a lesser garden."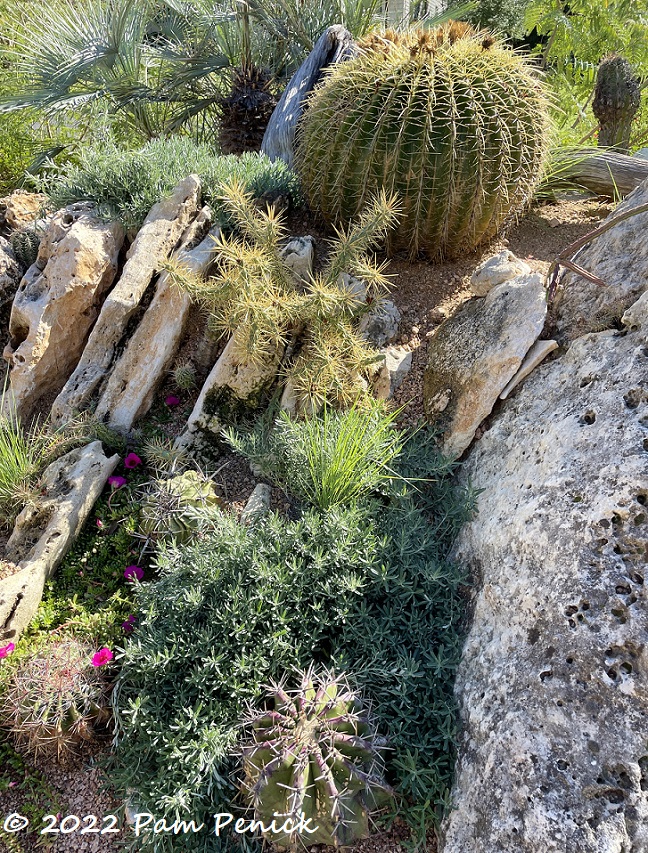 In addition to cacti hardy to our zone 8b, the crevice gardens include…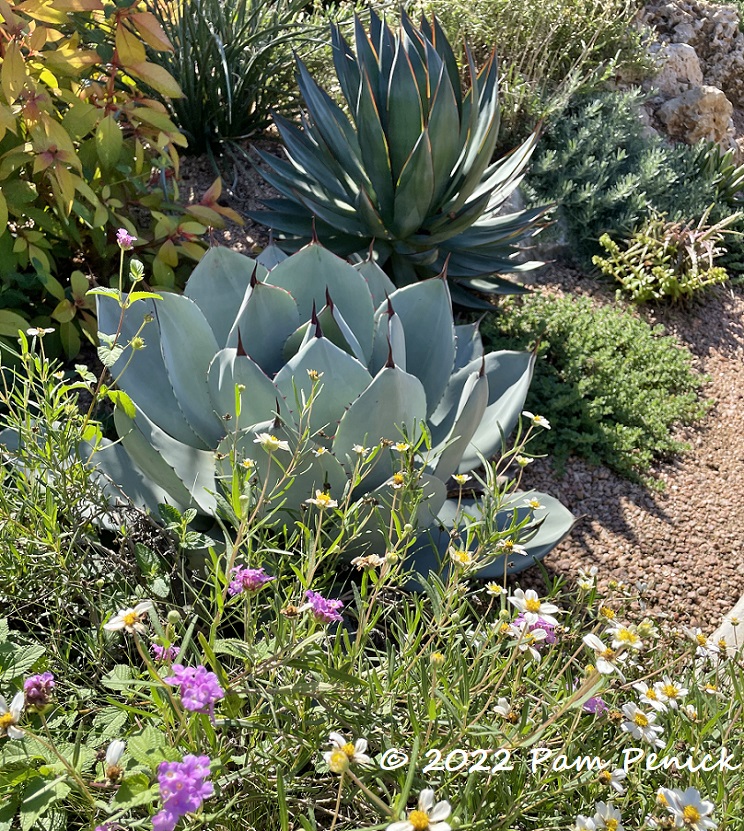 …small agaves like artichoke (A. parryi var. truncata), 'Blue Glow', and 'Quadricolor', as well as heat-loving perennials like blackfoot daisy, firebush (Hamelia patens), purple trailing lantana, and silver ponyfoot.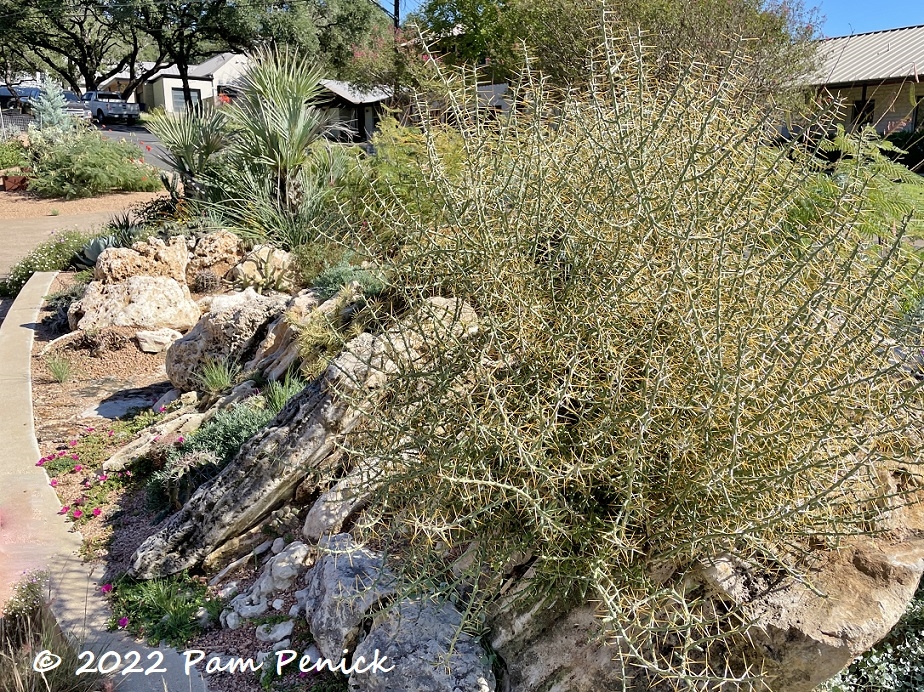 I'd never seen golden-spined Christmas cholla, also called tasajillo (Cylindropuntia leptocaulis) — except at John's garden, of course.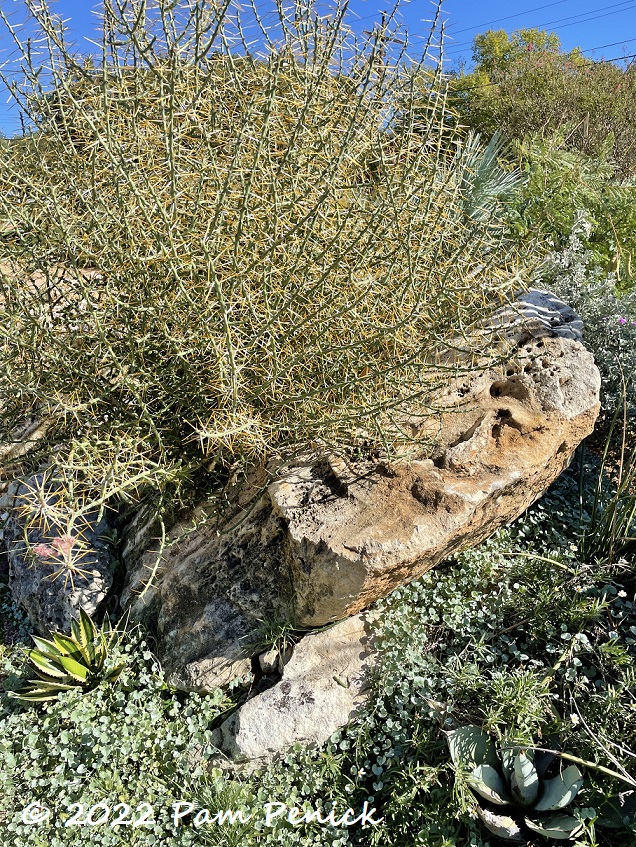 Coleson says John shared plants with him freely:
"I 'inherited' a significant portion of my plants from John. His home and his thousands of square feet of greenhouses have for decades been the academic collection of a mad plant scientist. So, while constructing my gardens, we were often just 'shopping' through John's gardens and walking them a few streets back into my yard. I view my gardens as an extension of his collection."
Desert-style entry garden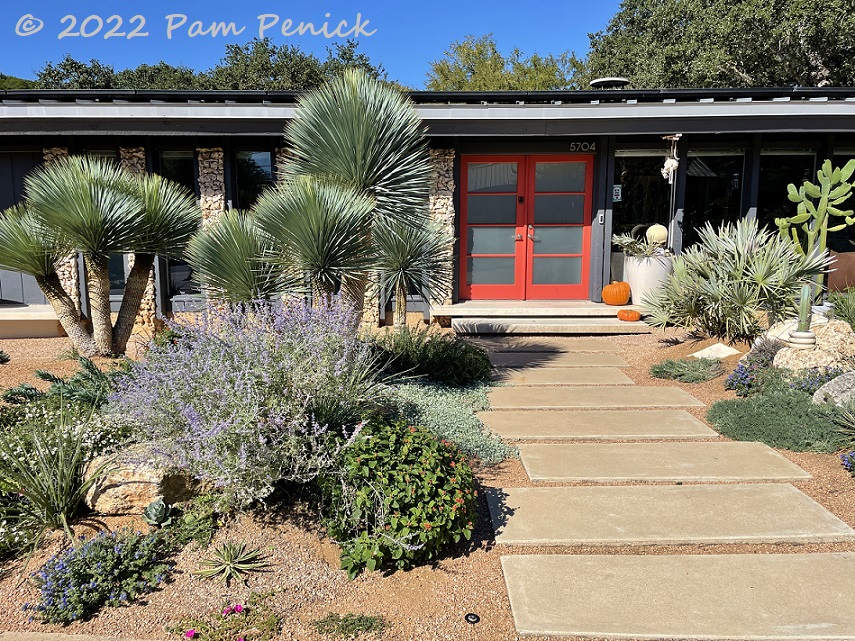 If you can tear yourself away from the island crevice garden, another awaits you to the right of the red front doors. It's balanced on the left by bristling Yucca rostrata softened by salvia, lantana, gopher plant, blackfoot daisy, and silver ponyfoot, all mounded up with limestone boulders.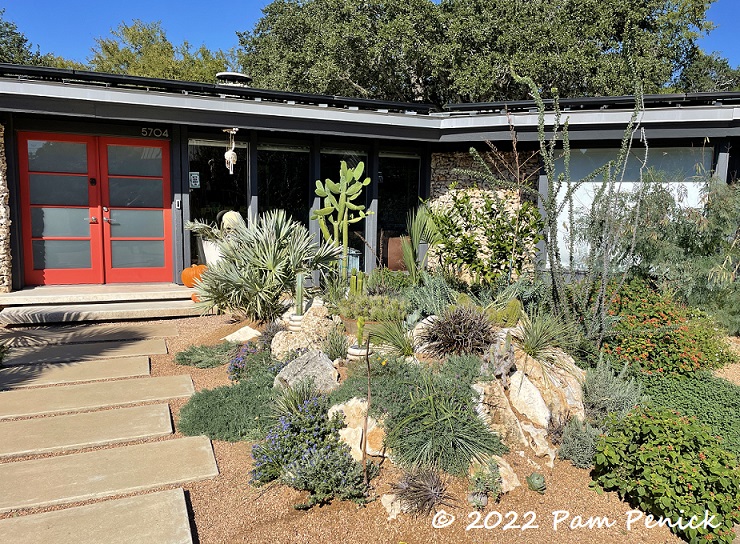 Coleson cheerfully admitted that he'd pulled apart this entire crevice garden after his first attempt felt off to both him and John.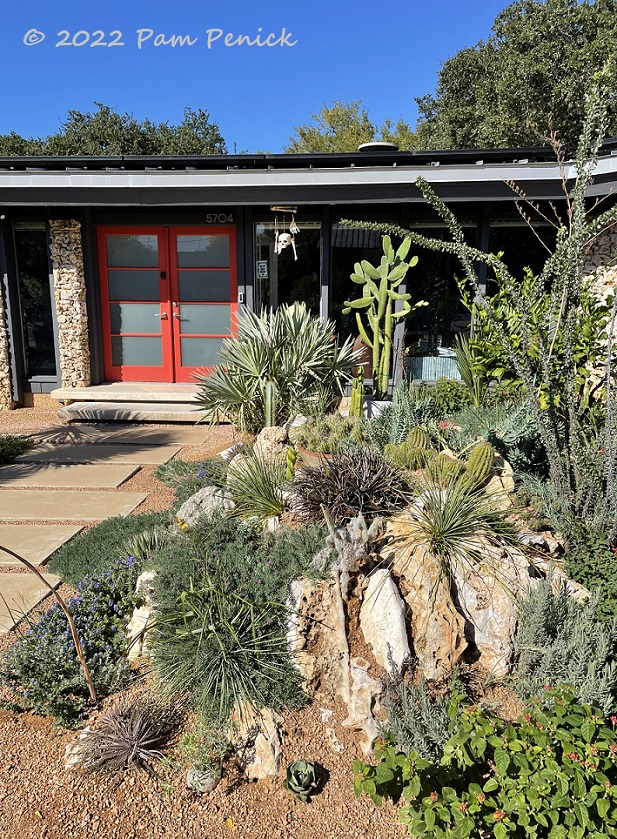 If I recall correctly, he told us he'd originally lined up the vertical rocks parallel to the driveway, rather than perpendicular to it as they are today. But when he realized it wasn't right, he tore it out and rebuilt it. That's pride of craftsmanship.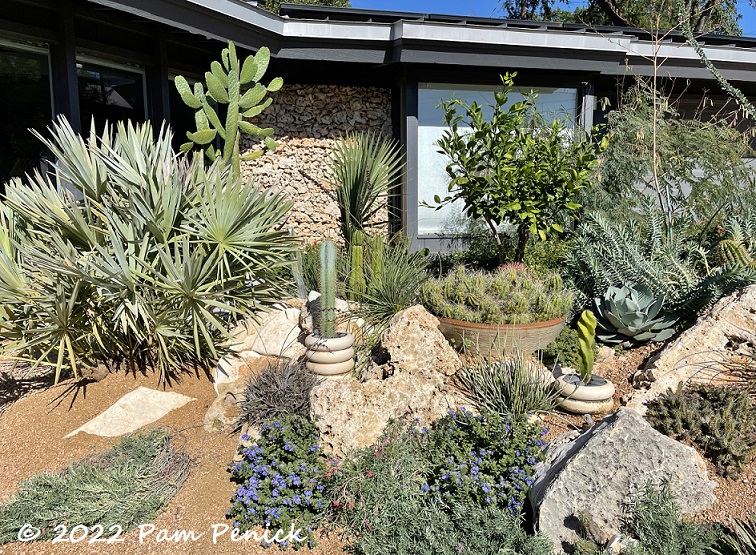 I believe John said that's a blue saw palmetto (Serenoa repens) at left. It's even prettier with that upright, skinny prickly pear behind it. Containers tucked among the rocks hold other interesting desert plants, like blue torch cactus, claret cup cactus (I think) in the big round planter in the middle, and spiral cactus.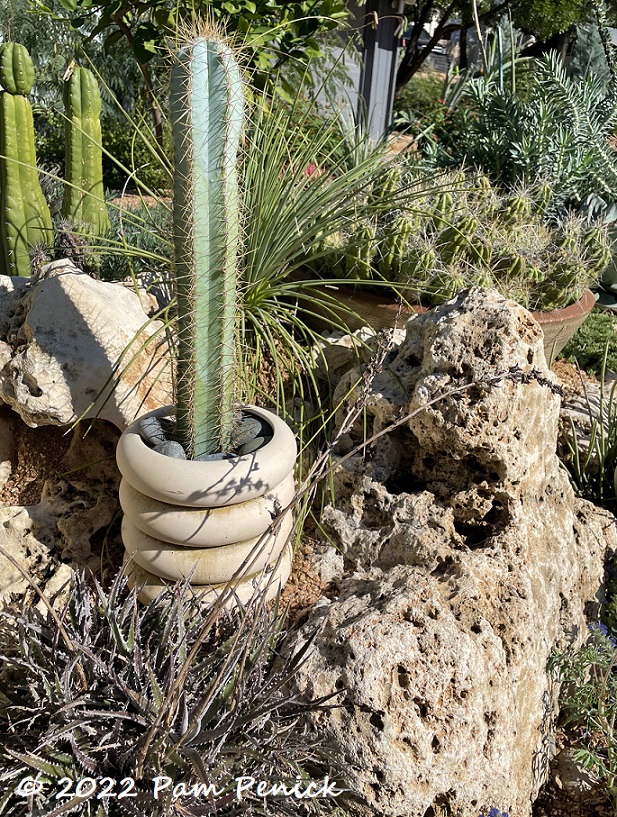 Blue torch cactus (Pilocereus azureus) with dyckia in front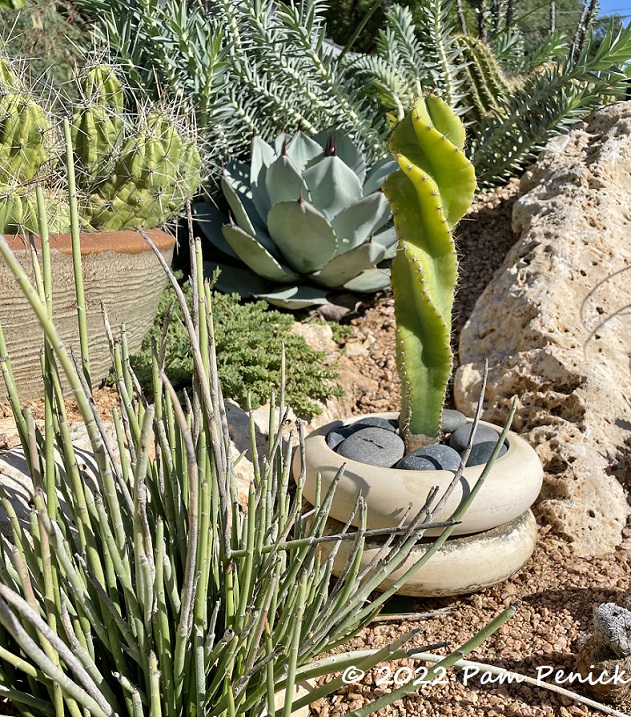 Spiral cactus (Cereus peruvianus 'Spiralis')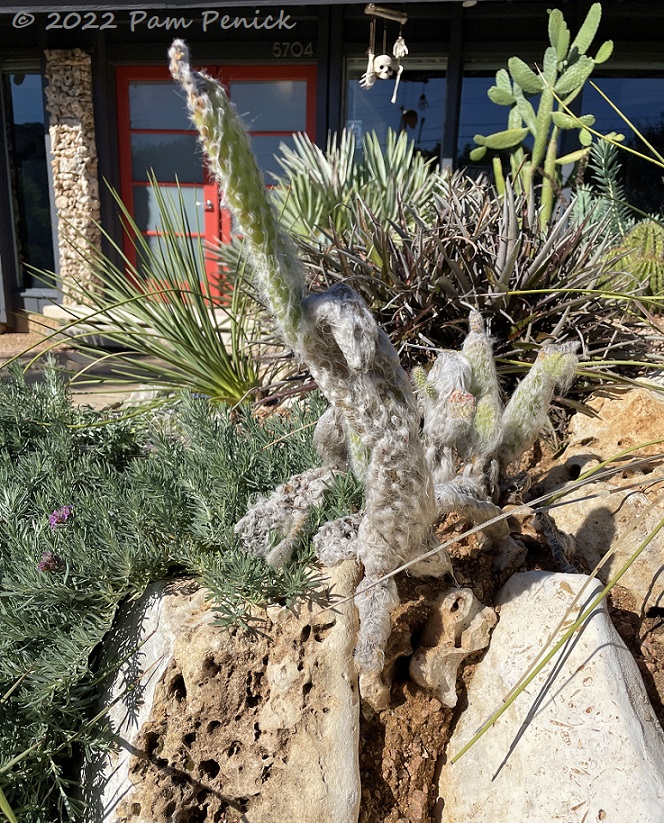 A woolly opuntia makes itself at home in a crevice. On the porch, a dangling skeleton (I visited in late October) echoes its ghostly hue.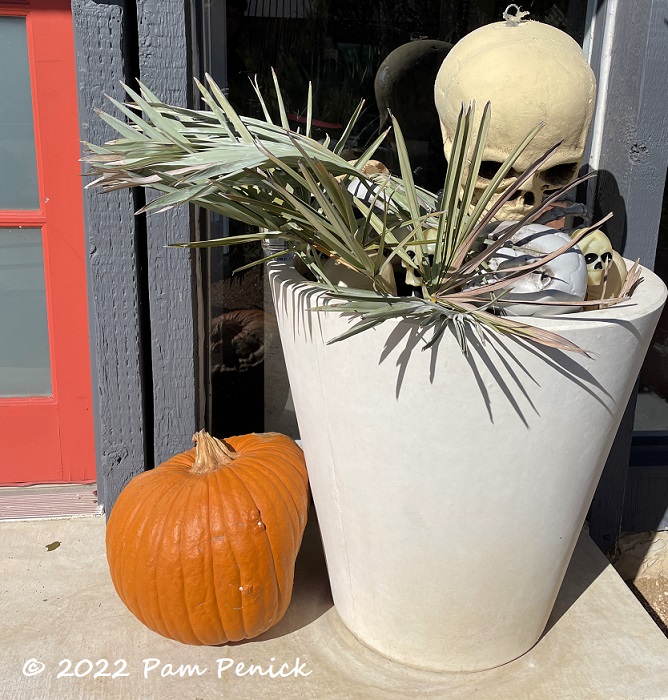 Speaking of skeletons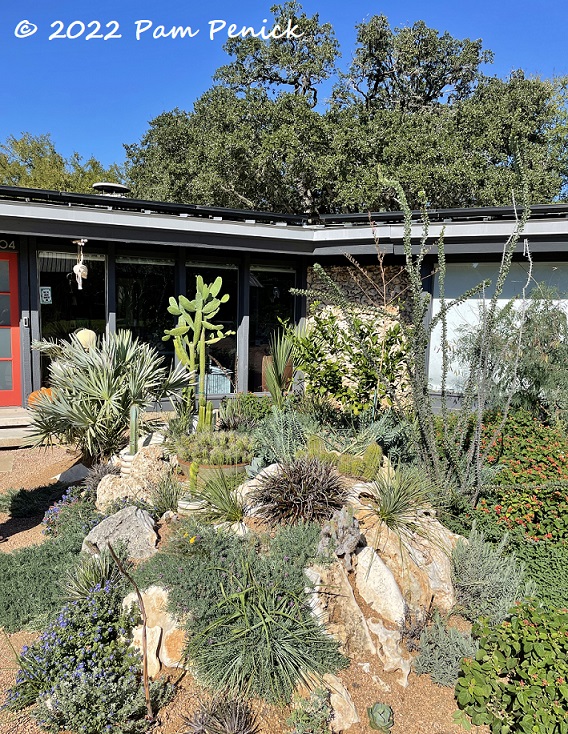 I'm surprised to see as many ocotillo — a plant native to the high desert — around Austin as I do. Coleson's is one of the happiest I've seen, undoubtedly thanks to the excellent drainage of the rocky garden.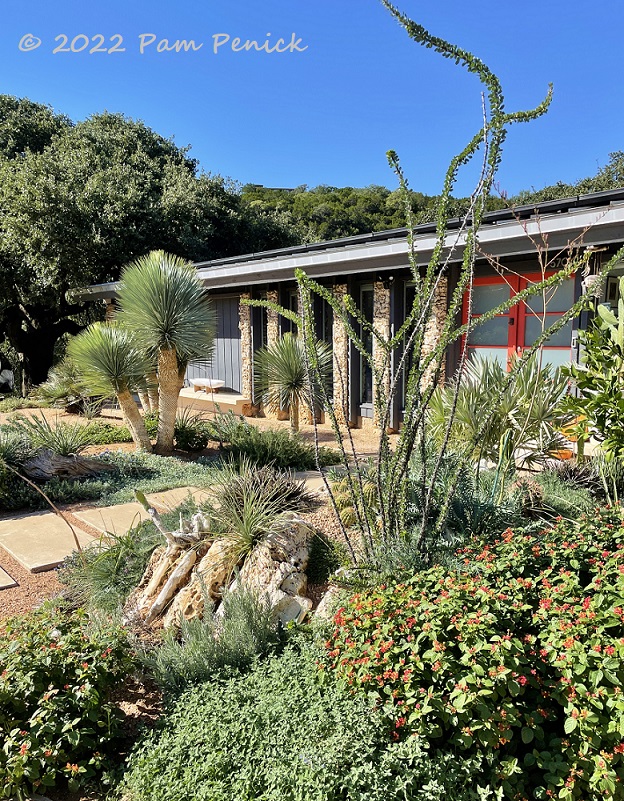 Here's a better view of it.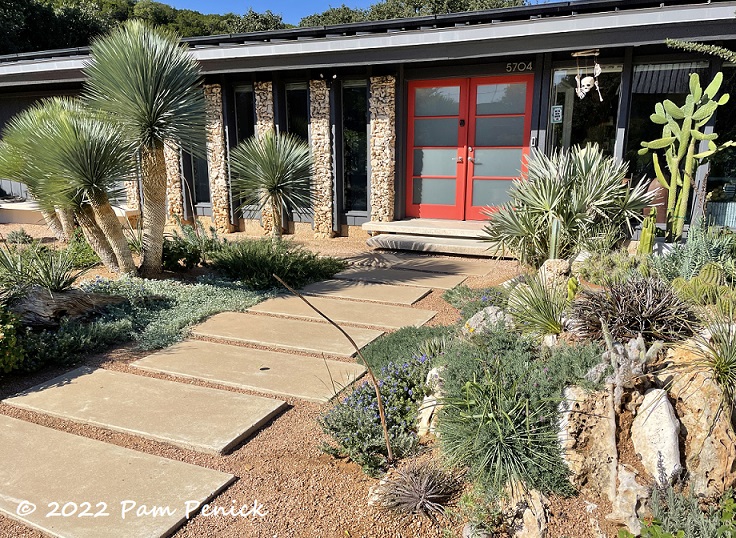 And another of the bristling front walk
A long view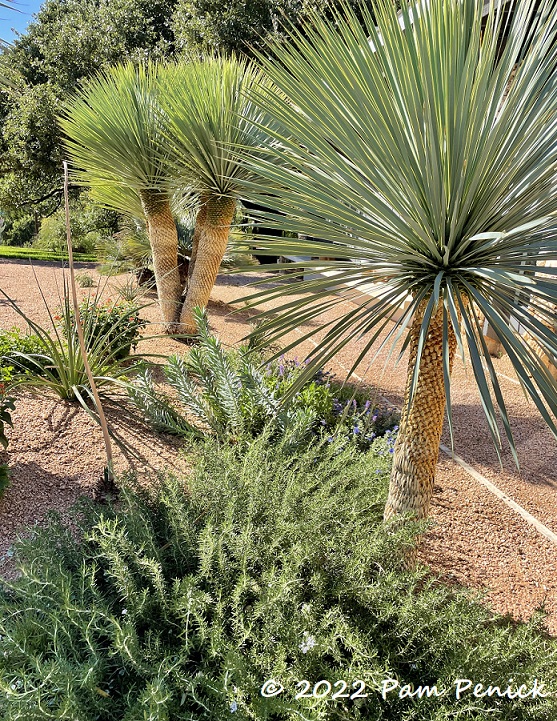 Yucca rostrata and prostrate rosemary
I asked Coleson how his cacti held up after the deep freeze last February. He says, "For the most part, my plant selection leans heavily toward high desert, allowing for both drought and cold tolerance. In a normal winter, I should be able to option out of covering anything, so long as I don't mind some marginal die-back. The few species I display that are not cold tolerant are in pots, so they may be moved indoors in a significant freeze."
Still, his garden was brand-new when the freezepocalypse hit. "I covered the crevice garden cacti with varying sizes of black buckets," he says, "and then finally a series of plastic/blanket covers. My palms lost their fronds temporarily, but by spring I was shocked to find almost everything came back."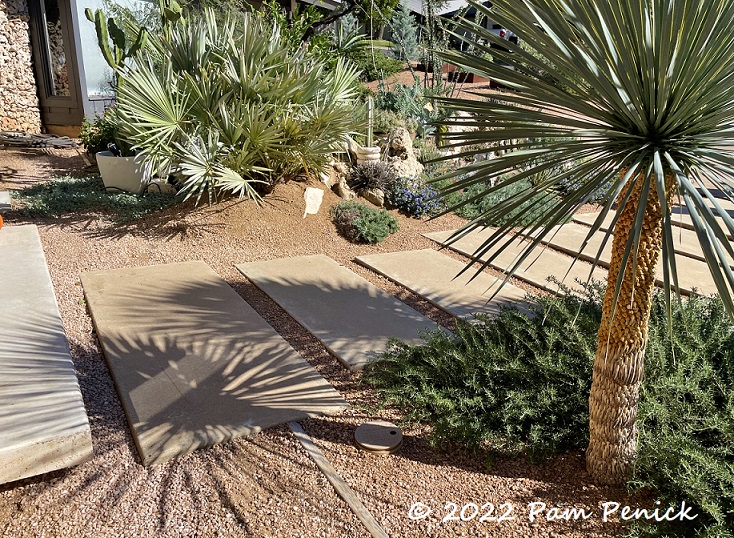 Yucca shadow play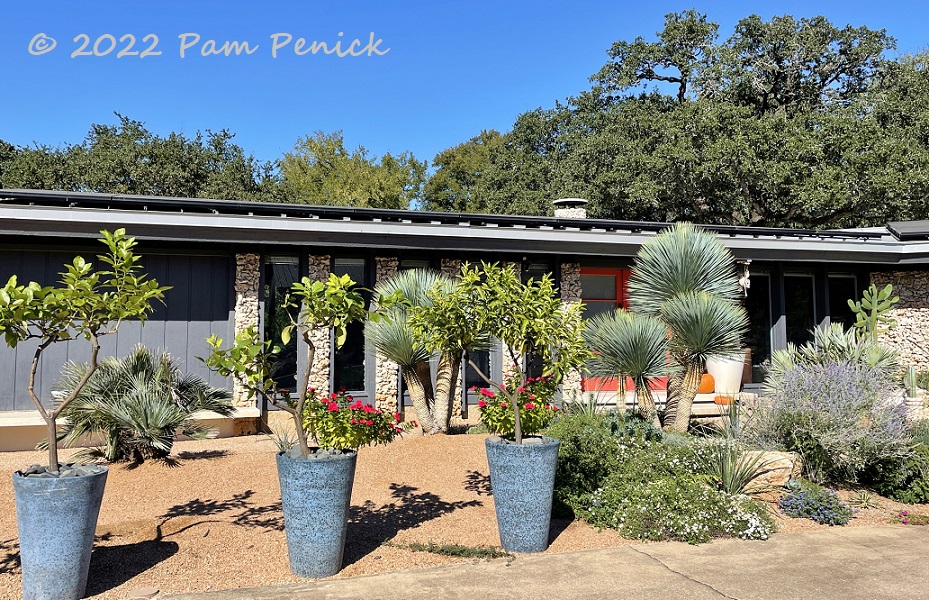 A row of blue pots along the left side of the driveway contain citrus, grapefruit mostly but also a mandarin orange.
Steel planter screening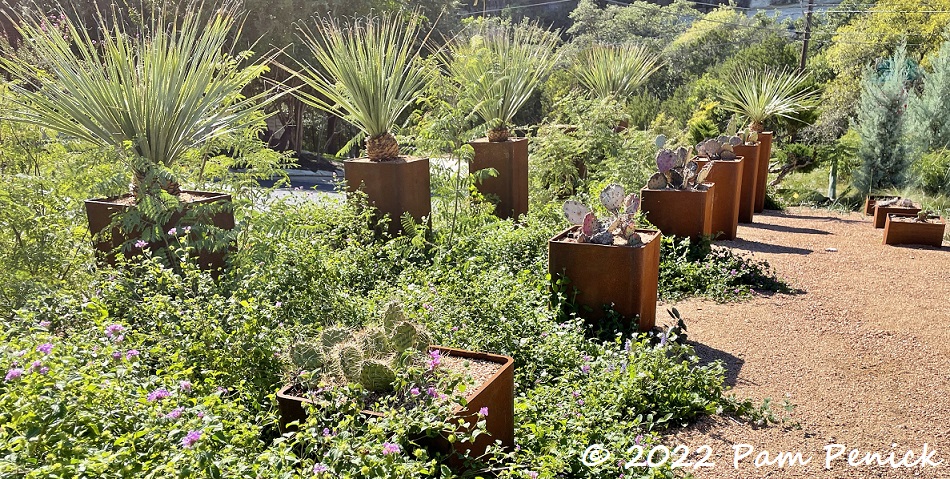 Beyond the driveway, Coleson's front yard extends on a downhill slope along the street. He and John found these rusty metal containers, lined them up in staggered rows, and planted them up with sotols, purple prickly pear, and other cacti.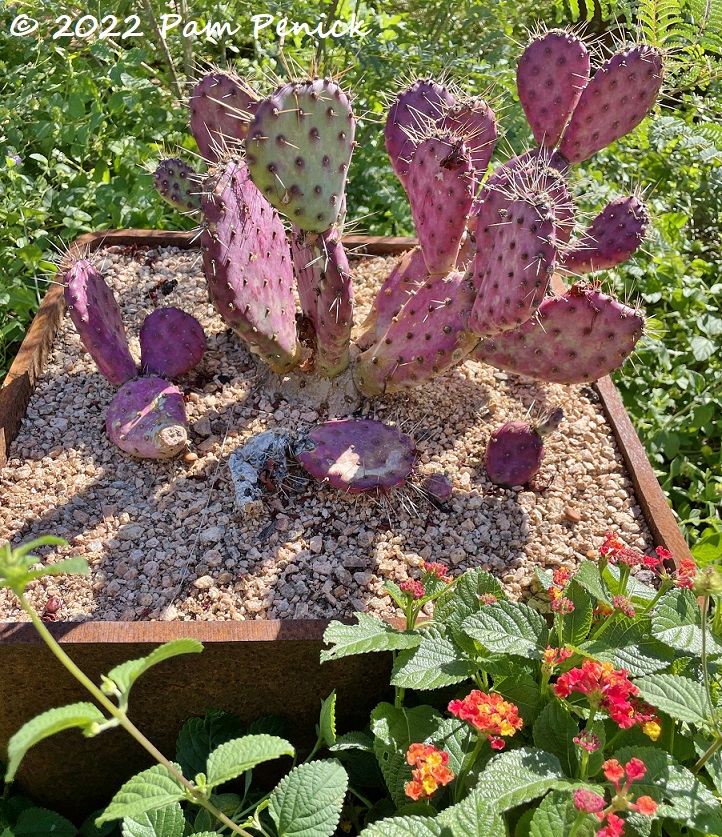 Brilliant coloring on the opuntia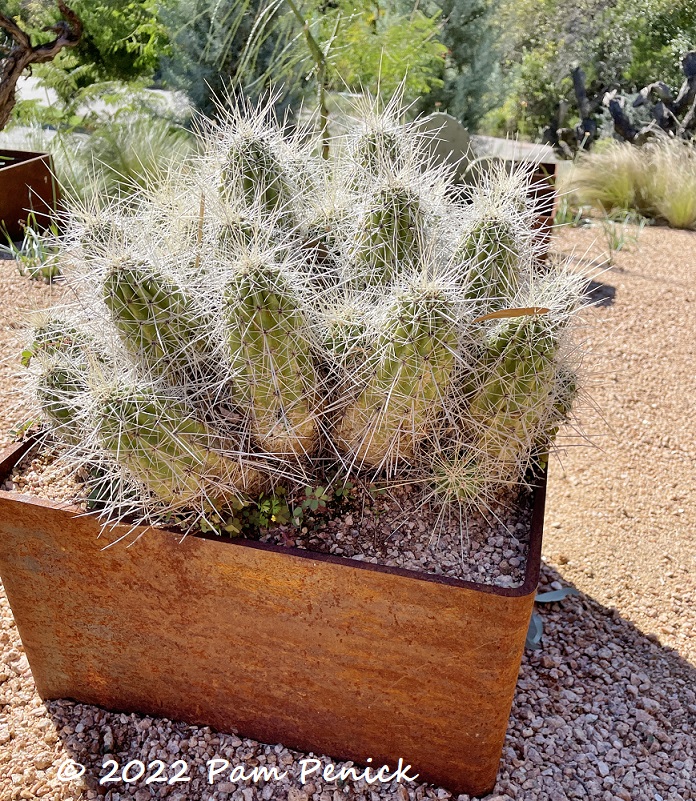 More hedgehog cactus in one of the shortest containers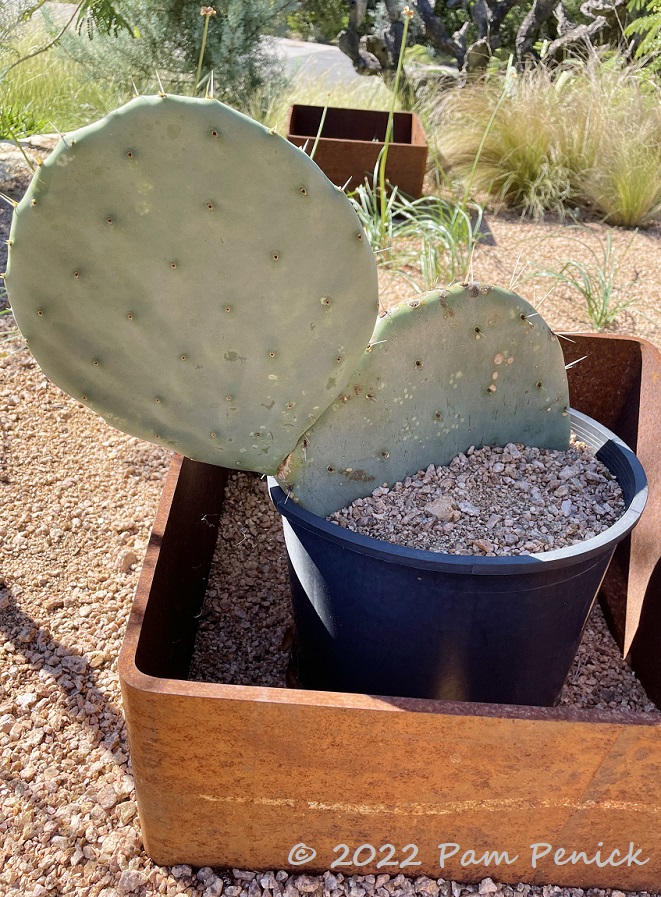 And a lovely, round opuntia waiting to be planted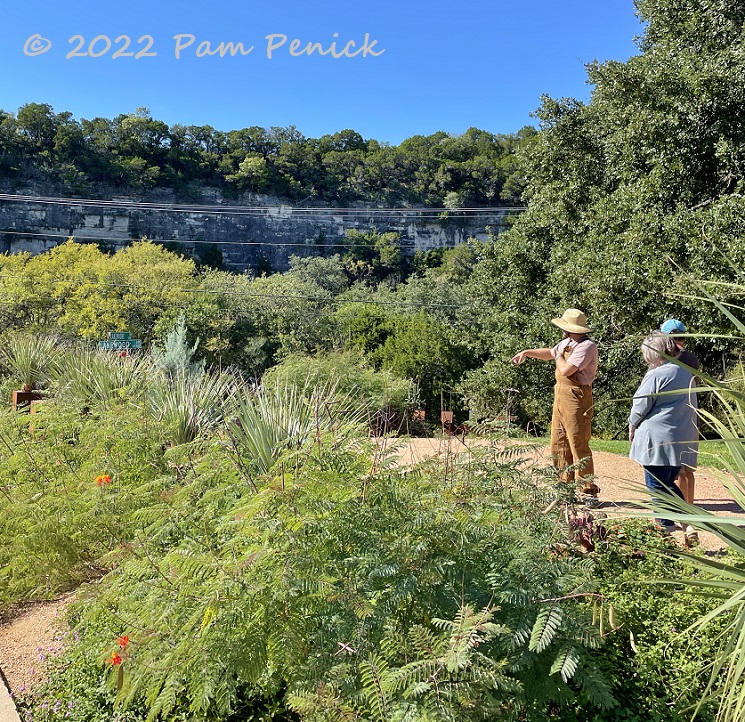 That's Coleson in overalls and hat, pointing out something to Loree and John. In the foreground, feathery Pride of Barbados still has a few orange flowers in late October. In the distance, the limestone bluff of the Balcones Escarpment along Bull Creek is visible, capped by a fringe of trees — a rocky inspiration for the garden.
I'll share Coleson's helpful tips on removing turf and keeping expanses of decomposed granite (DG) free of weeds, for those of us who don't live in the desert:
"The two foundational issues are dealing first with your historical seed bed and then managing ongoing seed sources. In my garden we carefully removed the St. Augustine lawn along with 1.5 inches of topsoil, which surely contained years of historical seed bed material. Then remained the issue of ongoing seed litter. My front lawn benefits from a relative lack of trees or other tall plants to shed seed into the granite — or for birds to perch on and deposit seed. Further, the front yard is a corner lot that shares only a single border with one neighbor's lawn and its innumerable weed seeds. If you're considering decomposed granite or other gravelscape, stand in the area and look up: any trees or plants larger than waist-high are your main seed-litter (and leaf-litter) culprits, second to any nearby yard with weeds.

Do not use a "weed barrier" or similar approaches in a DG/gravelscape. Such barriers do nothing to prevent future weed seeds that come from above, and they do little to deter historical seed beds that eventually come from below.

After eliminating the seed bed and minimizing seed litter sources, there's still plenty of maintenance to be done. My key maintenance aspirations are:

-Walk the garden with my morning coffee every other day (aspirationally!), and casually nip any new weeds before they have a chance to seed. It's meditative!

-Weed before doing any leaf blowing, or else you're now disbursing your own weed litter.

-Weeds love water. When I decide to irrigate a portion of the garden, or when there's rain, my antennae are up that a weed sweep will be necessary in the coming few days. 

-If the weeds get away from you for too long, you had better not be too uncomfortable with strategic use of proper and effective chemical weed deterrents. 

After dealing with the foundational weed issues and then a season or two of vigilant maintenance, my DG has very little seed load other than [from my own] plants that I want to propagate."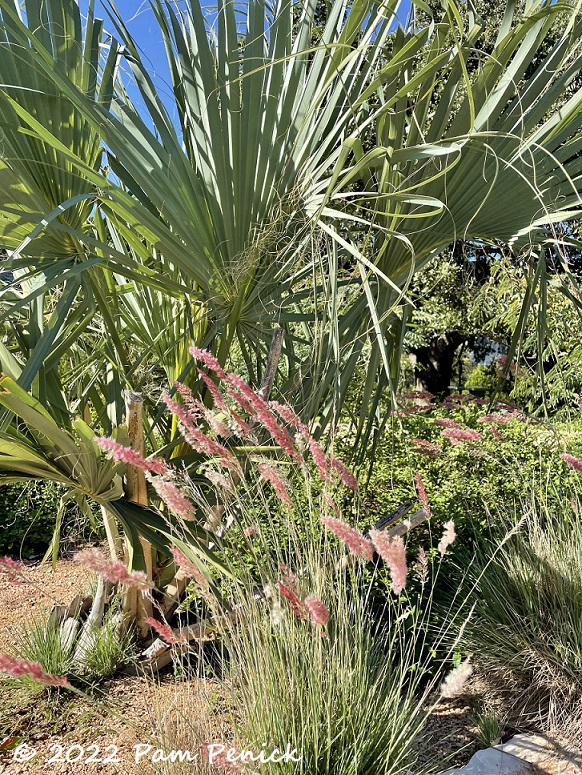 Ruby grass and a palmetto
Hangout space under a massive live oak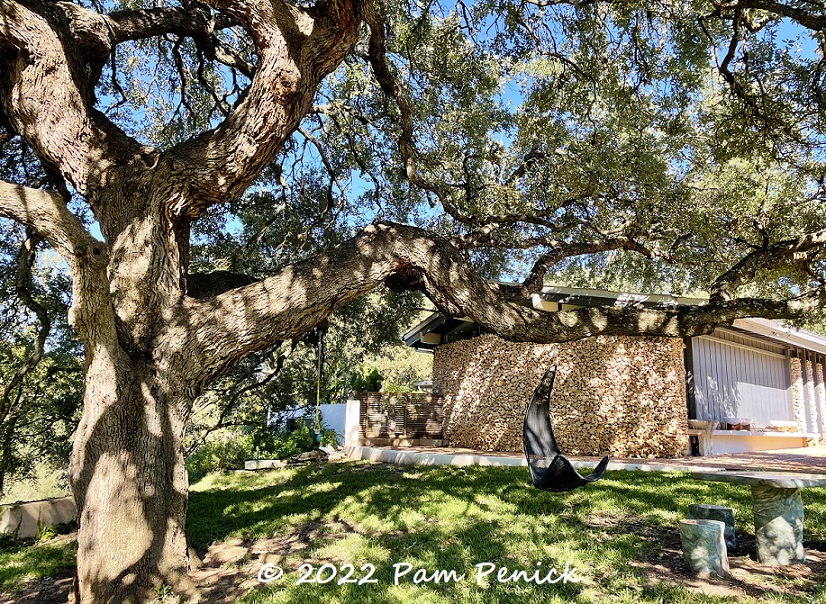 Closer to the house, a massive live oak makes a perfect spot for a bit of shady lawn, a hanging chair, and a green stone table with stools.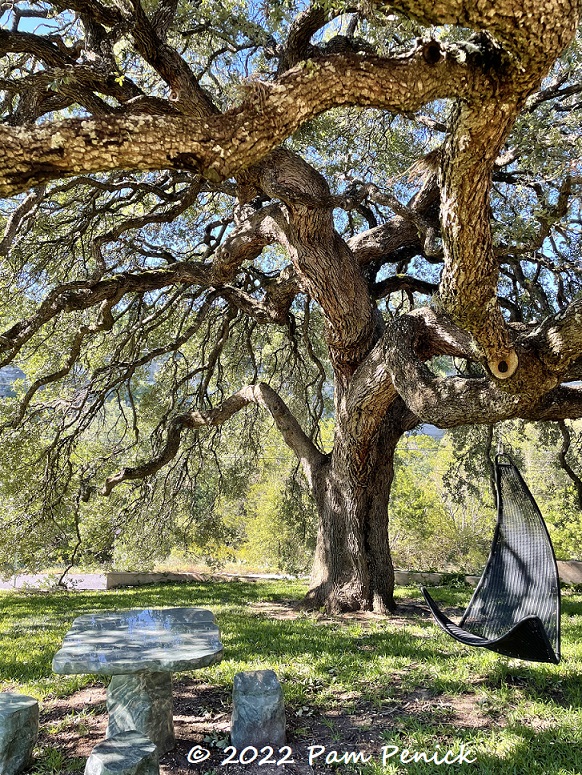 Its spreading limbs are as big around as many tree trunks would be.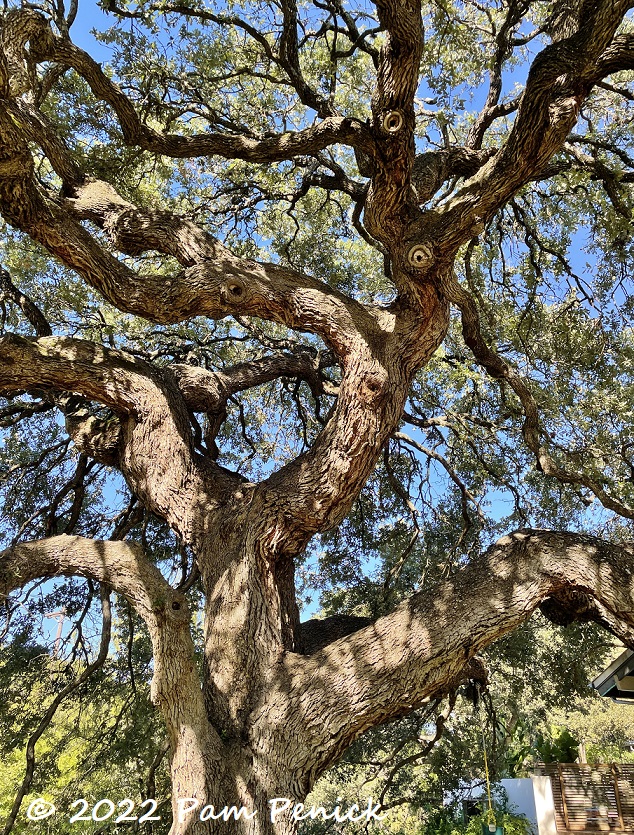 Live oak beauty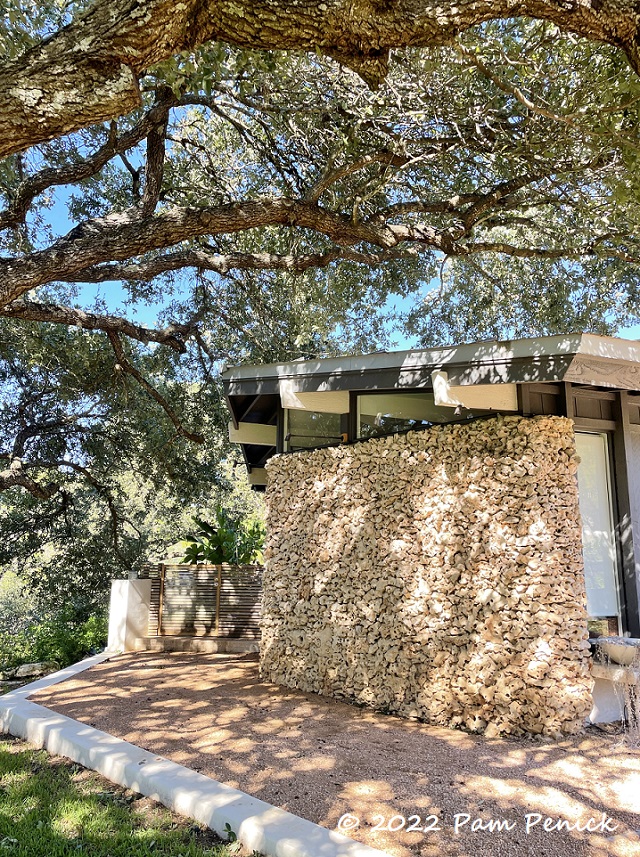 This end of the house really shows off its unique rockwork and midcentury modern lines.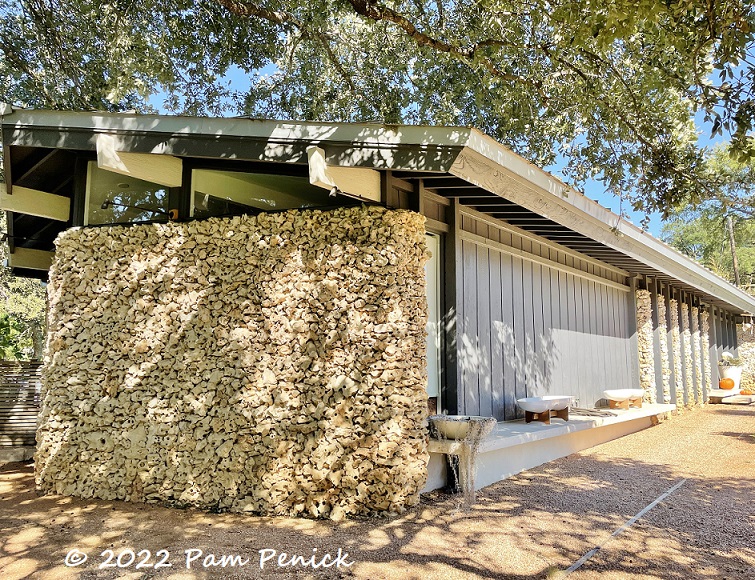 Coleson calls it honeycomb limestone, and it faces not just the exterior but also certain interior walls. In fact the interior of the home blew me away. It's one-of-a-kind, and while I wish I could share it with you, Coleson and his family deserve their privacy. Here's a little backstory about the eccentric builder, which Coleson provided:
"The builder and designer was named O.T. Sims. He was not an architect, but instead a custom home builder in the 1960s. He built this home in 1967 for himself and his family and used it as a show home. Accordingly, he appears to have attempted to showcase all of his skills at once in a single building anchored by late '60s and early '70s design trends. The built-in, 12-person, lava rock dining room table with central 48-inch fireplace is the heart of the house, and something a person either can't believe or can't live without."
Let's just say I'd fall into the latter category. As Coleson knows, I went nuts when I saw that circular lava-rock table with its wood-burning cooktop and conical, lava-rock fireplace hood, giving off all kinds of tiki vibes. I loved it. The house is fabulous.
Bull Creek cliffs and greenbelt view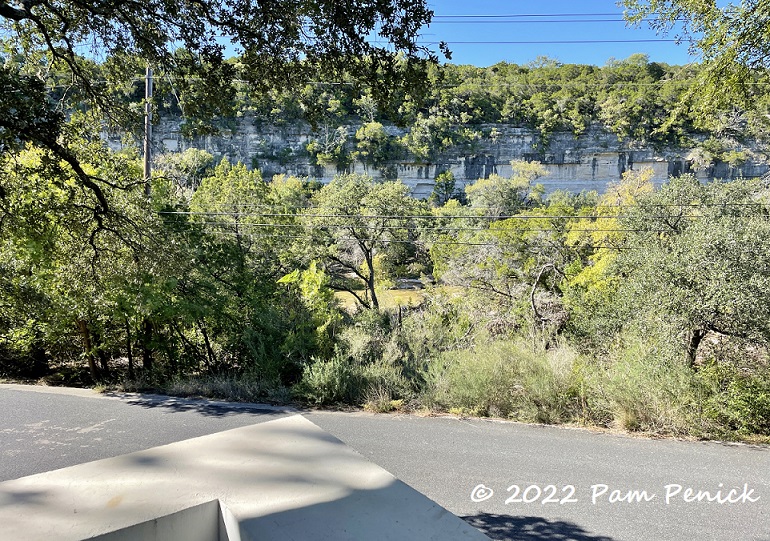 In the backyard, a pool and surrounding deck look over the treetops of Bull Creek and across to that white limestone bluff. A wonderful view.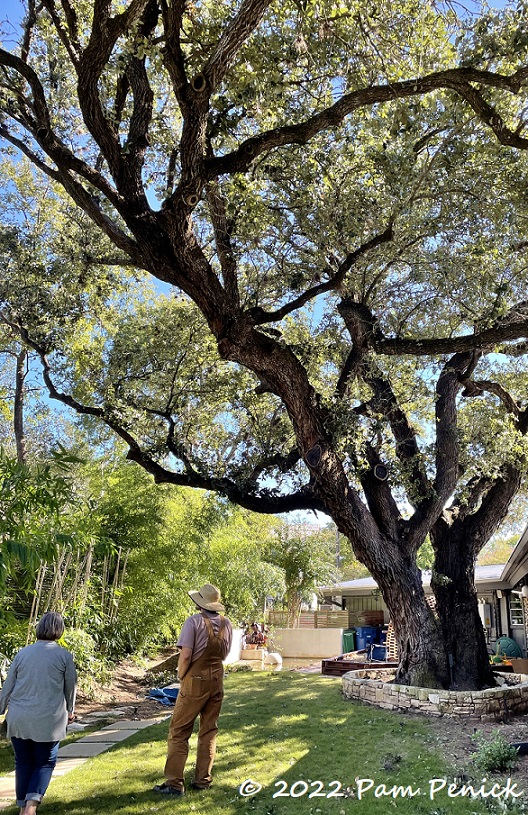 Around in the side yard, another big old live oak holds court.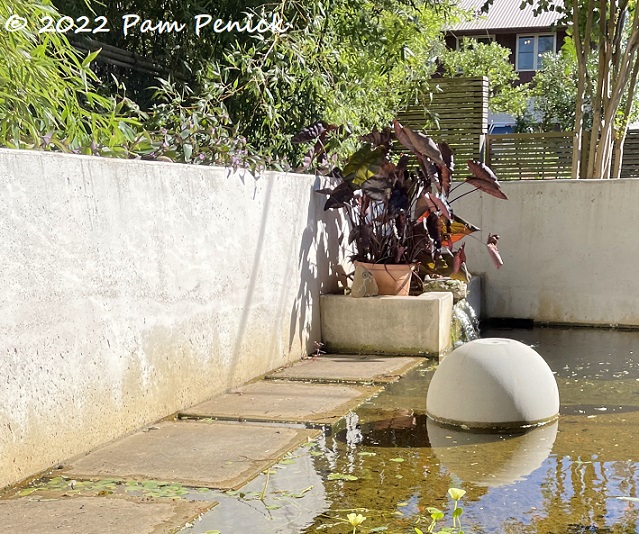 A previous owner built a contemporary-style pond here, edged on two sides with low concrete walls.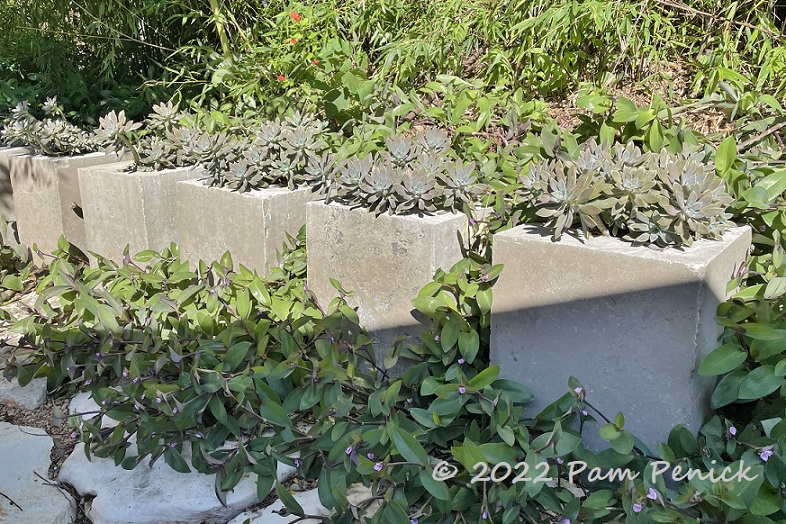 Past the pond, a mod row of Lueders limestone square planters displays ghost plant, a hardy succulent. John explains about their genesis in the comments section of Loree's post about Coleson's garden, so check it out for more info.
I'll close with something Coleson shared with me, which I think sums up nicely the soul-healing value of gardening and of finding a gardening friend:
"I befriended John as a neighbor, who happened to be an experienced gardener and botanist, with greenhouses full of succulents, orchids, etc. Over the years we'd occasionally chat about ideas for my yard. When COVID lockdown dragged on, about April 2020, John and I [started working on] the front island bed. Eventually, mission creep would drag in the entire front yard, as well as some significant work in the back and side yards. About 6 months later we "finished" (do you ever, really?). I joke, I hope not too morbidly, that these are my COVID gardens.

For me it was a 6-month crash course on plants and gardening, with John downloading to me a chunk of his extensive knowledge. In the beginning, not knowing plants or gardening, I would describe to John the shapes, textures, and volume of plants I'd like to see in a given spot, and he would respond with plant options, upkeep considerations, etc. By midway through the 6 months, he could anticipate my aesthetic goals, and I could do a not-too-bad job of anticipating the plant options that could accomplish our goals. By the end of the 6 months, we were completing one another's sentences. 

While it's true that I compensated John for his time and expertise, that was beside the point. These gardens were just two friends having a good time that got a bit out of hand!"
And there you have it. You never know where a gardening friendship will lead you. Great story, Coleson, and thank you for sharing your garden with us!
I welcome your comments. Please scroll to the end of this post to leave one. If you're reading in an email, click here to visit Digging and find the comment box at the end of each post. And hey, did someone forward this email to you, and you want to subscribe? Click here to get Digging delivered directly to your inbox!
_______________________
Digging Deeper: News and Upcoming Events
Need design help with your yard? Hire me as your personal garden coach! Maybe you need replacement plant ideas after the big freeze. Or maybe your landscaping has grown tired, and you want fresh curb appeal. Or perhaps you're ready to get rid of some lawn and create a pollinator garden, bird habitat, or hangout space for you and your friends. I'm here to help! Contact me to let me know what's going on, and let's figure it out together. My range is Austin and suburbs within a 25-min. drive of NW Austin, but I'm flexible and can travel farther with a surcharge, so let me know where you are. Weekday morning appts. only.
Join the mailing list for Garden Spark! Hungry to learn about garden design from the experts? I'm hosting a series of talks by inspiring garden designers, landscape architects, and authors a few times a year in Austin. Check out the 2021-22 schedule. These are limited-attendance events that sell out quickly, so join the Garden Spark email list to be notified in advance. Simply click this link and ask to be added.
All material © 2022 by Pam Penick for Digging. Unauthorized reproduction prohibited.