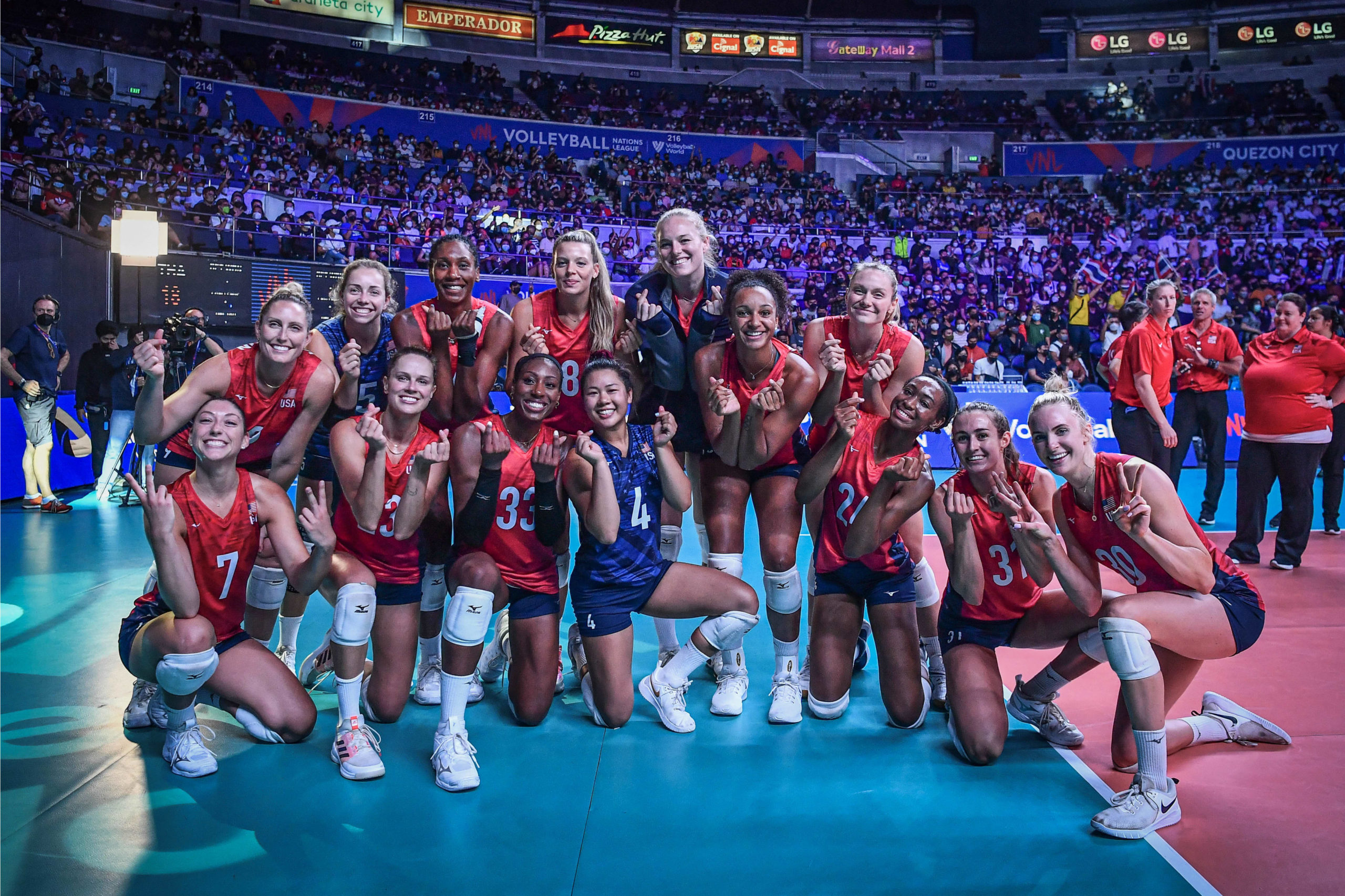 MANILA, Philippines—Ali Frantti relished United States' unforgettable Quezon City leg of the Volleyball Nations League, after receiving a warm welcome from Filipino fans.
After leading Team USA's four-game sweep of Week 2, Frantti was amazed by the Filipino fans' love for volleyball after they wrapped up their campaign with a 17-25, 25-13, 25-23, 25-18 over Thailand on Sunday before an ecstatic 4,327 spectators at Smart Araneta Coliseum.
"It's unbelievable! The fans are so loud. It's been an unbelievable experience I won't forget and it's amazing how you guys love volleyball so much. I really appreciate it," said the American outside hitter, who scored 27 points in USA's seventh win in eight matches.
Winning all their four games in the Philippines, the Penn State University standout expressed her gratitude for the hospitality of the Filipinos in their first-ever hosting of the VNL.
"it's been amazing you guys have been so welcoming and supportive. Your fans are unbelievable. We appreciate your hospitality. Thank you so much," said Frantti, who plays for Chieri in the Italian Series A1 League.
After a memorable Quezon City experience, Frantti and the Americans are bracing for Week 3 in Calgary, Canada, where they will face Belgium, Serbia, Turkey, and Germany from June 28 to July 3.
"It's gonna be a battle, It's gonna be a grind each day. It's gonna get harder and harder. We're just gonna take it one day at a time and focus on what's next," she said. "USA volleyball likes that path so we'll do that."
USA Volleyball is currently second with a 7-1 record behind unbeaten leader Japan. The Final round will take place in Ankara, Turkey, where the top 7 teams and host team will clash from July 13 to 17.
RELATED STORIES
Get the hottest sports news straight into your inbox

Read Next
Subscribe to INQUIRER PLUS to get access to The Philippine Daily Inquirer & other 70+ titles, share up to 5 gadgets, listen to the news, download as early as 4am & share articles on social media. Call 896 6000.