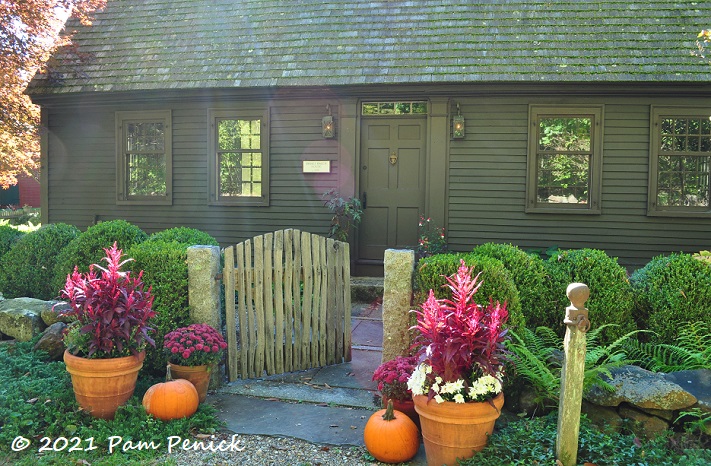 November 23, 2021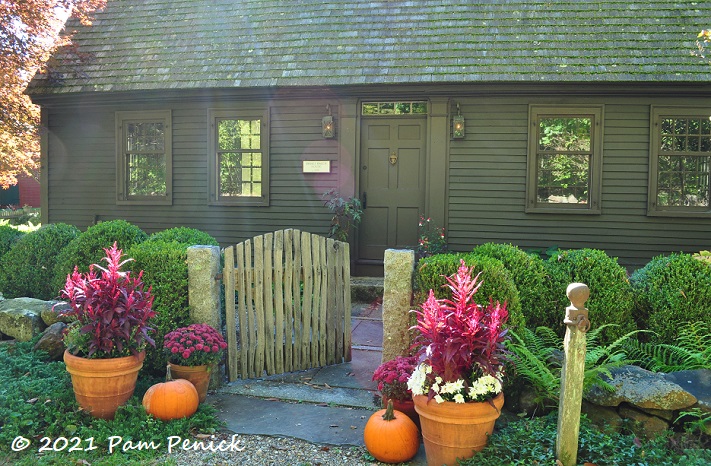 Connections to gardeners I've made as a writer often lead, like beads on a string, to new introductions and far-flung garden visits. In such a roundabout way I had the pleasure last month of meeting photographer Joe Valentine and his wife, Paula, for a personal tour of their oft-written-about garden in Francestown, New Hampshire. On that cool, early October morning, as mist burned off surrounding fields, I arrived at Joe and Paula's 1789 espresso-brown home.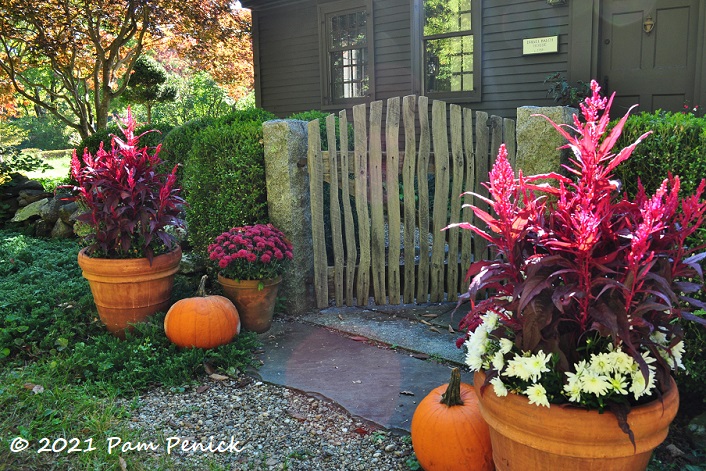 You read that right: 1789. Is there anything in Austin built before 1840? The architectural history of New England stretches back much farther, but this is a simple farmhouse, Joe explained, with an addition tacked on and a big old barn out back. Initially he and Paula used the place as their weekend getaway, but 20 years ago the home and its 30 acres became their year-round residence.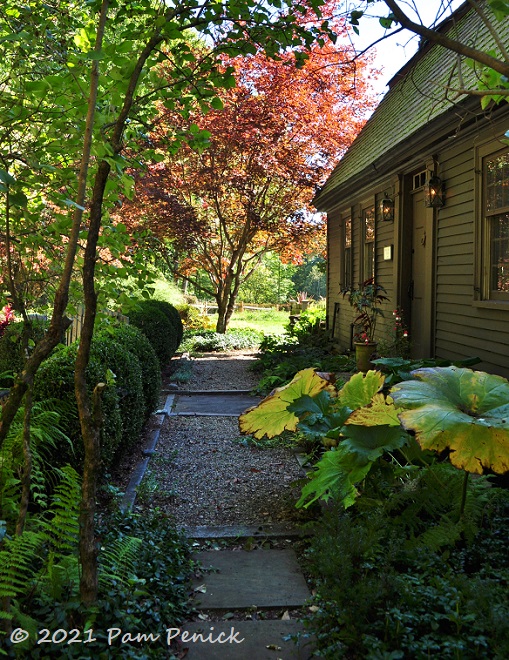 With advice from a designer friend, Joe starting creating the gardens that now wrap around the house and extend out back toward a sheep pasture he and Paula lease to a local shepherd. Formal garden rooms align with doors and windows to maximize views and make the house and garden one. The largely geometric layout creates structure and axis views without a hint of stiffness thanks to generous plantings spilling over paths, airy ornamental grasses bending in the breeze, and rough-mown meadow grass adding shaggy texture among clipped boxwood.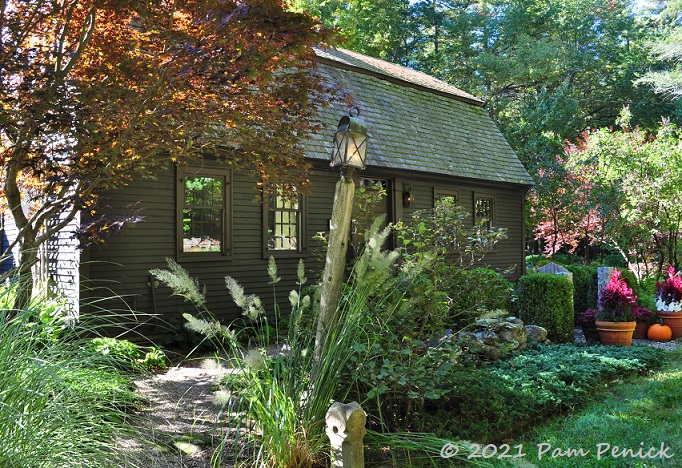 A Japanese maple turning russet above the white plumes of a flowering grass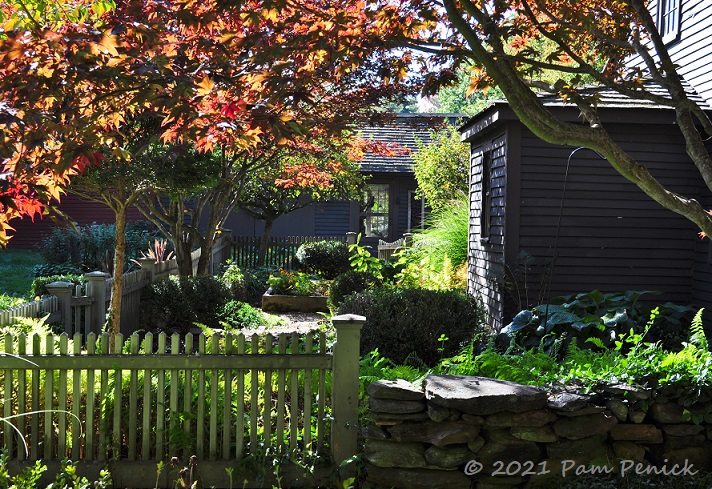 Because New Hampshire winters are long and cold, Joe uses granite pillars, picket fencing, arbors, pleached hedges, and lots of clipped boxwood for year-round structure that looks beautiful under a layer of snow, when perennials are sleeping.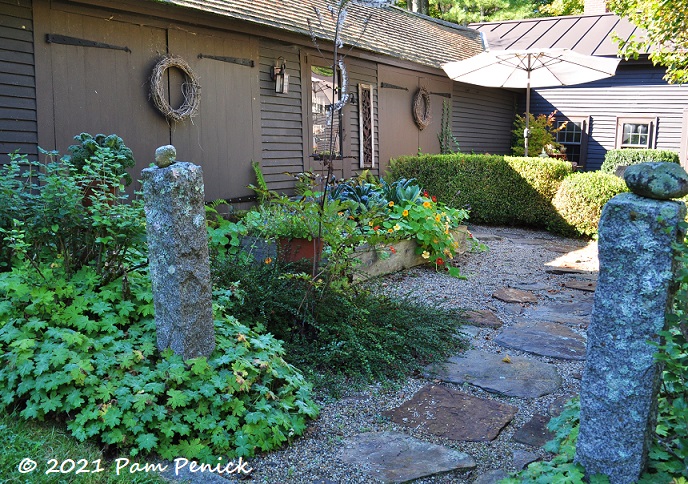 Granite pillars topped with round stones — New Hampshire is the Granite State, after all — mark the entry to a kitchen garden, where late-season vegetables and colorful nasturtiums spill from a raised planter box.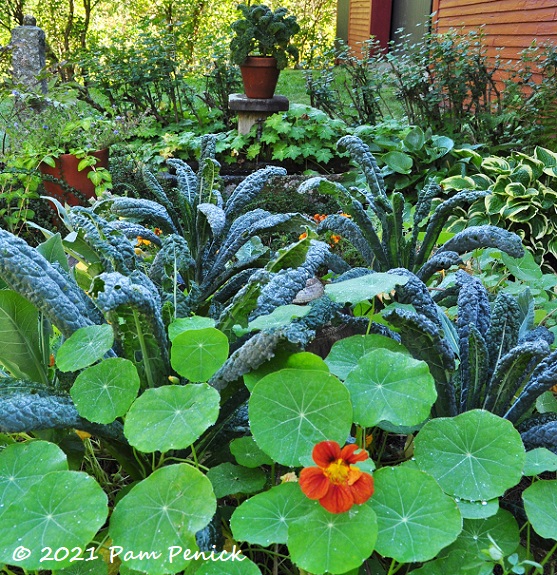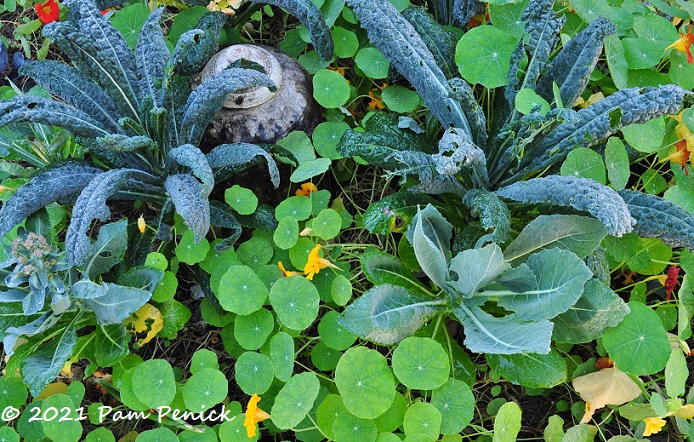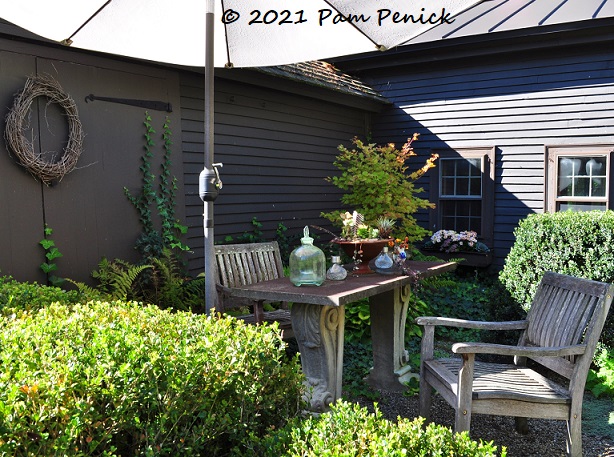 An elegant-rustic table and chairs offer a dining spot for a freshly harvested lunch.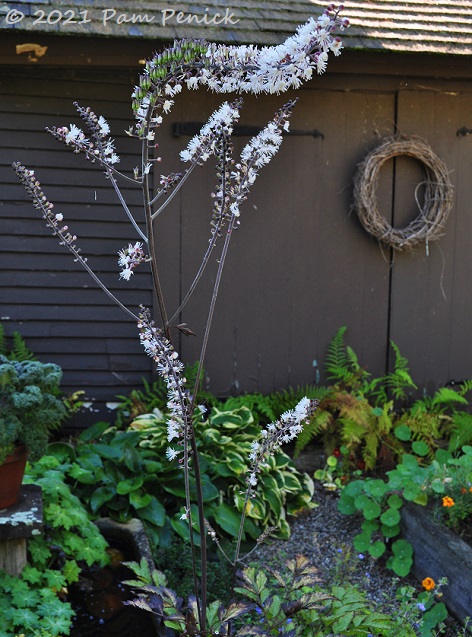 Black cohosh (Actaea racemose), a native perennial with tall, bottlebrush flower spikes, stands out against the dark-brown house.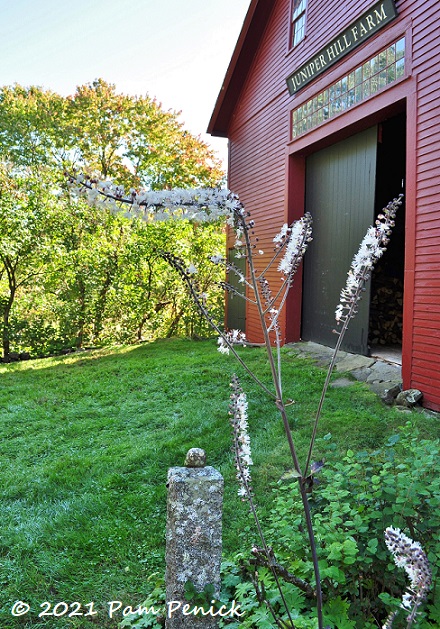 Juniper Hill's big red barn makes a picturesque backdrop.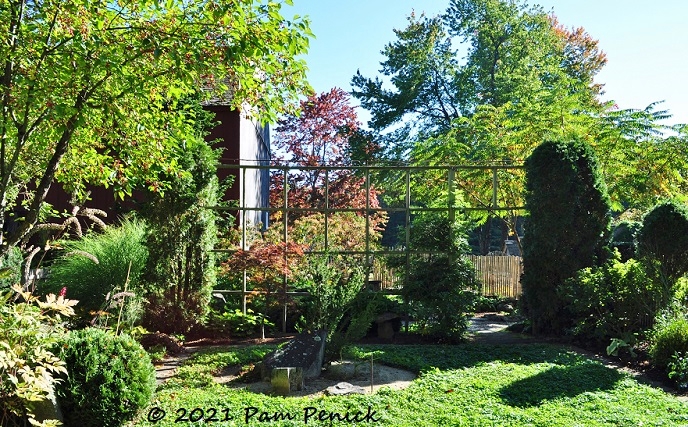 In another garden room off the back of the barn, a tall wooden grid frames views of the garden while defining space.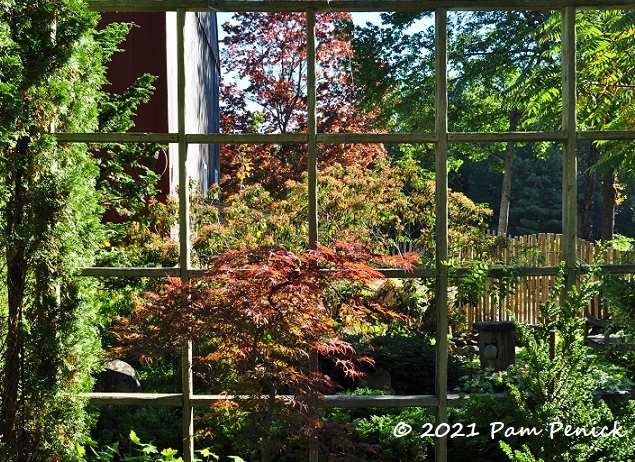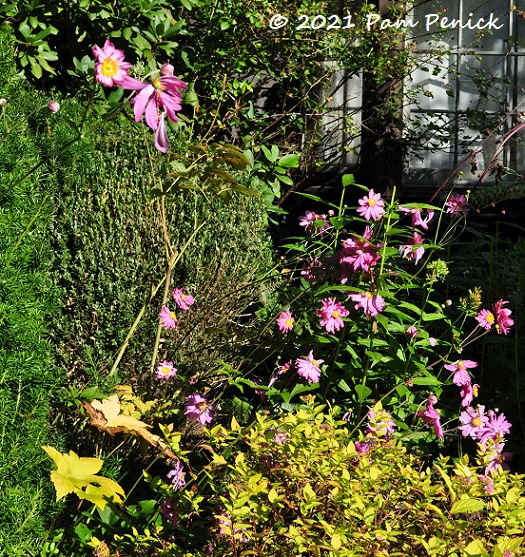 Late-season flowers were still going.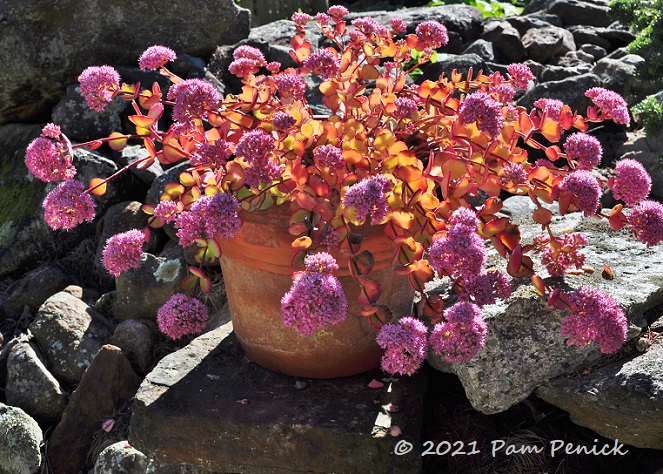 Backlit by the morning sun, this purple-flowering orange succulent caught my eye. Gorgeous!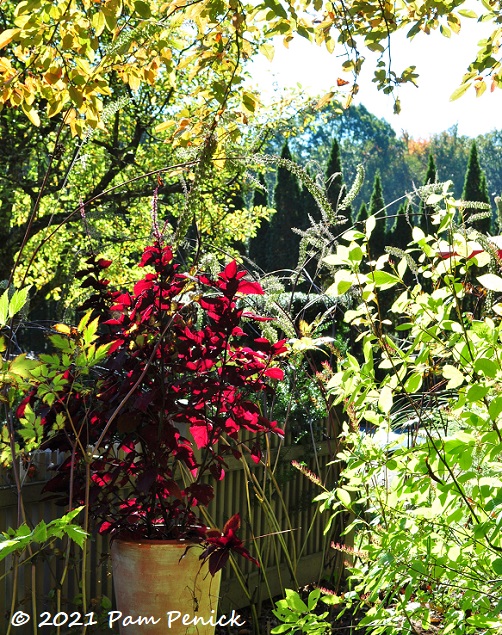 More backlighting set red foliage on fire.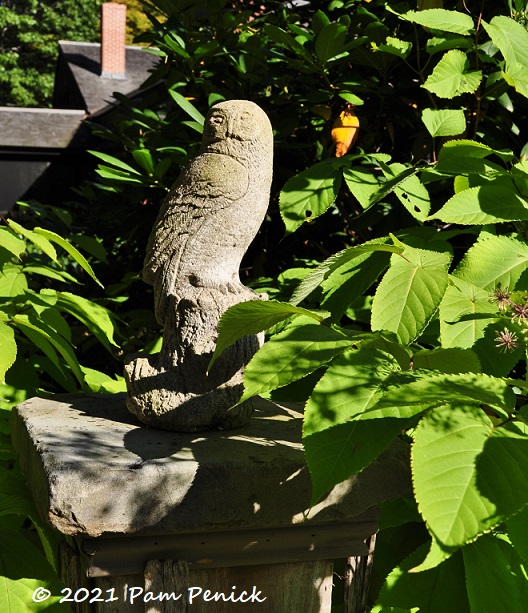 A little stone owl perching on a pillar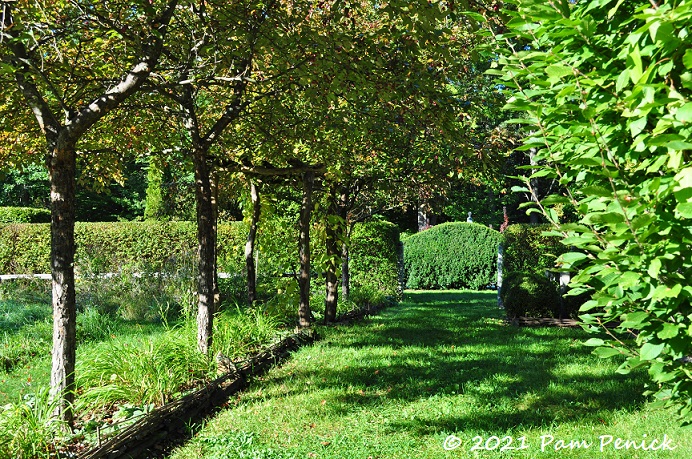 A swimming pool hides from the house behind clipped hedges and a formal row of trees.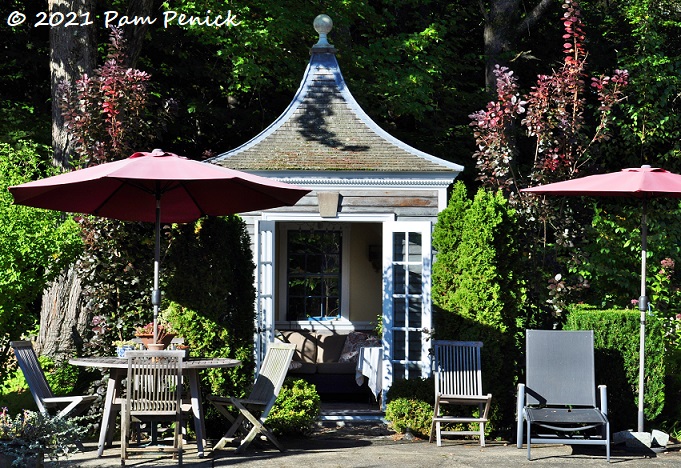 Swimming season was over and the pool covered during my visit. But even so, a handsome, swoop-roofed poolhouse, modeled on a pair of gazebos at Hidcote garden in England, attracts the eye.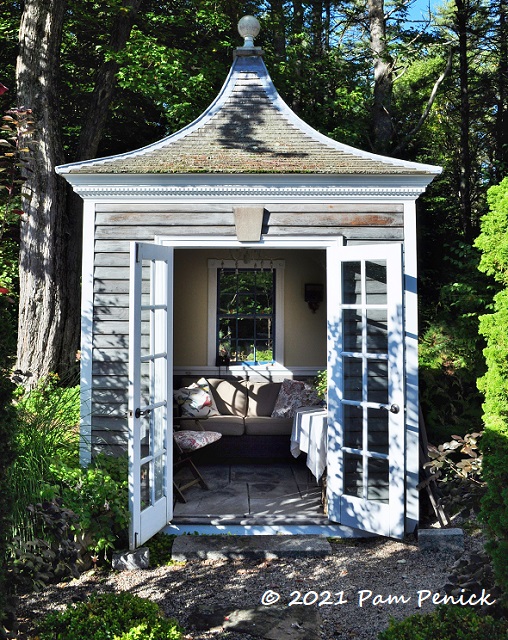 With double doors flung open…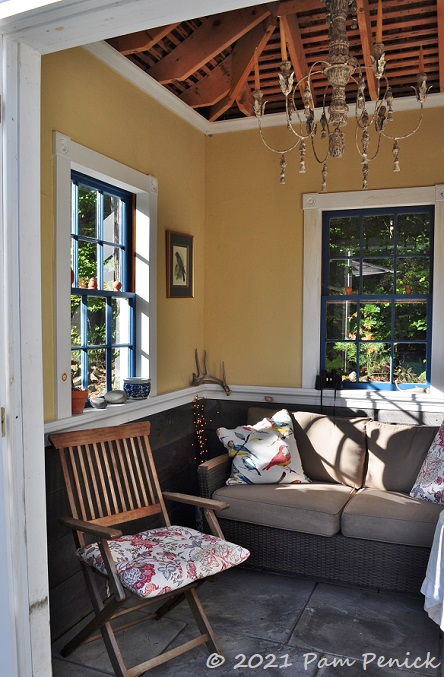 …and comfortably furnished, it looks like an inviting spot to while away the afternoon.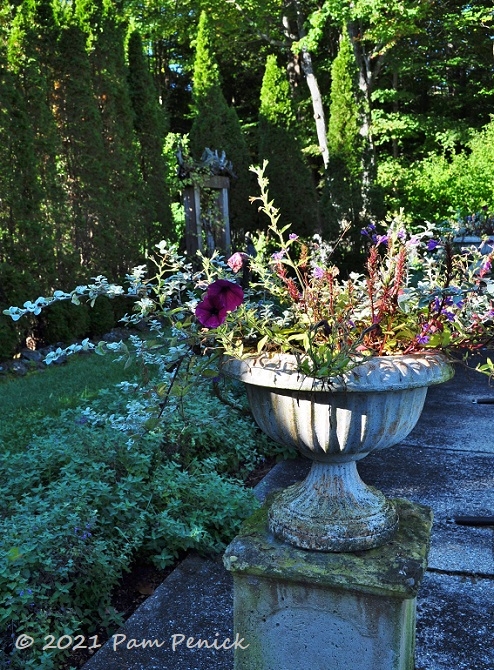 A pretty urn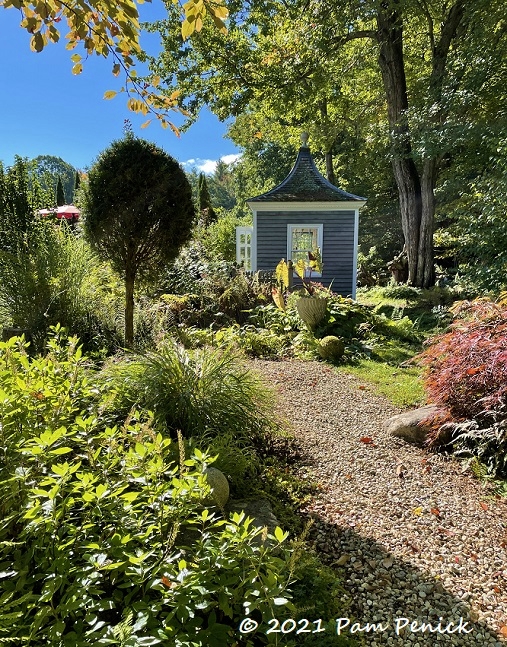 Joe built the poolhouse himself with help from a local carpenter. It's equally magnetic as seen from a more casual side garden path.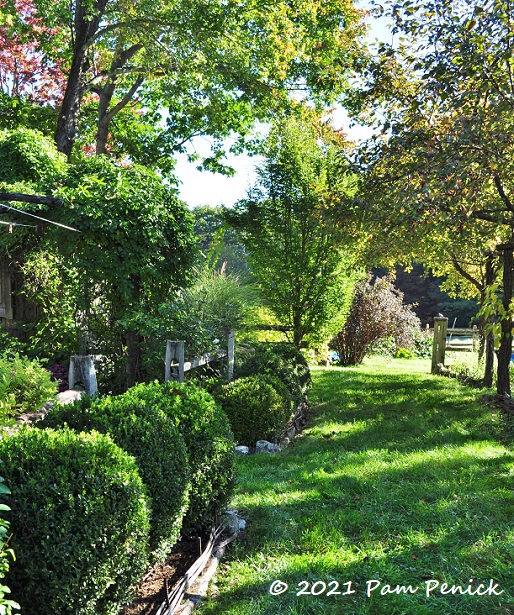 Back along a boxwood-edged, mown-grass path…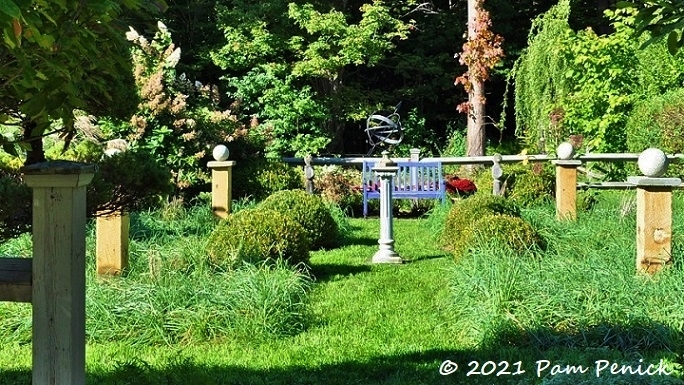 …another country-formal garden room appears, this one centered around an armillary sphere. Along a split-rail fence, a berry-blue bench provides a splash of color. Pillars topped with granite orbs echo clipped boxwood mounds softened by shaggy grass. Mowed strips make easygoing pathways.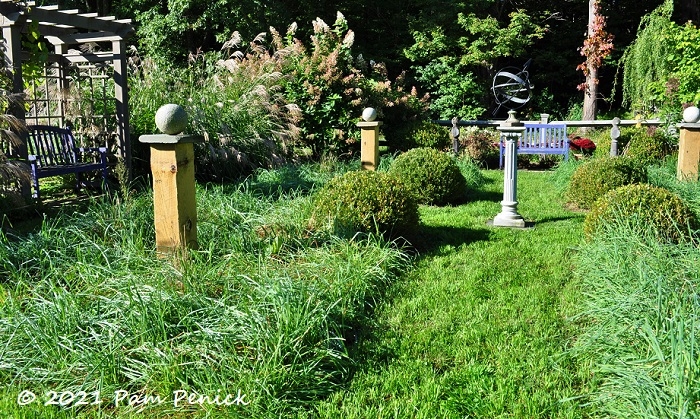 Another bench under a latttice gazebo offers a side view of the garden. Imagine how pretty the pillars, boxwood balls, and benches look under a layer of snow.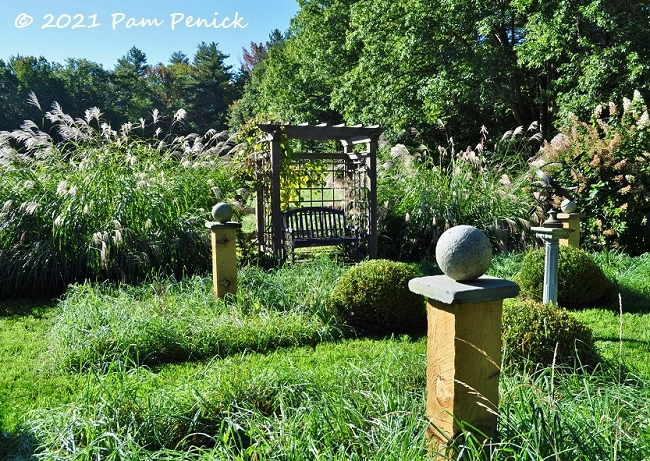 Tall ornamental grasses make a living, moving wall.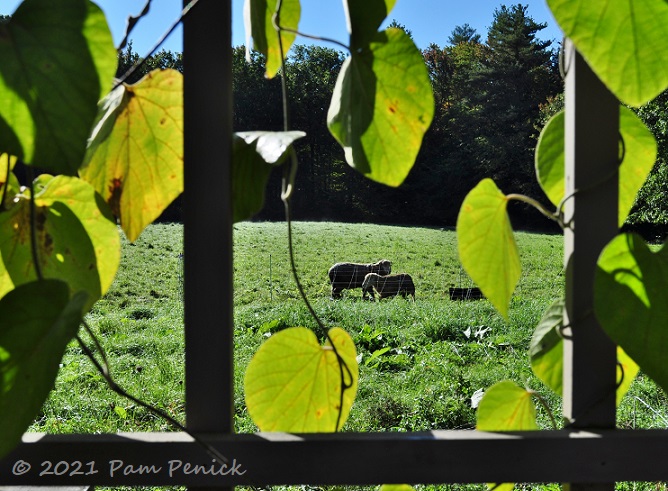 But the lattice arbor offers a view into the sheep pasture.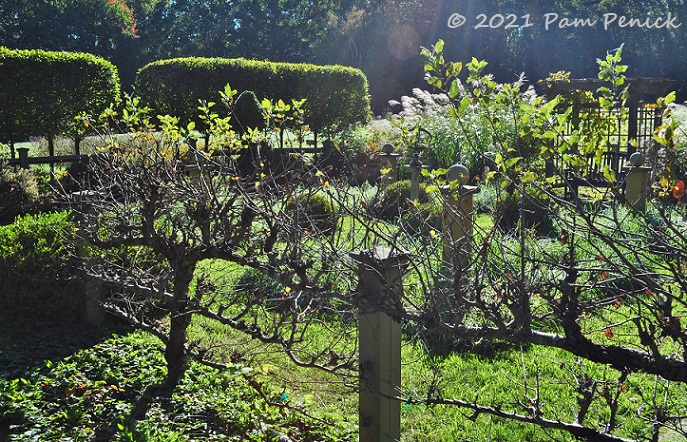 Espalier encloses one side of the garden and pleached hedges another.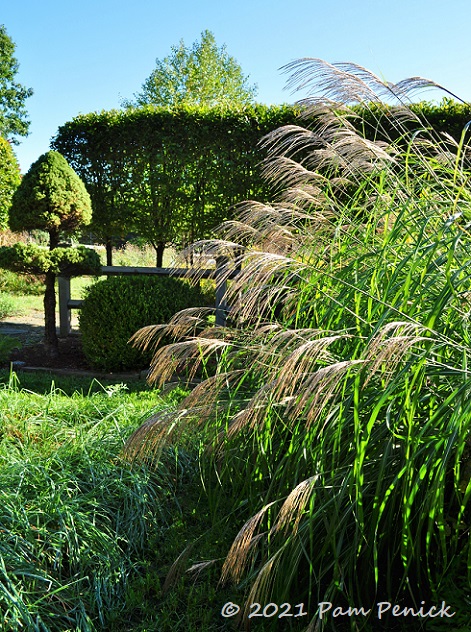 The softening movement of grasses…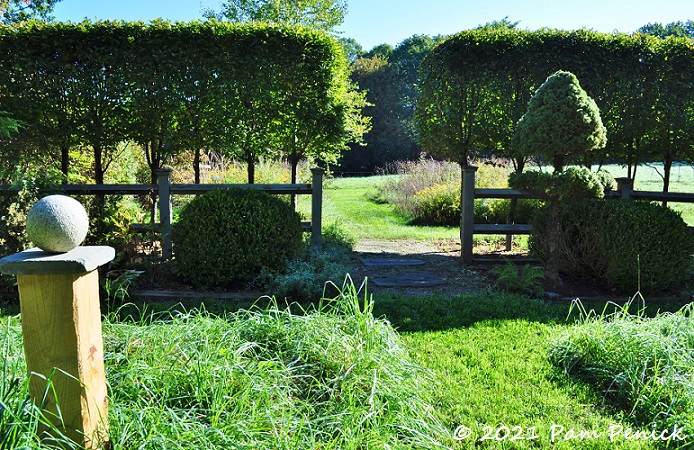 …and formally framed views — defining features of this country-formal garden in autumn.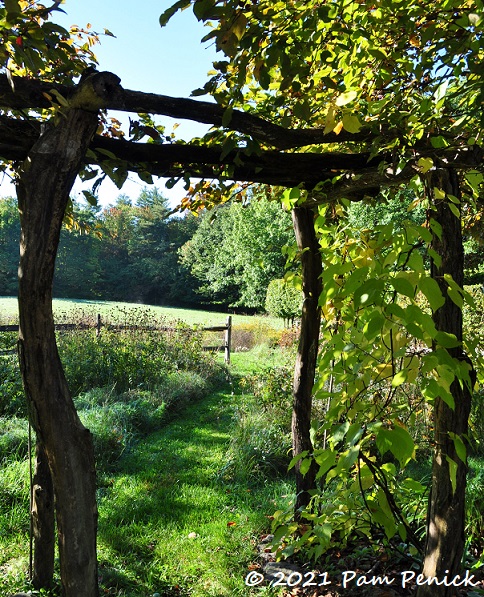 The garden gets shaggier and more rustic as you approach the sheep pasture.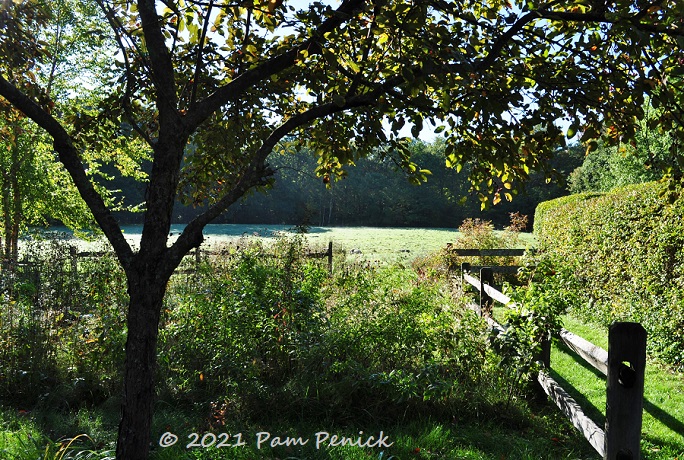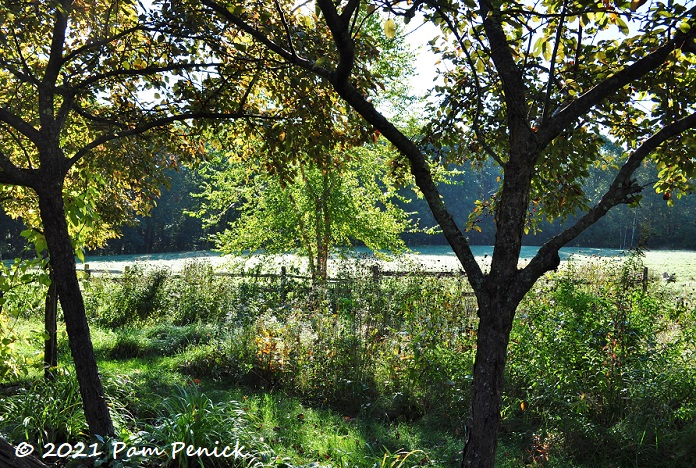 What a beautiful country view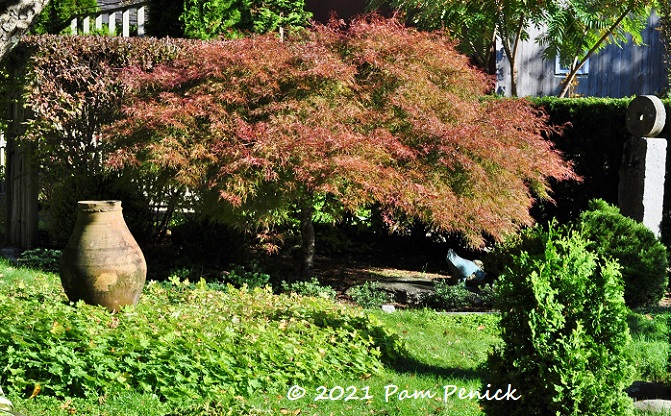 Heading back to the house gardens…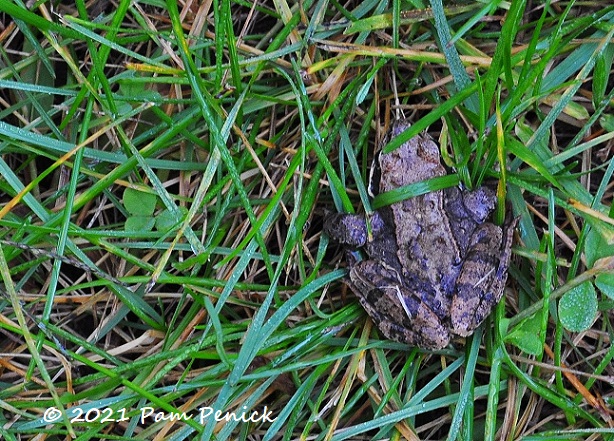 …we spotted this little fellow in the grass.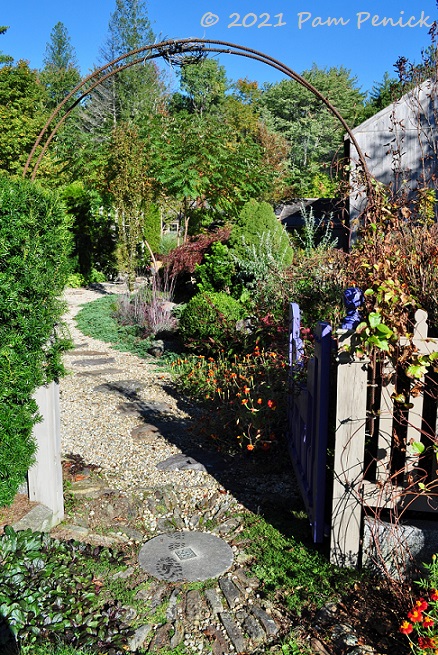 You're always stepping through portals in Joe's garden, entryways into the next garden room. Divided into narrowing and wider spaces in this way, each hidden from the other, the garden acquires a sense of mystery and excitement. What will come next?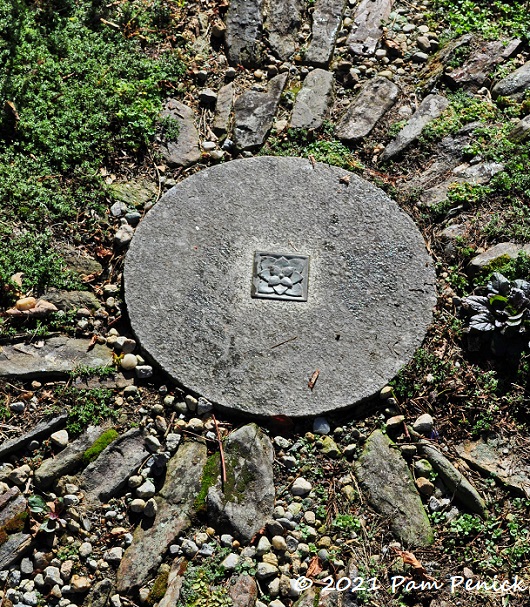 Sunburst paving detail at one threshold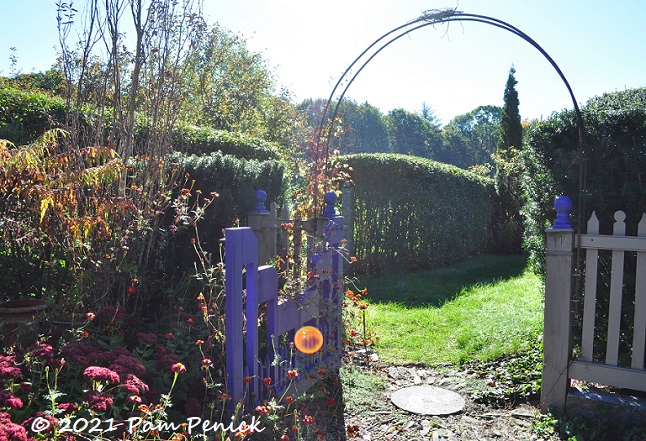 Under this charming double-rebar arch, a wooden gate and finials are painted vivid berry-blue.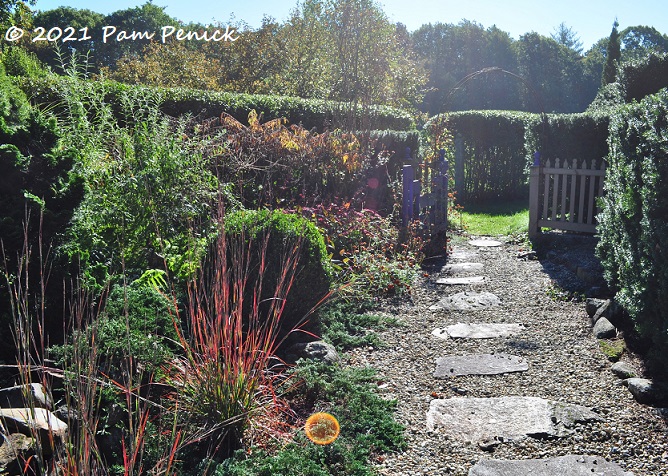 A wider view shows head-high hedges wrapping around this space, hiding it until you arrive at the arched gate.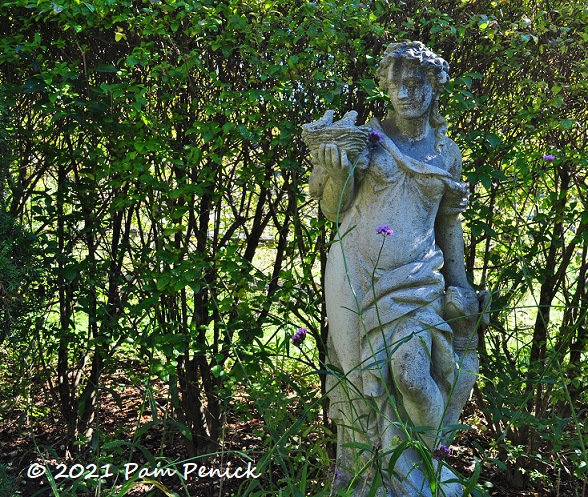 Surprises await at every turn.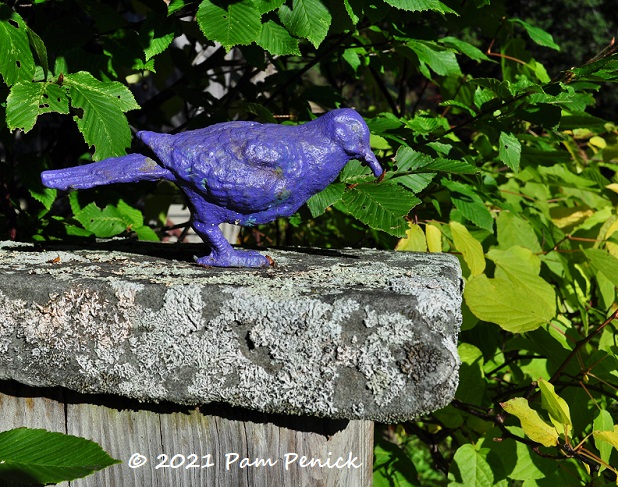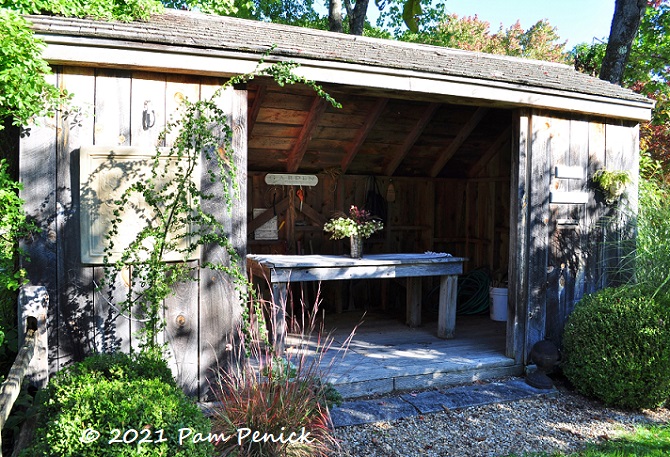 A spacious potting barn holds a long table and a few tools.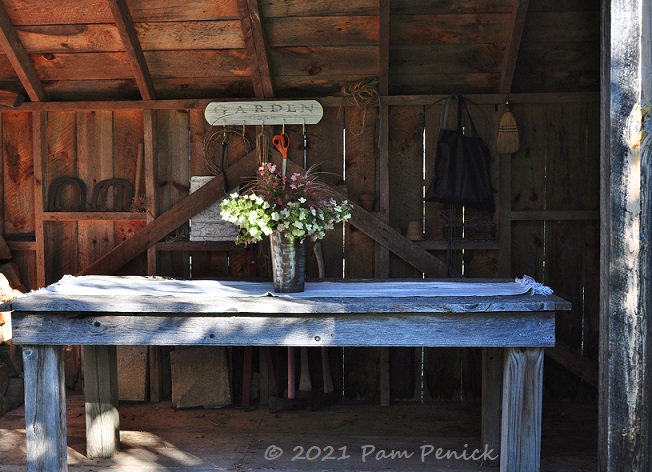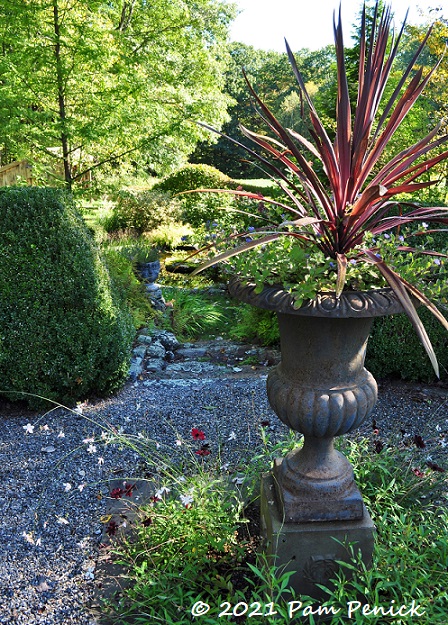 A burgundy cordyline in an elevated urn draws the eye toward a small pond near the house.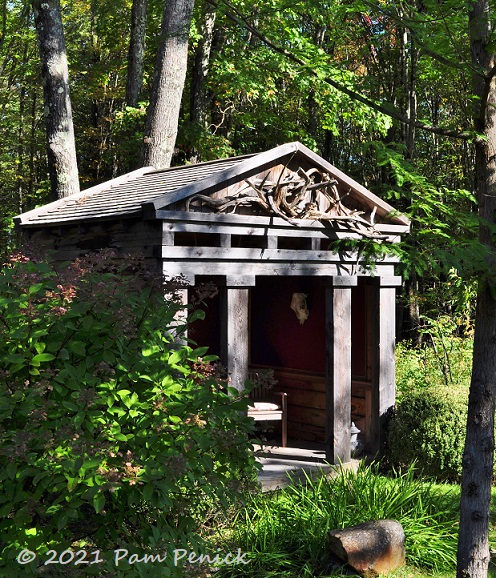 A Greek temple-style folly, furnished with a pair of chairs, overlooks the pond. Joe modeled it on Prince Charles's temple folly at Highgrove House, a garden he's visited on his many tours of English gardens.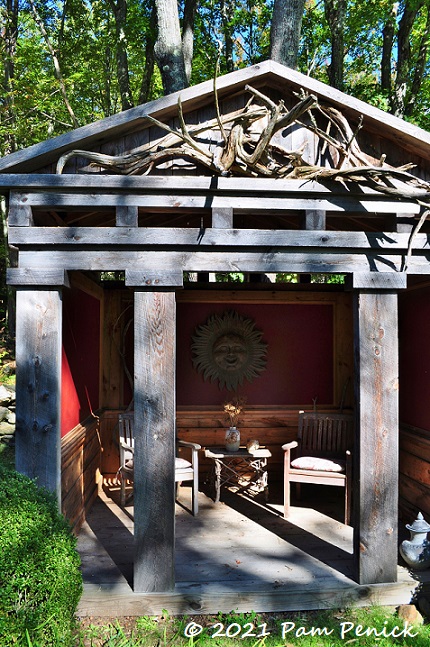 Driftwood-like branches of juniper adorn the pediment. Inside, ornamentation is limited to a polished wooden sun…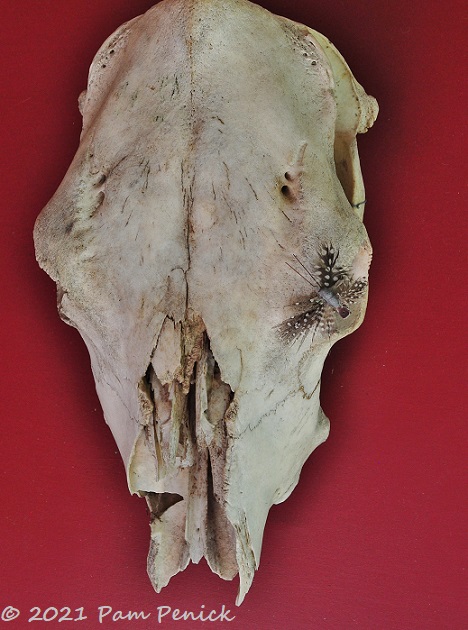 …and animal skull with a feather butterfly. (To read more about Joe's folly obsession, click for an excellent article in New Hampshire Home.)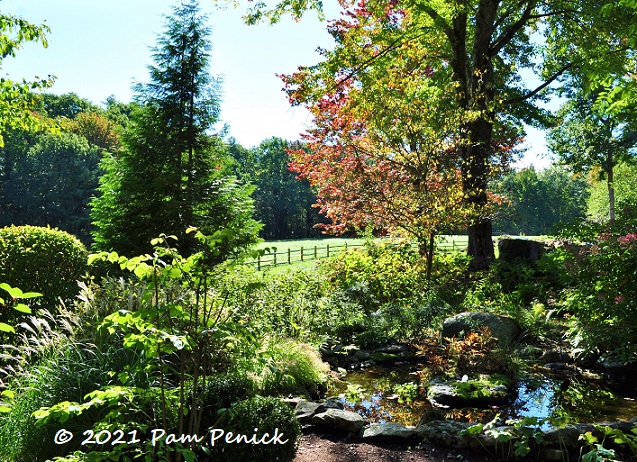 The frog pond, with backlit autumn foliage and dewy pasture beyond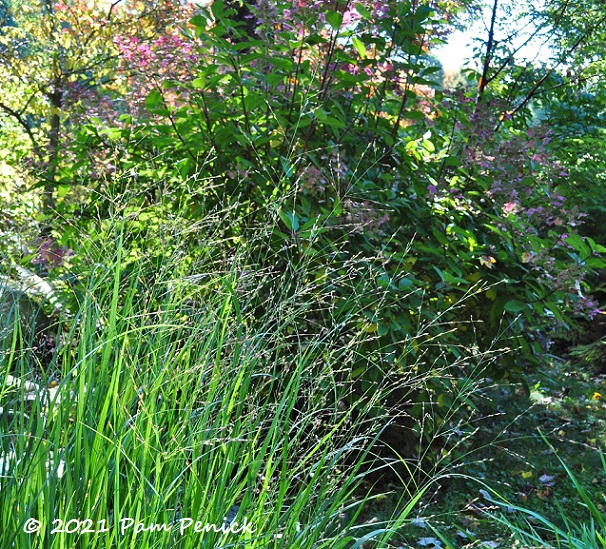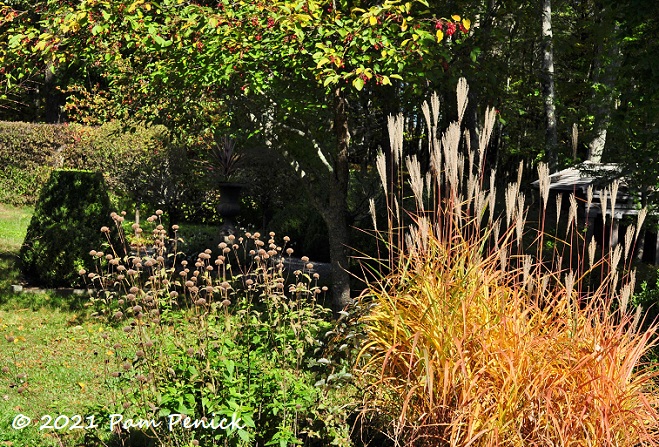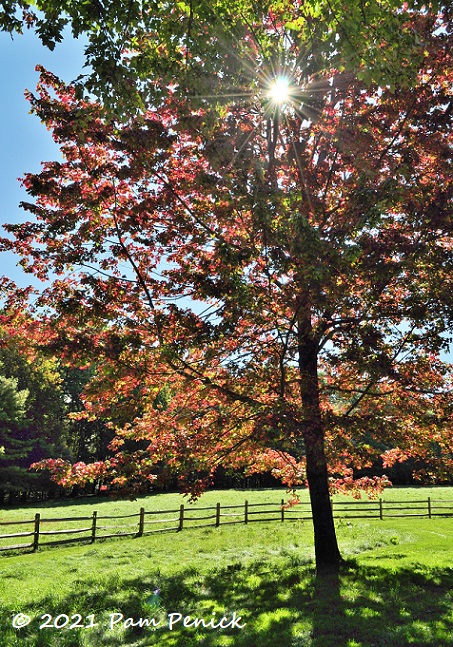 My thanks to Joe and Paula for welcoming us into their beautiful garden and sharing its story!
Up next: The Peterborough, NH, garden of Michael Gordon, awash in purple asters. For a look back at my tour of Lee, NH's Bedrock Gardens, part 2, a private artist's garden turned public garden, click here.
I welcome your comments; please scroll to the end of this post to leave one. If you're reading this in a subscription email, click here to visit Digging and find the comment box at the end of each post.
_______________________
Digging Deeper: News and Upcoming Events
Need design help with your yard? Hire me as your personal garden coach! Maybe you need replacement plant ideas after the big freeze. Or maybe your landscaping has grown tired, and you want fresh curb appeal. Or perhaps you're ready to get rid of some lawn and create a pollinator garden, bird habitat, or hangout space for you and your friends. I'm here to help! Contact me to let me know what's going on, and let's figure it out together. My range is Austin and suburbs within a 25-min. drive of NW Austin, but I'm flexible and can travel farther with a surcharge, so let me know where you are. Weekday morning appts. only.
Join the mailing list for Garden Spark! Hungry to learn about garden design from the experts? I'm hosting a series of talks by inspiring garden designers, landscape architects, and authors a few times a year in Austin. Check out the 2021-22 schedule. These are limited-attendance events that sell out quickly, so join the Garden Spark email list to be notified in advance. Simply click this link and ask to be added.
All material © 2021 by Pam Penick for Digging. Unauthorized reproduction prohibited.