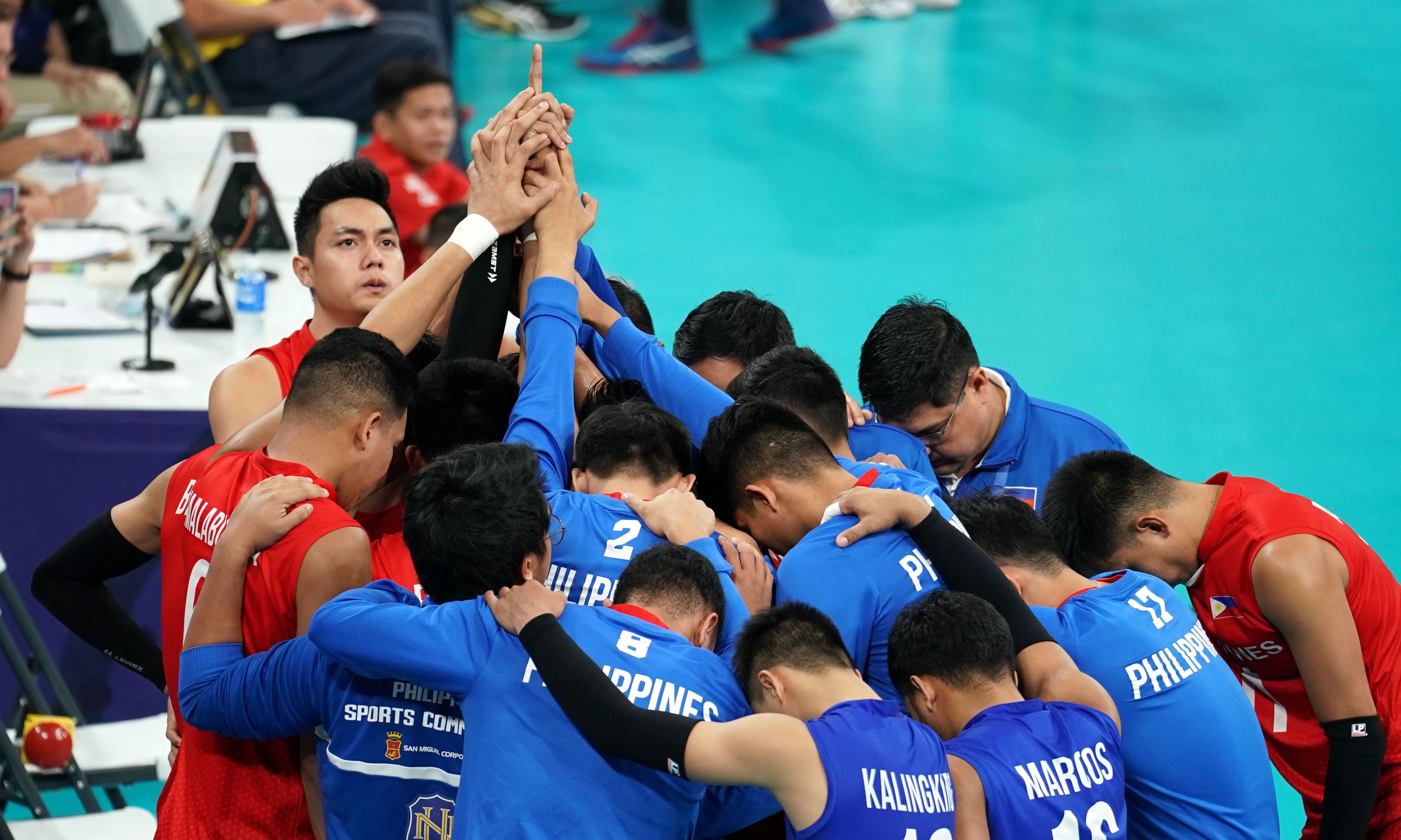 MANILA, Philippines — The Philippine men's volleyball team is eyeing nothing else but to win gold in the 31st Southeast Asian Games in Hanoi, Vietnam this May.
After bagging the historic 2019 SEA Games silver medal at home, Bryan Bagunas, who delivered the game-winning attack to beat Thailand in five sets and reach the final, said their goal is to continue reaching greater heights for men's volleyball.
"We have to prove that we really improved. We can't go down from the level that we set for the Philippine men's volleyball team in the previous SEA Games," Bagunas told INQUIRER.net "We have to prove the continuous development of men's volleyball here in the country."
"So expect us to give our best in the SEA Games," he added.
Despite the lack of leagues in the country as the Spikers' Turf hasn't come back since the pandemic and the UAAP and NCAA didn't include men's volleyball in their reopenings, coach Dante Alinsunurin said his wards are still ready to make another historic run from a fruitful training camp in Qatar.
"The team is ready. We made the necessary adjustments that the team needs. I think we still have a chance to reach our goal in the SEA Games," said Alinsunurin, who is making the most of their remaining practices at National University two weeks before the biennial meet.
"We saw in Qatar that we can match the level of taller opponents. During our training there, we saw the difference of their play style to Japan. Qatar gave us added experience and learnings."
Bagunas, who missed the Qatar training camp with Marck Espejo due to their commitments to their respective Japan V.League clubs, said he didn't have a hard time catching up when he came home two weeks ago.
"Coach Dante is still the same. I've been familiar with his system since college. I only made a few adjustments and I am currently working on my connection with the team. I still have two more weeks before the SEA Games," the National University standout said.
The Oita Miyoshi Filipino import, one of the three active men's national spikers to play in a league this year including Espejo and Jau Umandal from his past Bahrain stint, was impressed with the dedication and commitment of his teammates, who are making the most of their practice, amid the absence of men's tournaments in the country amid the pandemic.
"From what I saw in my past few training sessions, they forged a solid bond and they are very committed and dedicated," Bagunas said. "I feel that we have a strong chance to lift up  Philippine men's volleyball again with the dedication and commitment of each member. I hope our sport will receive more support."
Alinsunurin retained his core led by the troika of Bagunas, Espejo and Umandal together with fellow silver medalists Joshua Retamar, Jack Kalingking, Kim Malabunga, Rex Intal, Francis Saura and Jessie Lopez.
Newcomers Ysay Marasigan, Nico Almendras, JP Bugaoan and libero Manuel Sumanguid are expected to boost the country's gold medal quest. 
Slated with rival Thailand and Cambodia in the pool stage, Alinsunurin said his wards are not feeling the pressure in their goal to surpass their runner-up finish in 2019.
"We don't feel the pressure since we're working hard everyday at practice. We are really preparing for our upcoming matches in the SEA Games," he said.
"We're focusing on adjustments and game situations in training. I'm thankful to the players. They are really passionate about everything I asked them to do in practice. Even we don't have scrimmages, they are executing our game plan well. I hope we will be able to execute it in the SEA Games."
RELATED STORIES
Get the hottest sports news straight into your inbox
Read Next
Subscribe to INQUIRER PLUS to get access to The Philippine Daily Inquirer & other 70+ titles, share up to 5 gadgets, listen to the news, download as early as 4am & share articles on social media. Call 896 6000.