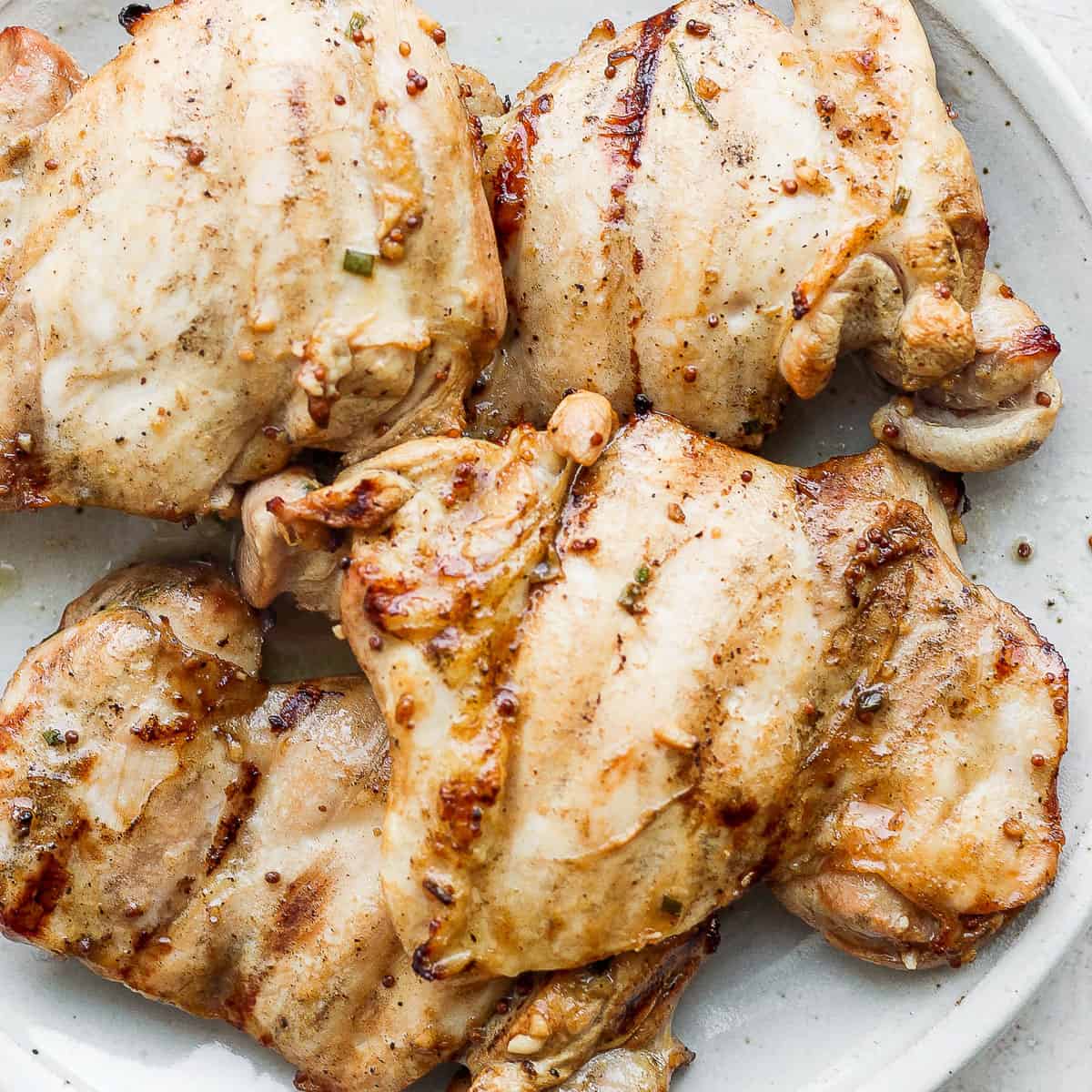 These seriously delicious grilled boneless chicken thighs are marinated in a homemade honey mustard chicken marinade and grilled to perfection.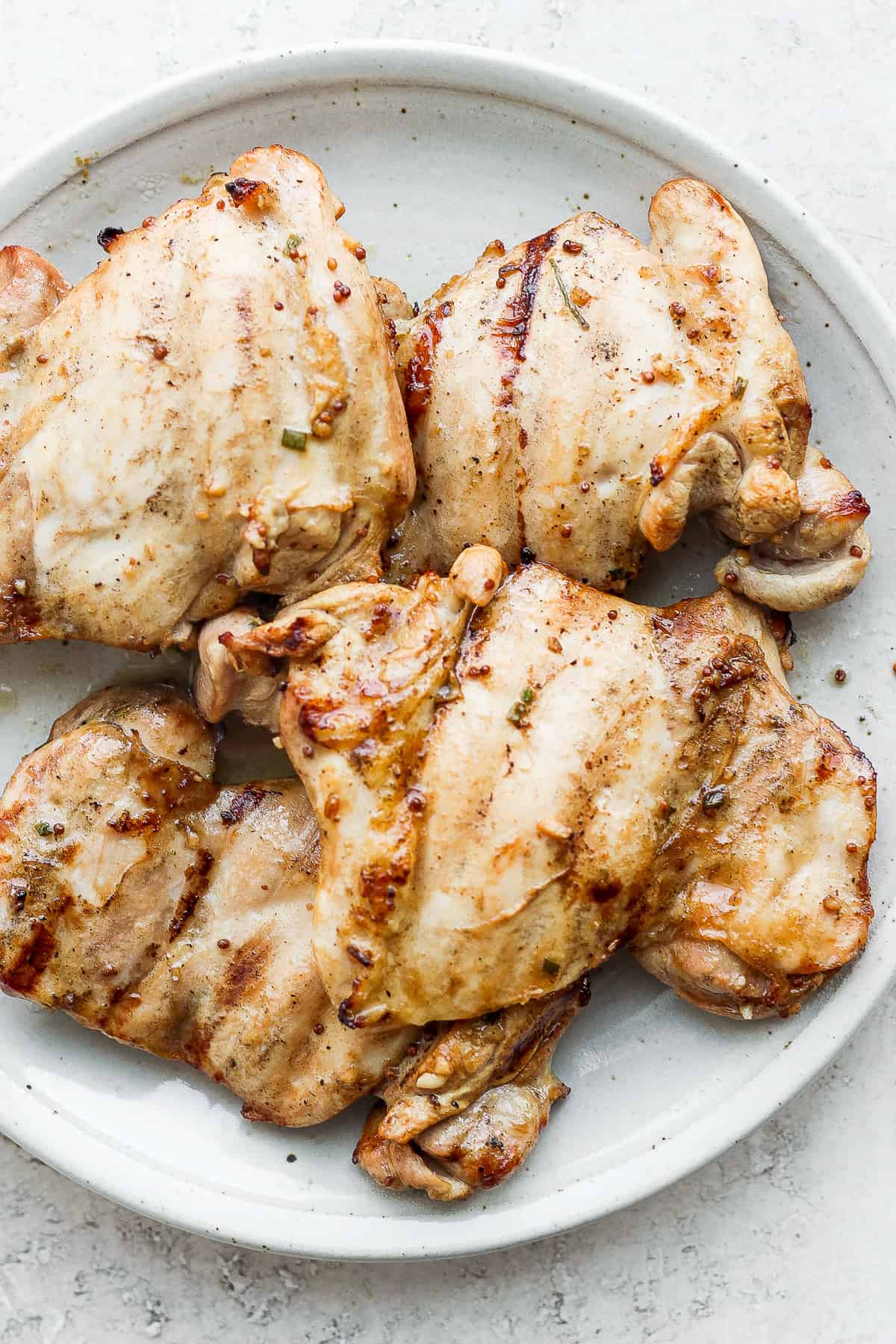 Juicy Grilled Boneless Skinless Chicken Thighs
Juicy grilled boneless chicken thighs begin with a marinade and end with charring them over direct heat on the grill.
You are going to love these grilled honey mustard chicken thighs. We served ours with a simple Spring salad, but serving them next to grilled potatoes or grilled carrots would also be delicious.
In this post, we'll give you a recipe for an epic honey mustard chicken marinade + share tips and tricks for perfect grilled boneless skinless chicken thighs!
Why you'll love it!
Saucy
Perfectly Grilled
High-Protein
Ready in < 1 Hour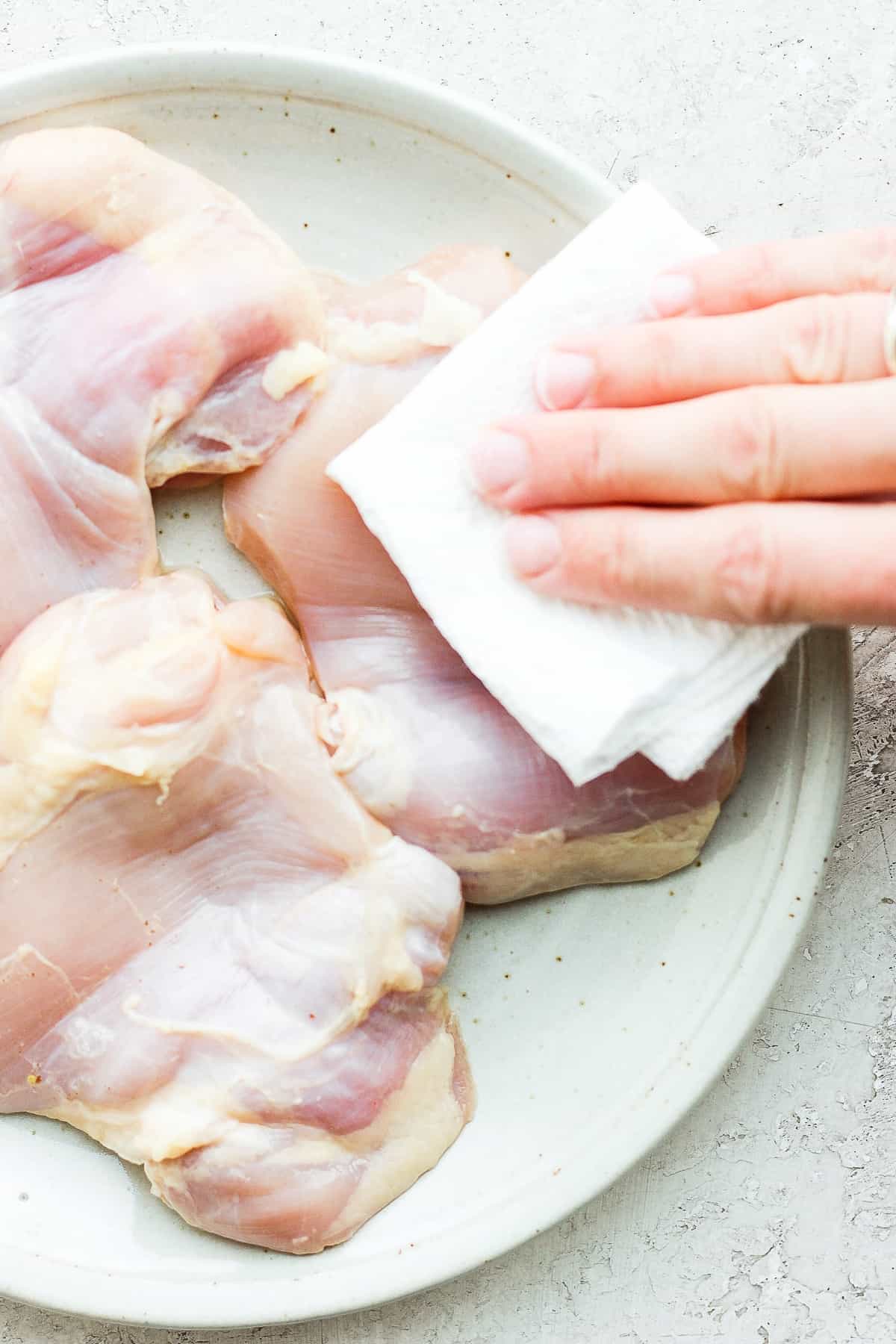 Featured Ingredients
Boneless Skinless Chicken Thighs: we're using boneless chicken thighs for this recipe because they cook quickly and are easy to find. They also come out super juicy!
Can I use another cut of chicken? Yes! This recipe will work with bone-in chicken thighs along with chicken breasts.
Honey Mustard Chicken Marinade: this homemade marinade is so flavorful and will leave your grilled boneless chicken thighs so juicy!
Apple cider vinegar
Dijon mustard
Whole grain mustard
Lemon juice
Soy sauce
Honey
Veggies: garlic, white onion, and chives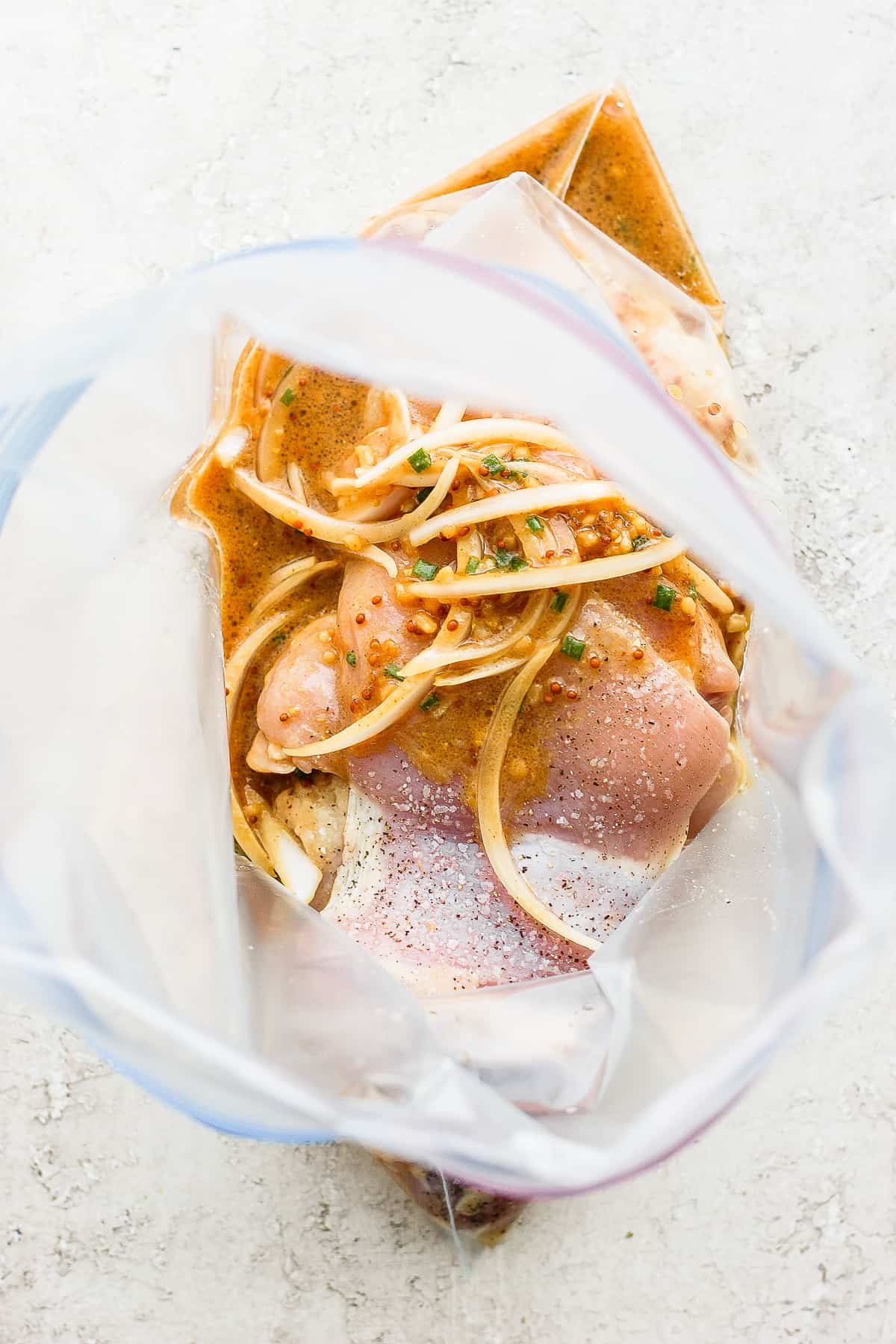 Tips for Grilling Boneless Chicken Thighs
Marinate your chicken thighs: we swear by marinating chicken thighs because it infuses the poultry with so much flavor.
Pro tip: set aside about 1/4 cup of marinade so that you can glaze the chicken with it right before removing it from the grill!
Oil grill grates: by rubbing oil onto your grill grates, you help prevent your chicken thighs from sticking.
Grill over medium/high heat: cook the thighs at around 400ºF for around 4-5 minutes on each side.
Grill over direct heat: we prefer grilling boneless chicken thighs over direct heat so they get those gorgeous char marks.
Cook until 160ºF: if you remove the thighs when the internal temperature reaches 160ºF, they will continue cooking as they sit about 5 more degrees.
Let rest: make sure to let the chicken thighs rest for around 5-10 minutes after you remove them from the grill so that they can continue cooking around 5 more degrees.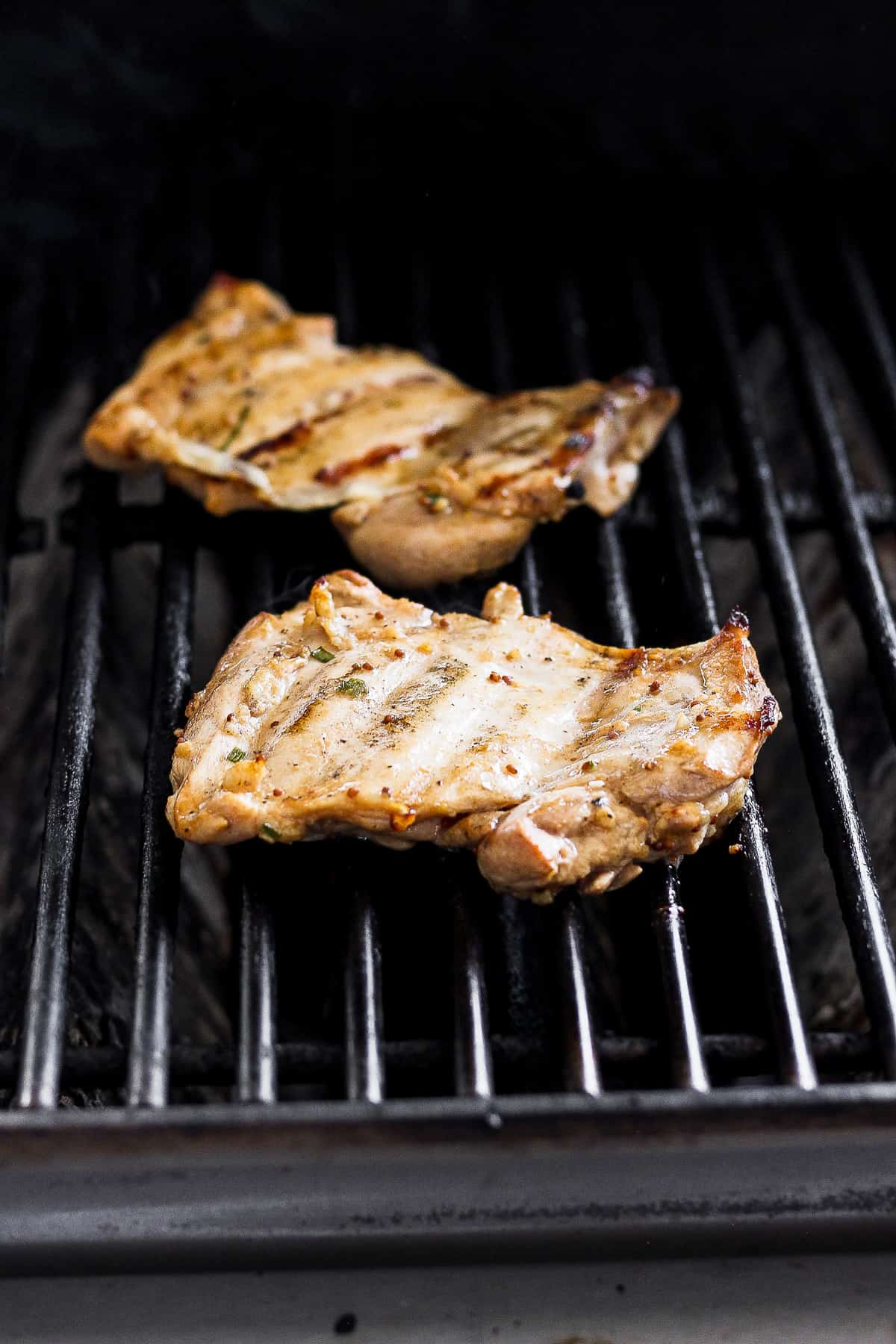 Baking Instructions
Want to bake these boneless chicken thighs instead? Here's how:
Transfer the chicken thighs and the marinade into an oven-safe dish.
Bake at 400ºF for around 18-20 minutes or until the internal temperature reaches 160ºF – 165ºF.
Let the chicken rest for 5 minutes and then serve.
FAQ
How long does it take to grill chicken thighs boneless?
It takes around 10 minutes at 400ºF to grill boneless chicken thighs.
What temperature do you grill boneless chicken thighs?
Grill boneless skinless chicken thighs at around 400ºF.
How do you keep chicken thighs from drying out on the grill?
We have found that grilling your thighs on medium/high heat over direct heat for 8-10 minutes will help them stay nice and juicy on the inside.
Storage
Store leftover chicken in an airtight container in the fridge for up to 3 days.
To reheat: microwave on high for 60-90 seconds.