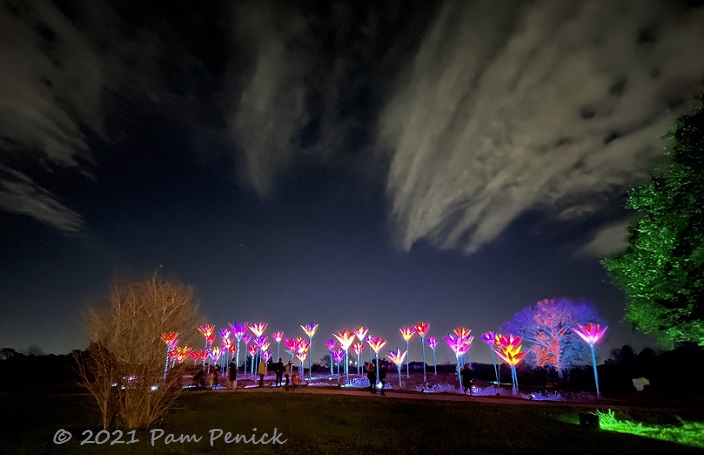 December 27, 2021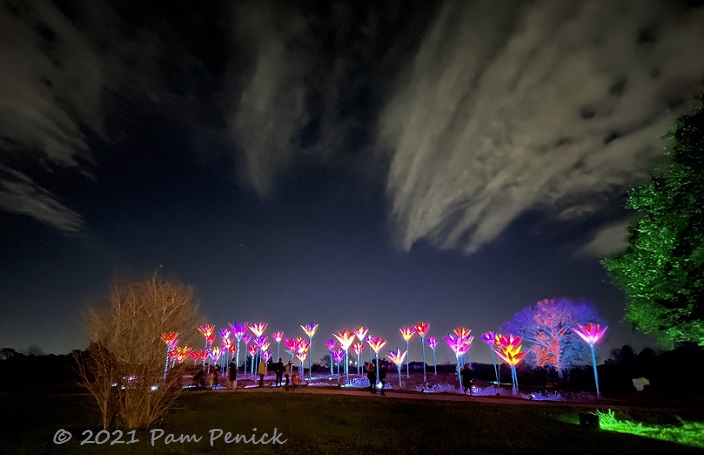 Space City finally got its own botanical garden last fall, the terrific new Houston Botanic Garden, which I visited right after it opened. Since then it's survived an unprecedented freeze during Texas's February snowpocalypse and appears to have bounced back with vigor. But my return visit, on the eve of Christmas Eve, wasn't about seeing plants — not really. It was to experience Lightscape, the garden's holiday light show (courtesy of comped tickets).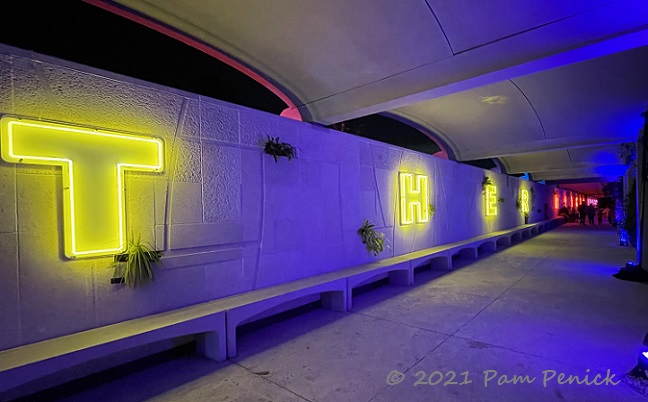 The Space Age-style arcade at the garden's entrance glows with a neon installation called Mother, a 3-word poem by artist Liss LaFleur that's on display through June 2022. Large letters spell out "OTHER MOTHER ANOTHER" along the length of the arcade, referring to both Mother Earth and the mothers in our lives. While not exactly part of the holiday light show, it fits in nicely.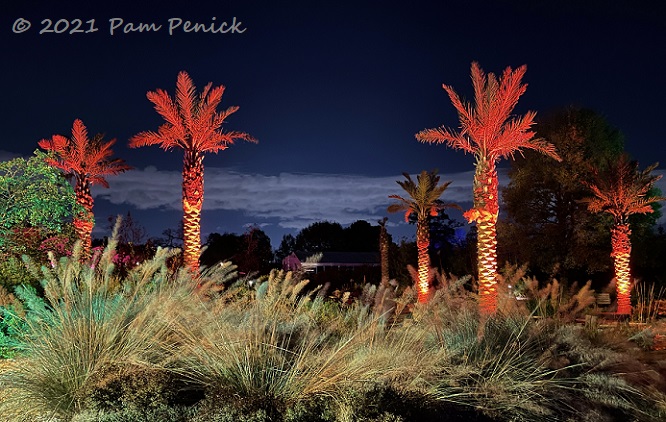 The nighttime trail is clearly marked and docents are on hand to guide visitors, but these towering red-lit palms also serve as beacons through the Global Collection garden.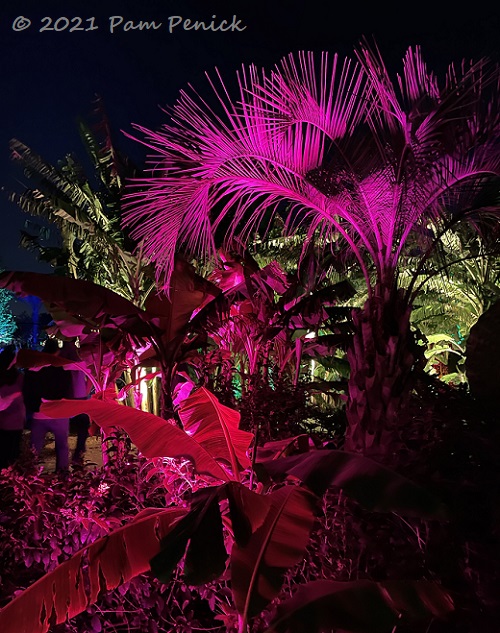 The tropical plants crowding the path evoke the nighttime landscape of Pandora in Avatar.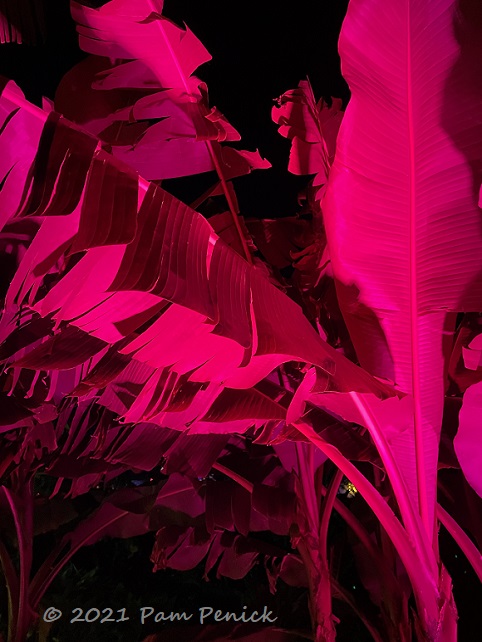 Glowing red bananas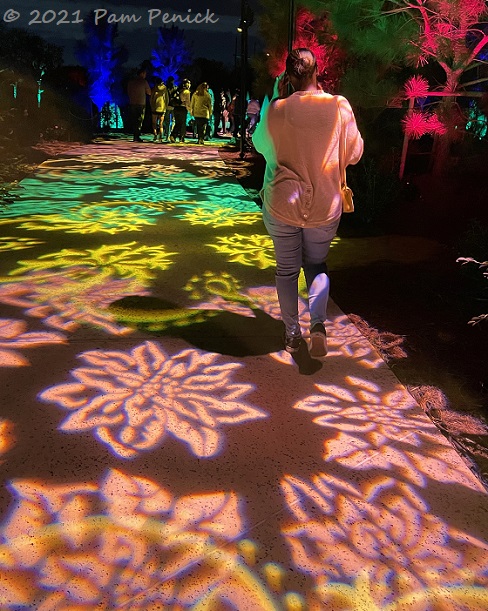 Between light installations, paths swirl with colorful flowers and snowflakes.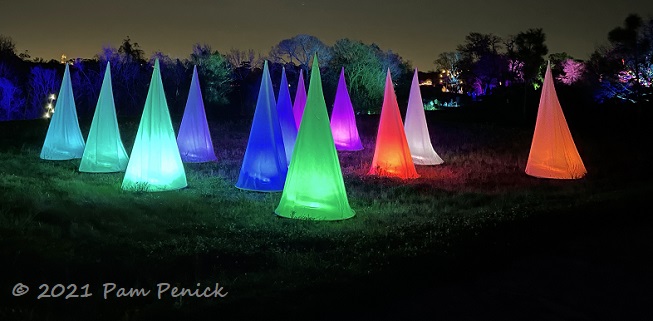 Diaphanous trees like pointy gnome hats change color as you walk by. This is "Geo Forest" in rainbow hues…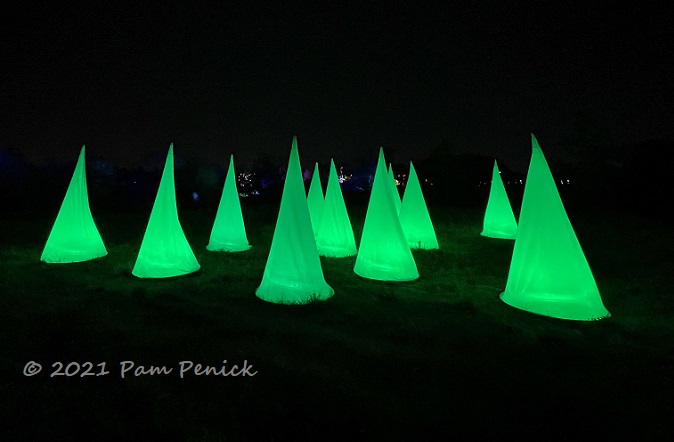 …and all green…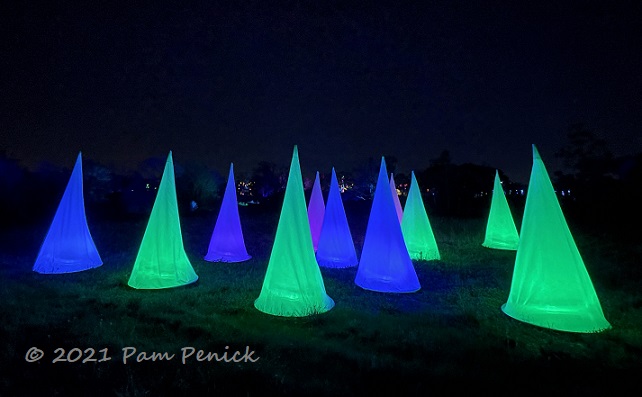 …and greens and blues.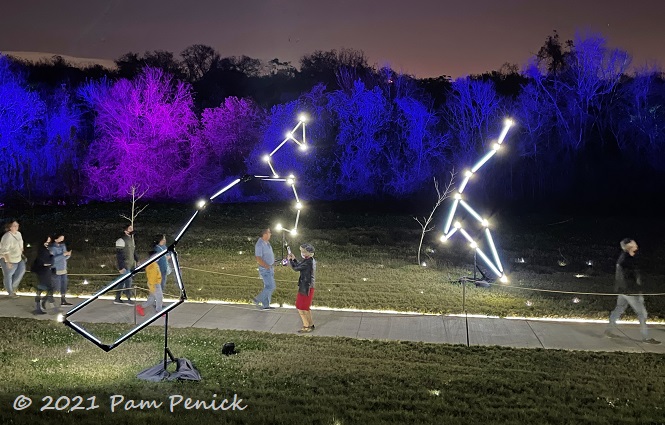 A ridge view allows a preview of "Constellations," its stars picked out with white lights and connected with neon rods, all against a backdrop of purple and blue trees. In the grass, twinkling white lights add to the illusion of floating through the starry sky.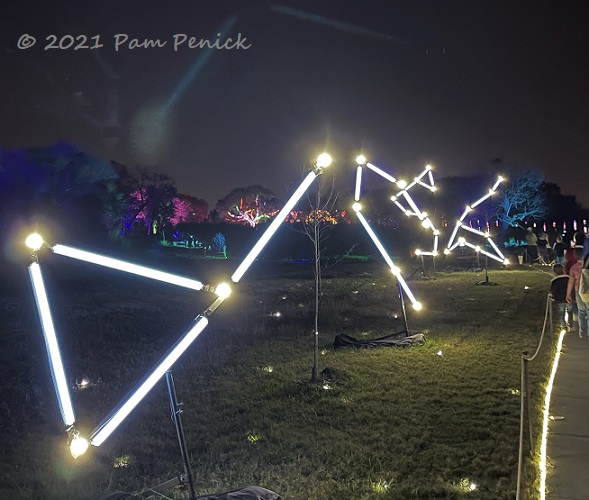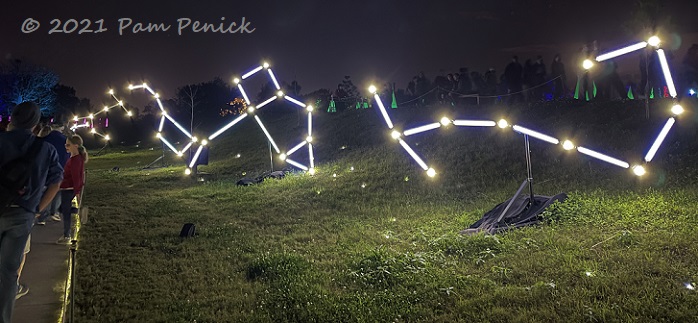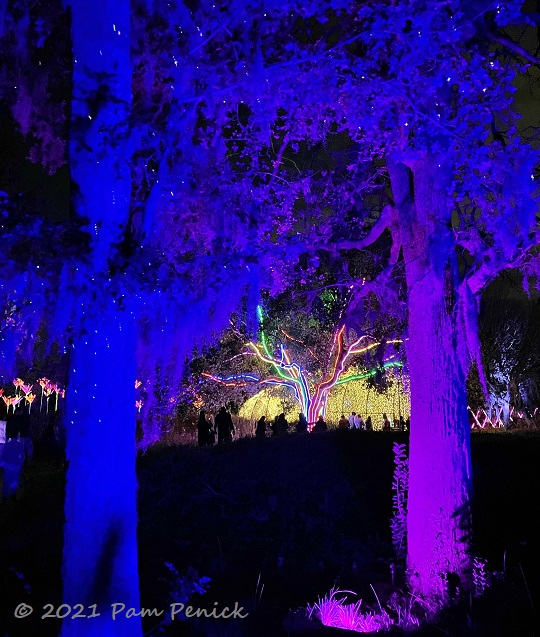 Laser lights projected on blue- and purple-lit trees seem to dance like fireflies. Ahead you get a glimpse of "Neon Tree."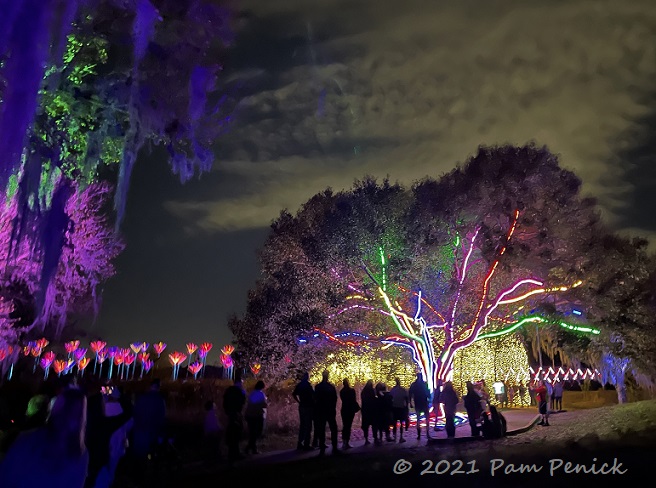 "Neon Tree" is pretty spectacular, with bendy neon tubes in rainbow hues extending from roots to branch tips.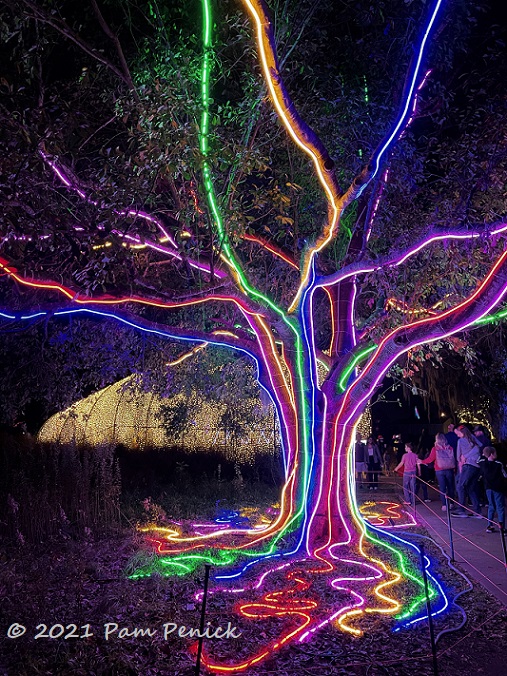 Here selfie-takers made their stand, backing up traffic a bit, and docents urged visitors forward. But really, who wouldn't want to stop and stare for a moment?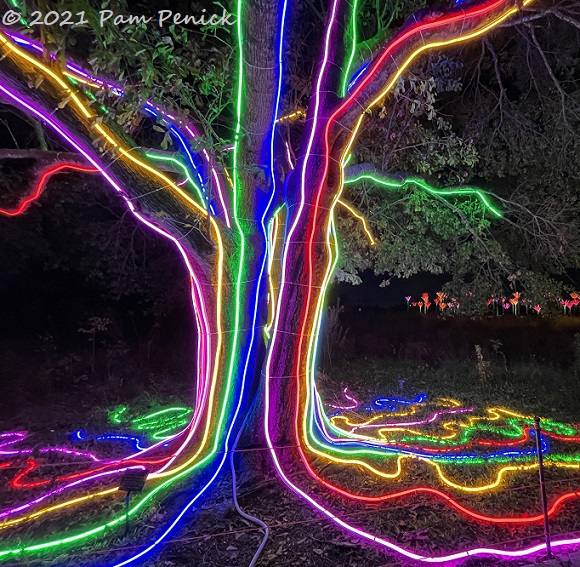 It reminds me of a tree in my neighborhood that's annually decorated in a similar way.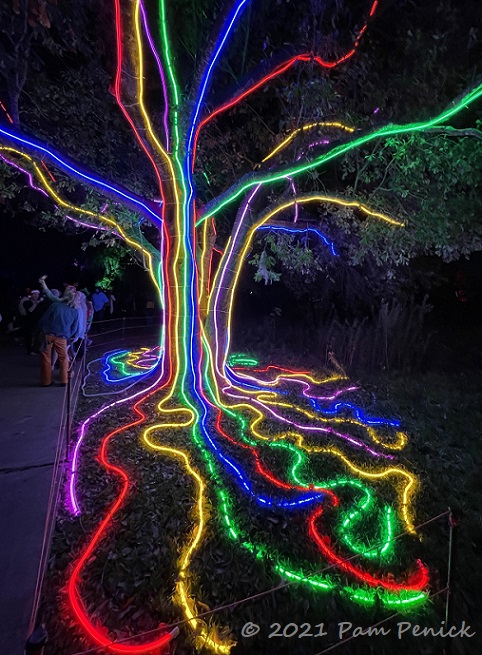 The wavy roots are the perfect finishing touch.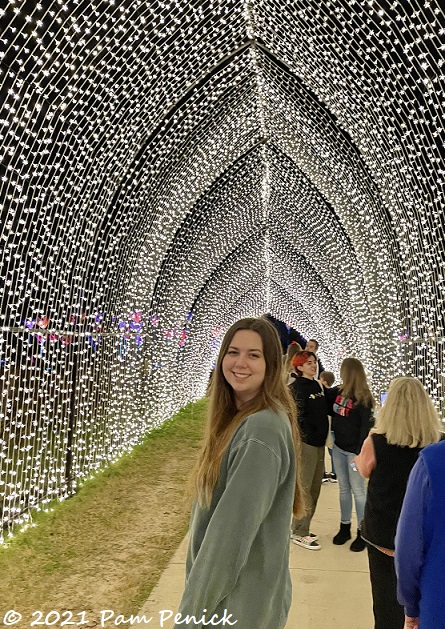 A Gothic arch of white lights — "Winter Cathedral" — also is a popular spot for family photos.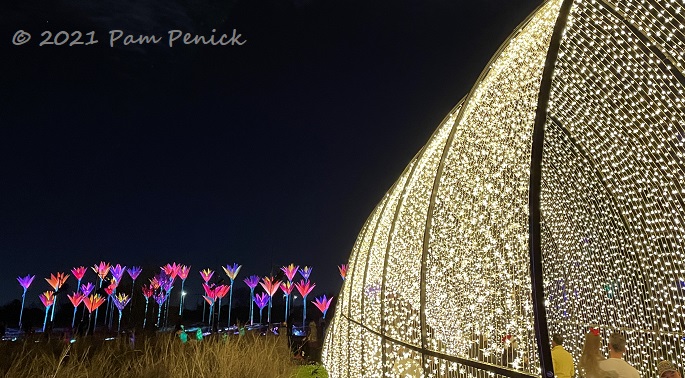 Beyond you get a glimpse of "Jigantics," a field of super-sized, glowing, tulip-like flowers.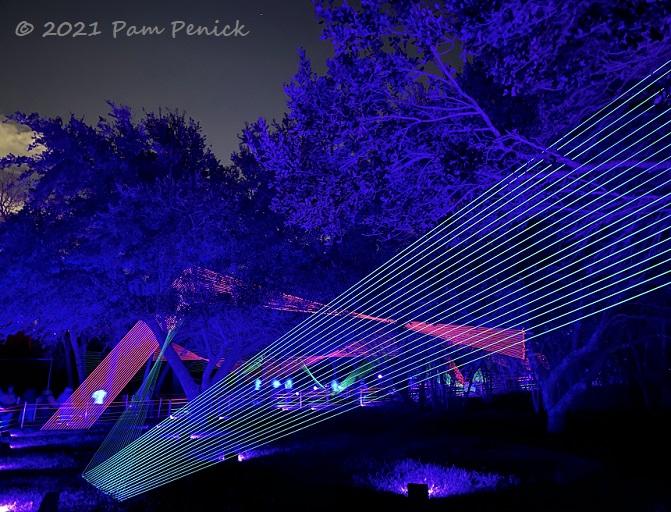 But first a long loop takes you past a winking "Starfield" (I didn't get a good photo) and then to psychedelic 'Neon Strings."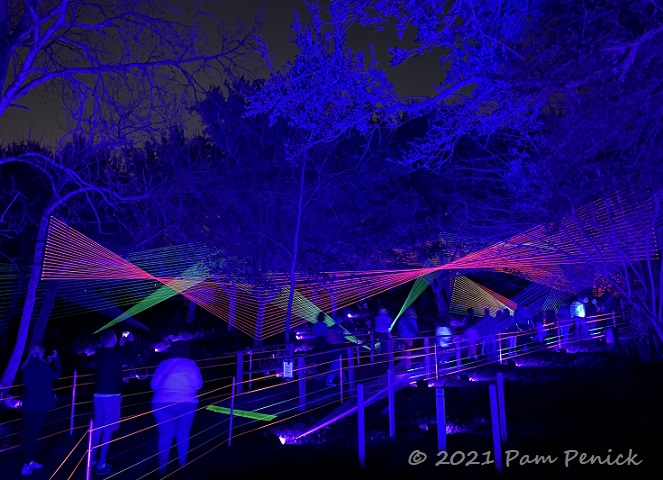 "Neon Strings" is fascinating, like a forest loom being twisted and woven into a living fabric.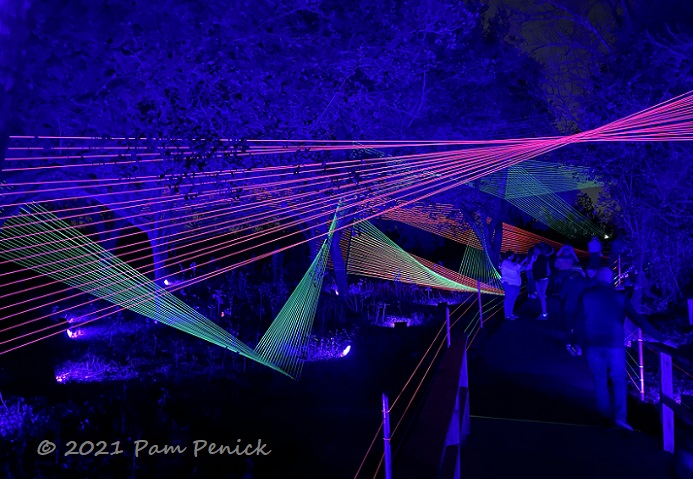 Strings are in the air in other ways too. On speakers, a violin was playing electronic dance music that my daughter recognized as the work of Lindsey Stirling.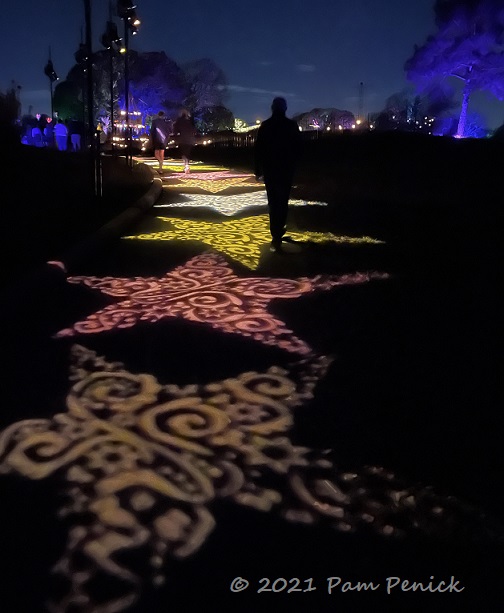 A starry path leads on…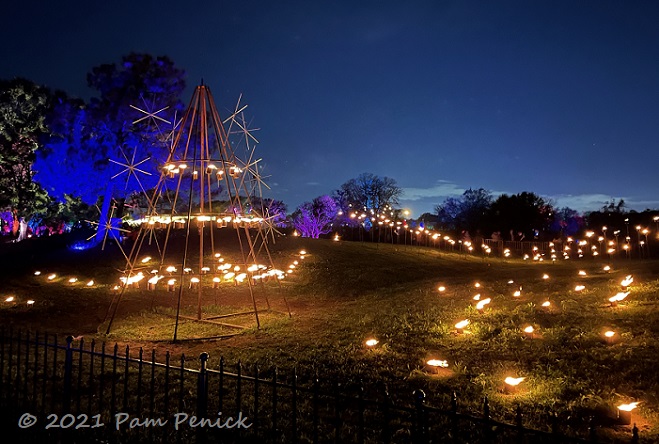 …past the pagan-esque "Fire Garden" that made us think of the movie Midsommar. How very Austin.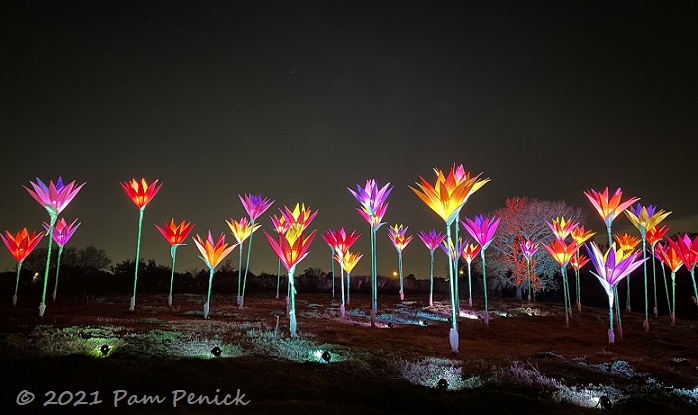 On to one of my favorites, "Jigantics," a field of lighted flowers so tall you feel bug-sized in comparison.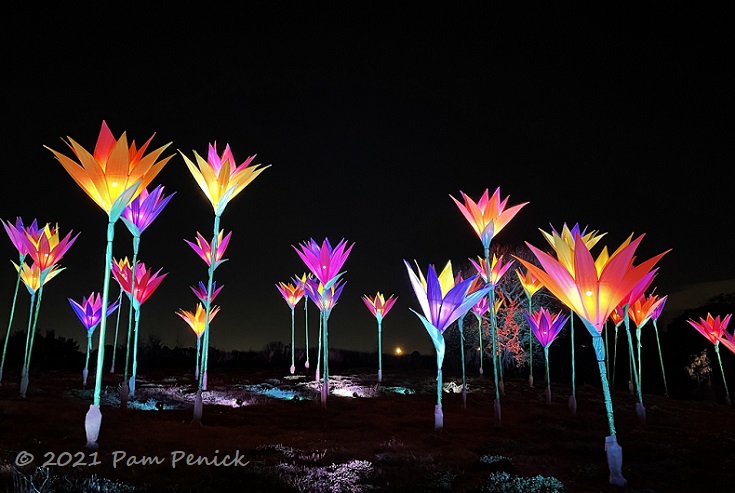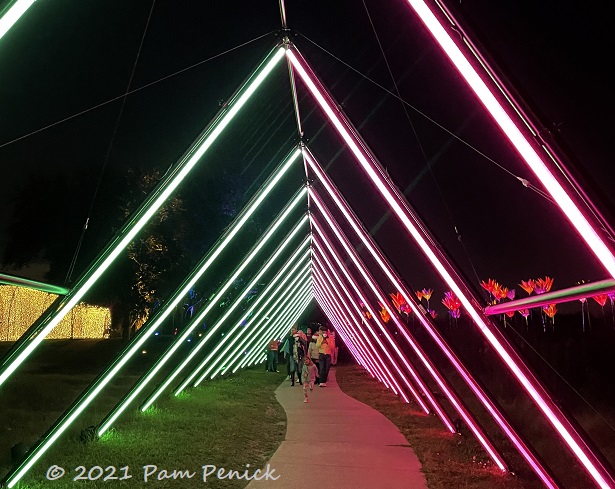 Next up is "Triangulate," with color-changing neon rods that form a triangle tunnel.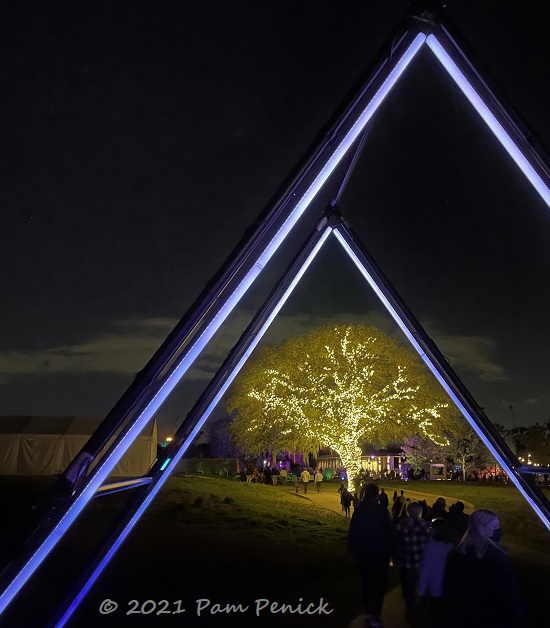 As you emerge, a wonderfully lit-up tree is framed in neon.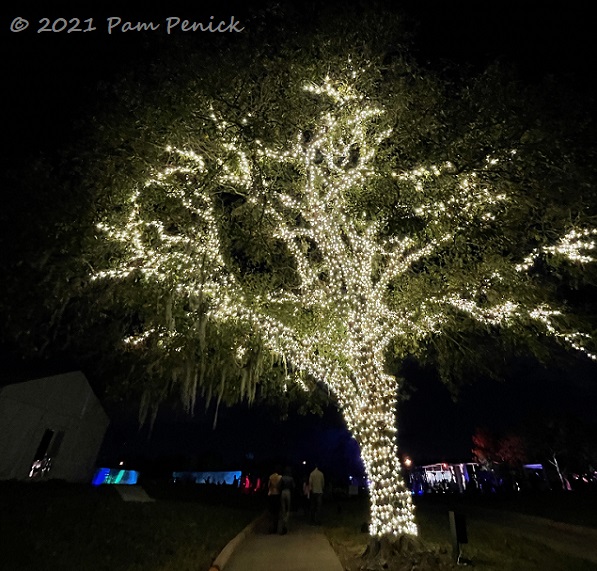 "Pealight Tree," complete with Spanish moss dripping from its branches.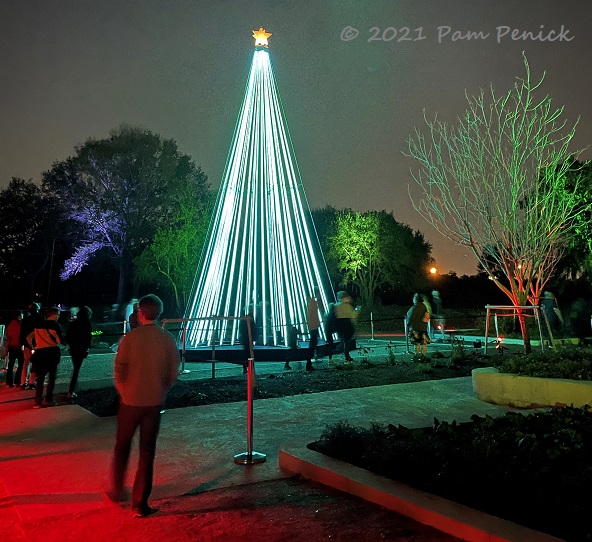 In the Culinary Garden plaza, a tall, star-topped tree changes colors like a chameleon.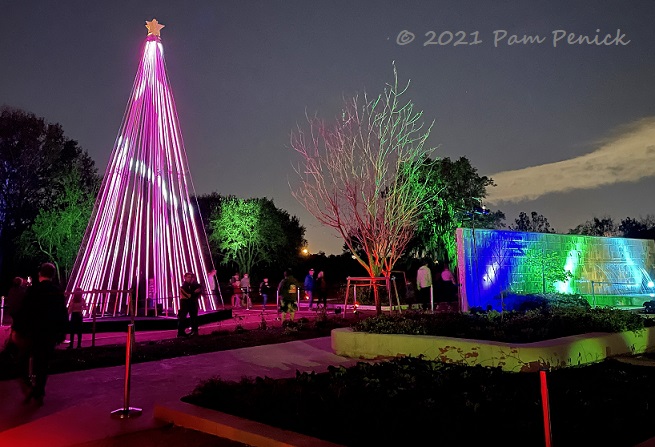 It's the "Winter Wonder Tree," and it was fun to watch as it cycled through a mad dance of colors.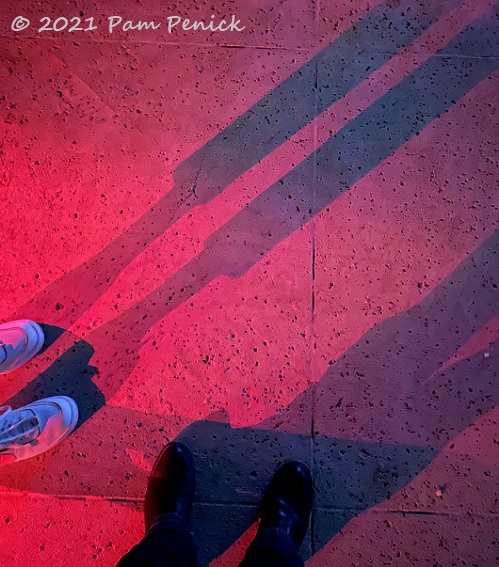 We basked in the glow.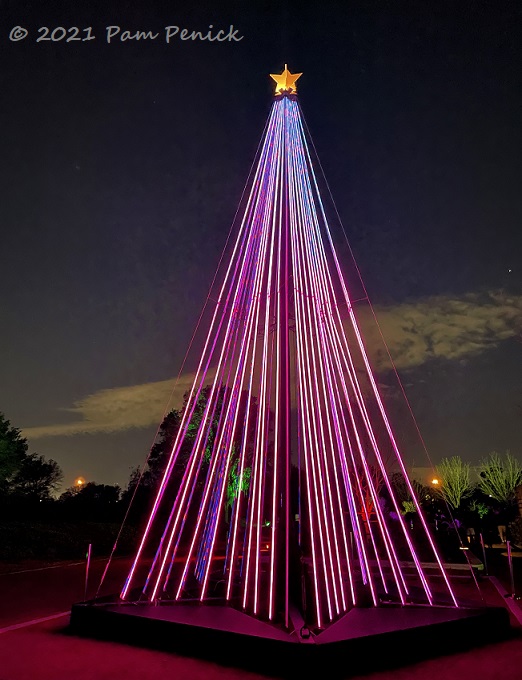 You'd need video to really capture the effect of this tree.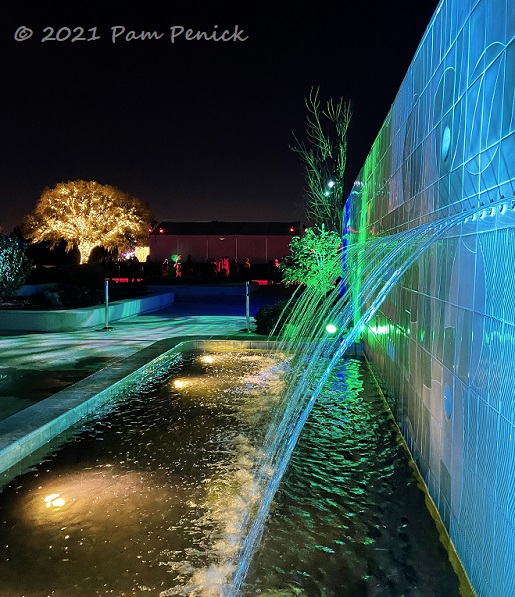 In September of 2020, when I last visited, construction on the water wall in the Culinary Garden was not yet finished. This time I got to see it in glowing color.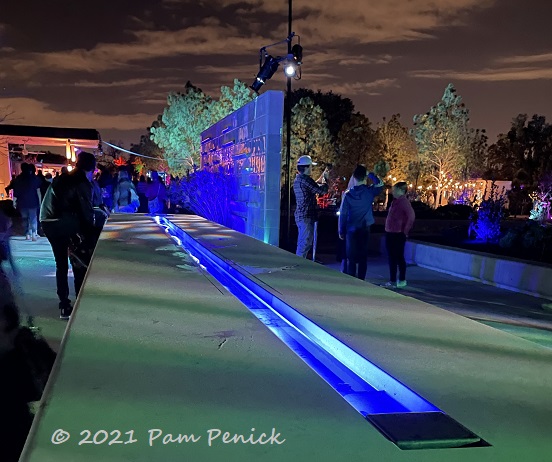 A long water table normally contains a flowing rill, I imagine. But for Lightscape, the H2O is shut off and a rivulet of glowing blue neon takes its place.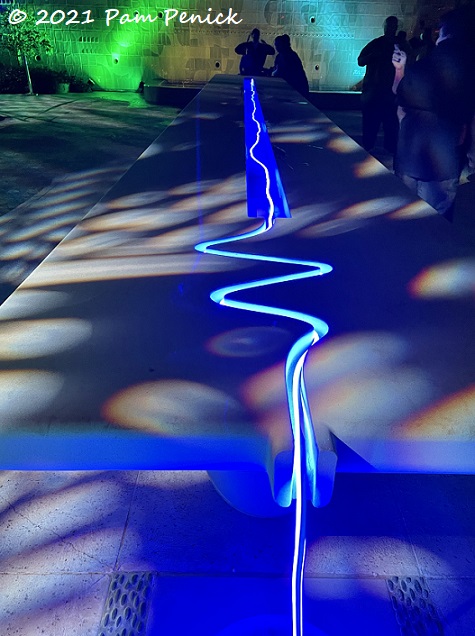 The light "flows" through the table's water channel and drops off the edge…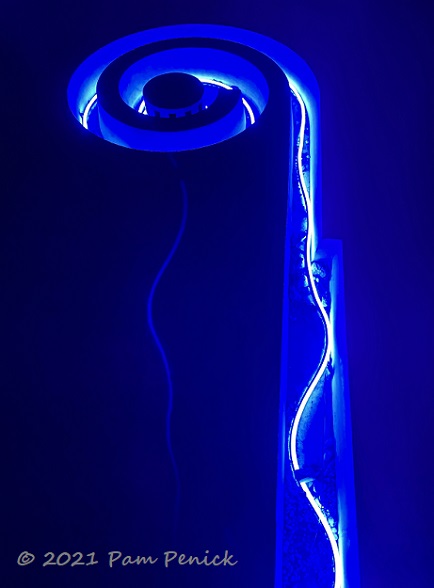 …and then swirls into a blue eddy in the pavement.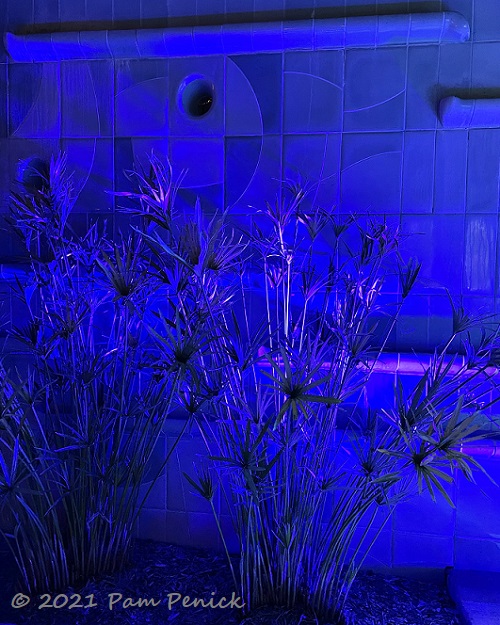 Living papyrus or sedge bathed in blue light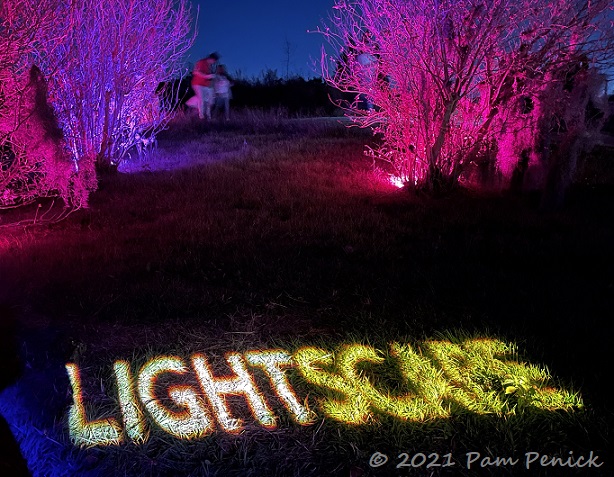 Lightscape is a fun new addition to the holiday garden-visiting scene. If you'd like to visit Houston Botanic Garden and see it yourself, there's still time. The show runs through January 2, 2022. Be sure to reserve timed tickets in advance. Parking is available at the garden for an extra fee, or you can take a park-and-ride shuttle as a less-pricey option.
I welcome your comments; please scroll to the end of this post to leave one. If you're reading this in a subscription email, click here to visit Digging and find the comment box at the end of each post.
_______________________
Digging Deeper: News and Upcoming Events
Need design help with your yard? Hire me as your personal garden coach! Maybe you need replacement plant ideas after the big freeze. Or maybe your landscaping has grown tired, and you want fresh curb appeal. Or perhaps you're ready to get rid of some lawn and create a pollinator garden, bird habitat, or hangout space for you and your friends. I'm here to help! Contact me to let me know what's going on, and let's figure it out together. My range is Austin and suburbs within a 25-min. drive of NW Austin, but I'm flexible and can travel farther with a surcharge, so let me know where you are. Weekday morning appts. only.
Join the mailing list for Garden Spark! Hungry to learn about garden design from the experts? I'm hosting a series of talks by inspiring garden designers, landscape architects, and authors a few times a year in Austin. Check out the 2021-22 schedule. These are limited-attendance events that sell out quickly, so join the Garden Spark email list to be notified in advance. Simply click this link and ask to be added.
All material © 2021 by Pam Penick for Digging. Unauthorized reproduction prohibited.