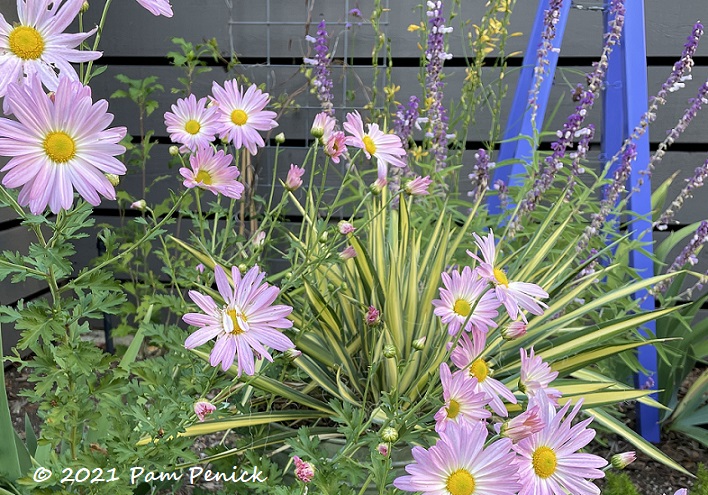 October 21, 2021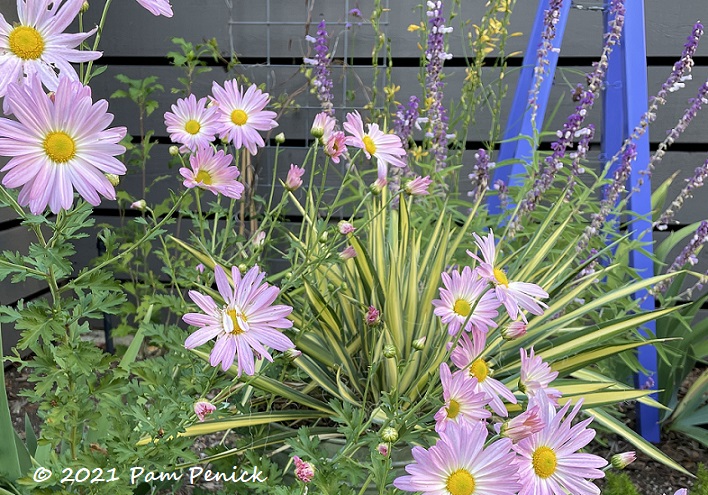 After two years of planning and a one-year covid-deferment, I finally made a long-wished-for road trip through the Northeast for leaf-peeping season, segueing into a garden-visiting trip down through the Mid-Atlantic.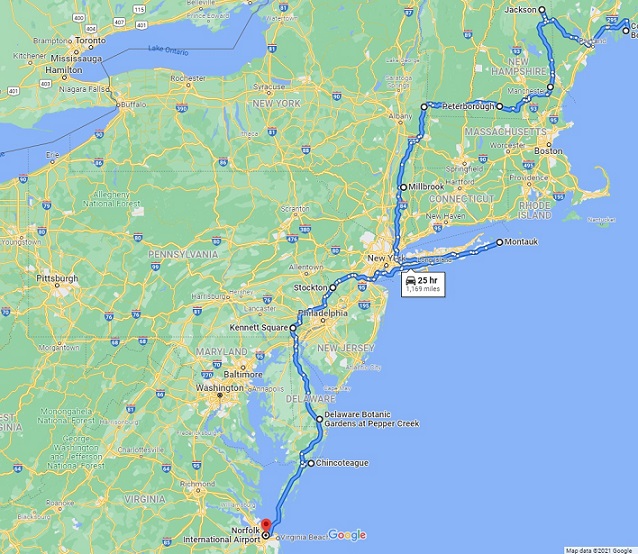 I flew into Maine on the last day of September and returned last Sunday after 18 days on the road and 2,250 miles on my rental car. My husband accompanied me for part of it, my dad for a couple of days, and the rest I soloed. I took about 3,000 photos. It was pretty great!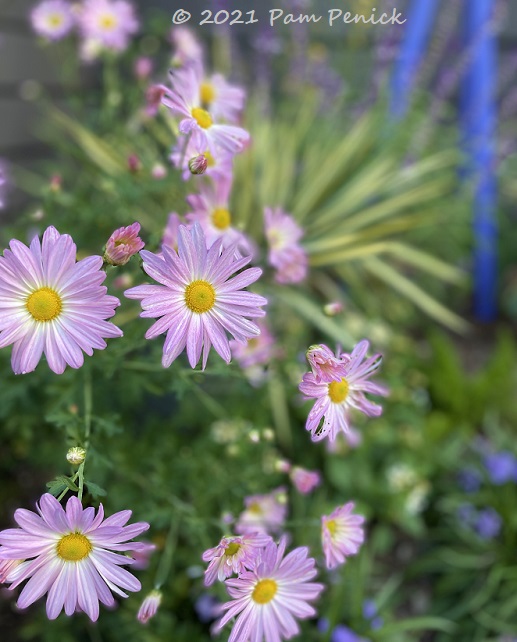 I came home to a garden refreshed by several inches of rain and cooler temperatures. Everything seems to be blooming. It's our second spring!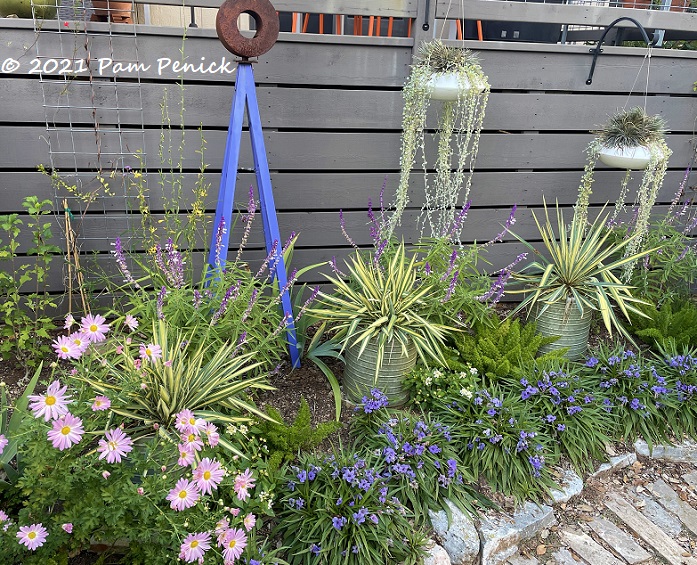 Why did it take me so long to plant 'Country Girl' mums, I wonder? I love their blushing pink flowers, although it's true that cucumber beetles love them too and they get a bit tattered. This bed along the deck has undergone a lot of revisions over the past year, but I'm liking where it is. Three potted 'Color Guard' yuccas in galvanized pots anchor the curving bed, backed by Mexican bush sage (Salvia leucantha) and fringed with 'Southern Star Blue' dwarf ruellia (very similar to 'Katie' ruellia). Foxtail ferns and 'Bandana White' lantana fluff it up a little, and copper spiders (Echeandia texensis) add spires of golden flowers at back left. I'm waiting for a 'Purple Pillar' rose of Sharon (far left) to add verticality. The grasshoppers went after it hard this summer, but it's hanging in there.
A TerraTrellis tuteur and hanging saucer planters from Potted get the eye up off the ground and help fill the gap between the ground plane and the deck, without blocking views from the deck. So do vines climbing sections of cattle panel affixed to the deck skirting.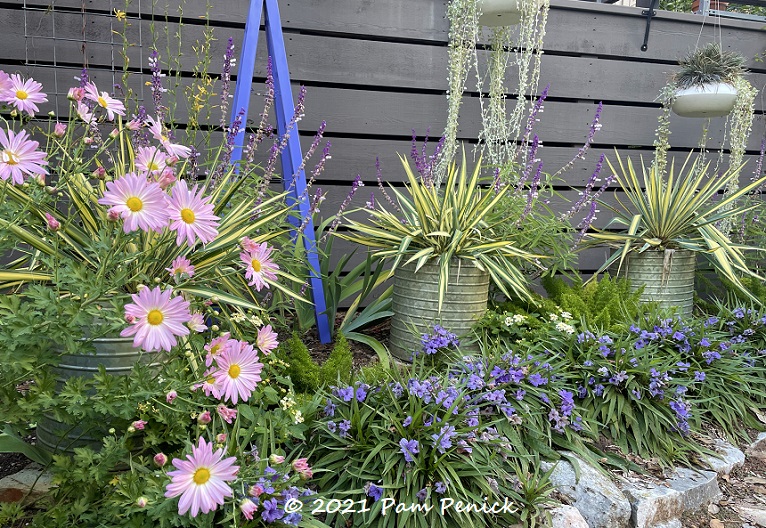 A dog's-eye view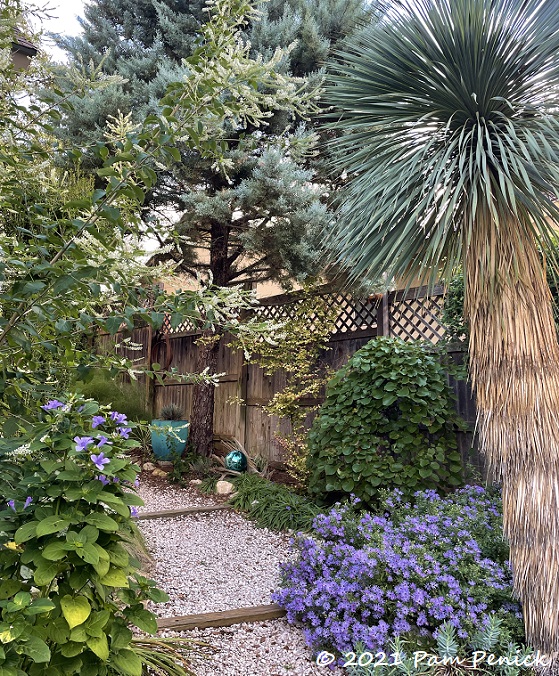 The deck is awash in the fragrance of sweet almond verbena (Aloysia virgata), a heavenly scented but frankly kind of ugly giant shrub (upper left). I thought it had died in the February freeze, and my husband hacked out the massive root ball — or so he thought — but it came roaring back and is bigger than ever. So be it. It really wants to live, and after all it smells so good. As it leans toward the big 'Sapphire Skies' Yucca rostrata, the yucca leans toward it, reaching for more sun, and creating a kind of tunnel up the side path.
Philippine violet (Barleria cristata) and fall aster (Aster oblongifolius) add purples below, with 'Traveller' weeping redbud, 'Blue Ice' Arizona cypress, and a chlorotic loropetalum in the background.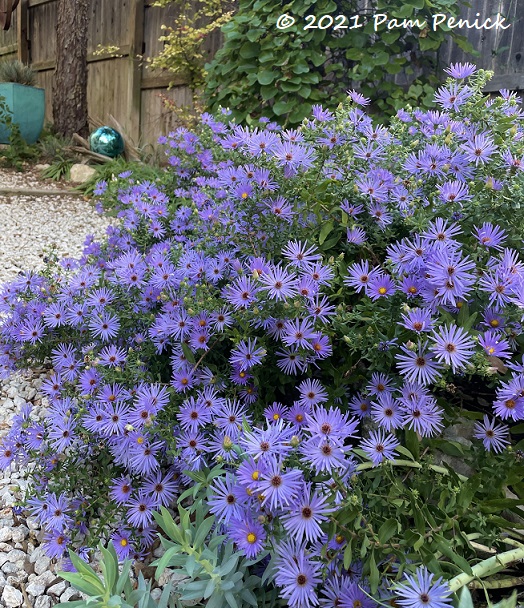 I plant our native fall aster (Aster oblongifolius) for the bees and for its gorgeous fall color.
Look for my travel posts to start next week, but before that I'll be sharing pics of Lucinda Hutson's festive Day of the Dead garden here in Austin!
I welcome your comments; please scroll to the end of this post to leave one. If you're reading this in a subscription email, click here to visit Digging and find the comment box at the end of each post.
_______________________
Digging Deeper: News and Upcoming Events
Need design help with your yard? Hire me as your personal garden coach! Maybe you need replacement plant ideas after the big freeze. Or maybe your landscaping has grown tired, and you want fresh curb appeal. Or perhaps you're ready to get rid of some lawn and create a pollinator garden, bird habitat, or hangout space for you and your friends. I'm here to help! Contact me to let me know what's going on, and let's figure it out together. My range is Austin and suburbs within a 25-min. drive of NW Austin, but I'm flexible and can travel farther with a surcharge, so let me know where you are. Weekday morning appts. only.
Join the mailing list for Garden Spark! Hungry to learn about garden design from the experts? I'm hosting a series of talks by inspiring garden designers, landscape architects, and authors a few times a year in Austin. Check out the 2021-22 schedule. These are limited-attendance events that sell out quickly, so join the Garden Spark email list to be notified in advance. Simply click this link and ask to be added.
All material © 2021 by Pam Penick for Digging. Unauthorized reproduction prohibited.