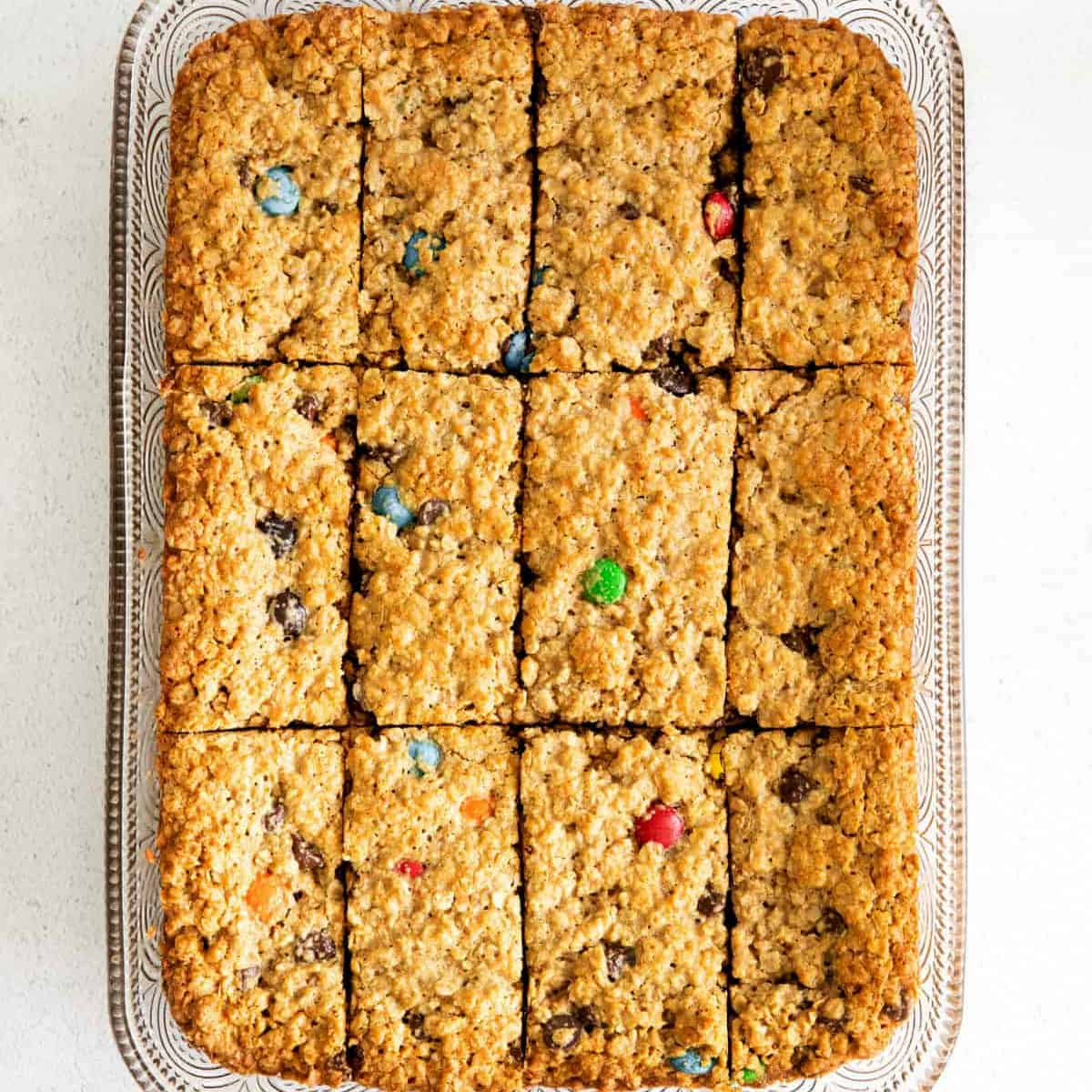 These flourless monster cookie bars are packed with oats, all-natural peanut butter, m&ms, and chocolate chips, making them the perfect sweet treat. Enjoy!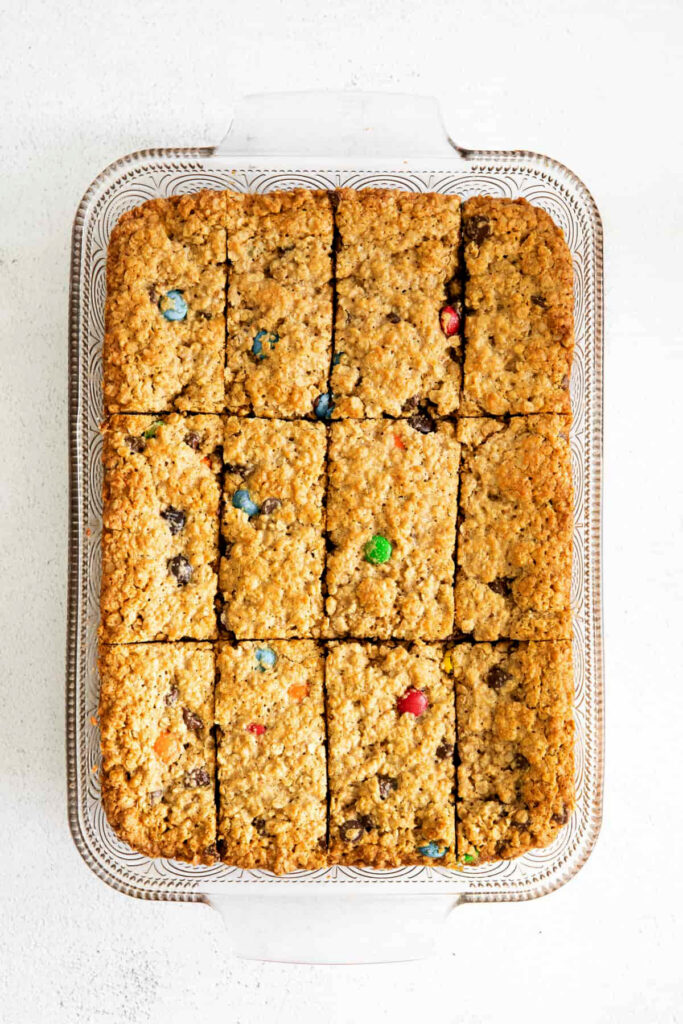 Welcome to our take on monster cookie bars! They're part monster cookies + part cookie bars mashed together and baked to chewy perfection. These make a big batch — aka they're a great sweet treat to bring to a gathering or snack on the go with the fam.
PS: you have to try our Monster Cookie Protein Balls!
What are Monster Cookie Bars?
We all love a good monster cookie here in the midwest, and this recipe is basically one giant cake pan of monster cookies baked and then sliced into bars. Does it get more delicious!?
Monster cookies are made from the base of oatmeal, peanut butter, and M&Ms.
Why You Have to Make These!
They're Flourless: These monster cookie bars are flourless and gluten free thanks to the quick-cooking oats.
All-Natural Peanut Butter: We're big fans of using all-natural drippy peanut butter with one ingredient – PEANUTS, and none of those extra fillers you often find in many nut butters. Smucker's All-Natural is our go-to.
No Granulated Sugar: Instead of using white granulated sugar like many cookies and cookie bars do, we use light brown sugar for these cookies. Feel free to sub 1:1 for coconut sugar if that's your jam!
Dark Chocolate Chips and M&Ms: We love the taste that dark or semi-sweet chocolate chips give these bars (instead of milk chocolate chips). We also used m&ms to give them some deliciously chocolate-y crunch. They're monster cookies after all! What else could you use?
Butterscotch chips
Peanut butter chips
White chocolate chips
Raisins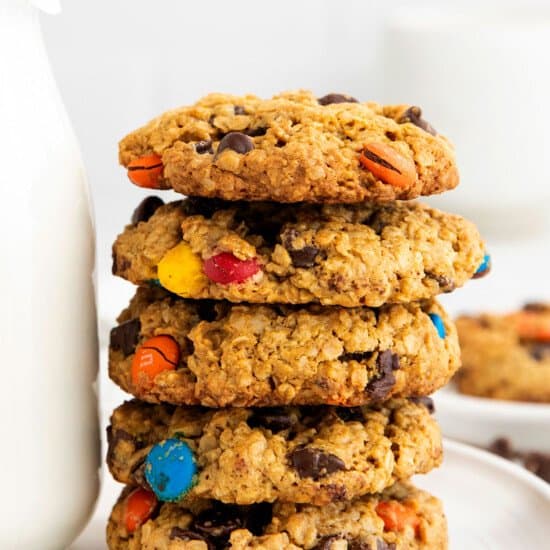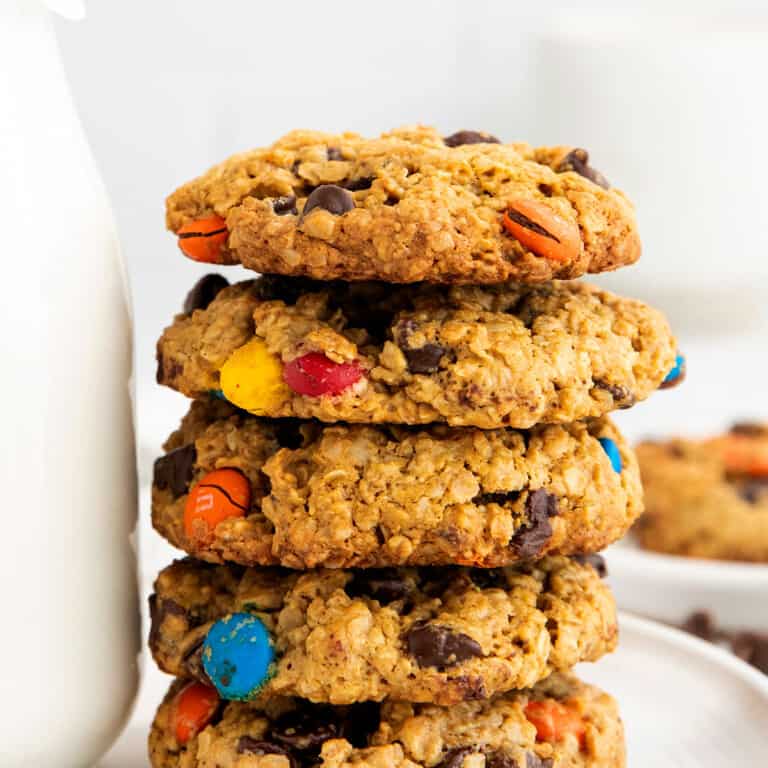 Try it!
Flourless Monster Cookies
These flourless Monster Cookies are your new favorite dessert! Made with oatmeal, peanut butter, chocolate chips and M&M's, these cookies are jam-packed with all the good stuff.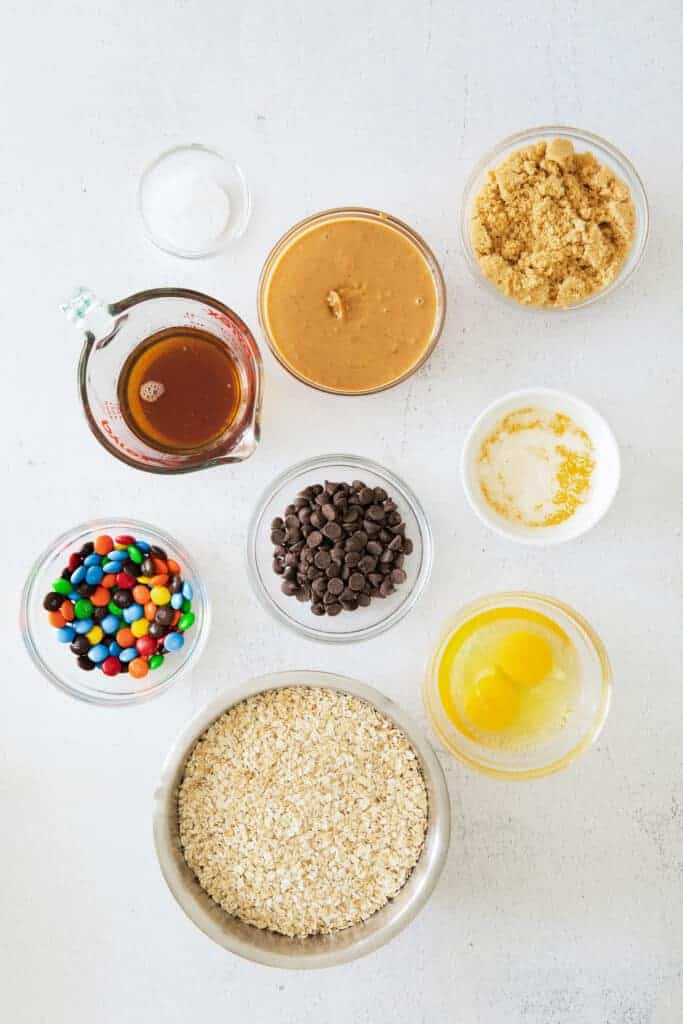 What You Need
These monster bars pack a short list of ingredients you likely have on hand already. Here are the 9 ingredients you'll need, and a few pro tips for ingredient substitutions you may be thinking of making:
Quick-cooking oats: we DO NOT recommend using anything besides quick-cooking oats in this recipe, as rolled or old-fashioned oats will soak up too much of the wet ingredients and result in dry bars. And nobody wants dry monster bars!
All-natural, drippy peanut butter
Maple syrup
Melted butter: we do not recommend subbing out the butter for another fat, as we haven't tested it.
Eggs
Light brown sugar: feel free to sub 1:1 coconut sugar if you prefer!
Baking soda
M&Ms
Semi-sweet chocolate chips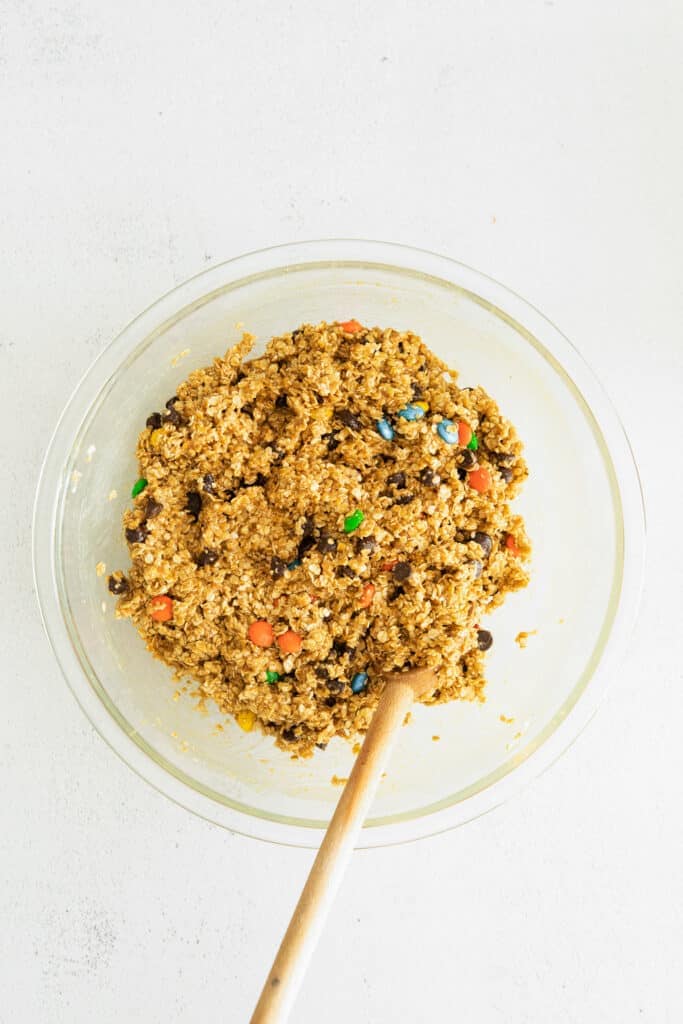 How to Make Monster Cookie Bars
For the full recipe, scroll down to the recipe card for a list of ingredients and instructions.
Preheat & Prep
First, preheat the oven to 350ºF and spray a 9×13-inch baking dish with cooking spray.
Mix Ingredients
One great thing about these bars is you don't need to mix the wet and dry ingredients separately. One bowl, baby! Add to a large bowl:
oats
peanut butter
maple syrup
melted butter
eggs
brown sugar
baking soda
And mix with a wooden spoon to combine. The batter should be thick like cookie dough. Then, add in the m&ms and chocolate chips, and mix again. Mixing the m&ms and chocolate chips in last will ensure that they're not melted by the warm melted butter.
Transfer Dough to Baking Dish
Transfer the monster cookie dough into the baking dish, and use your wooden spoon (or hands) to press the batter firmly and flat into the dish.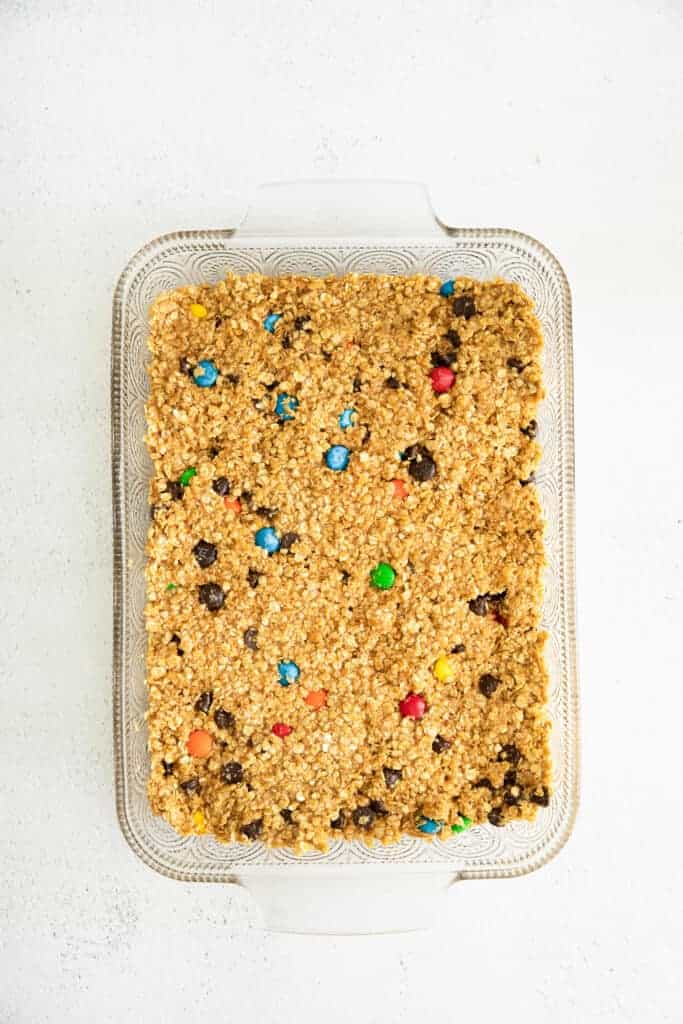 Bake
Bake at 350ºF for around 17-20 minutes or until the sides begin to turn golden brown and it is firm to touch in the middle.
Let Cool & Enjoy!
Let the monster cookie bars cool for at least 30 minutes to 1 hour before slicing and serving. This will allow them time to fully cool and ensure a clean cut of each individual bar. YUM.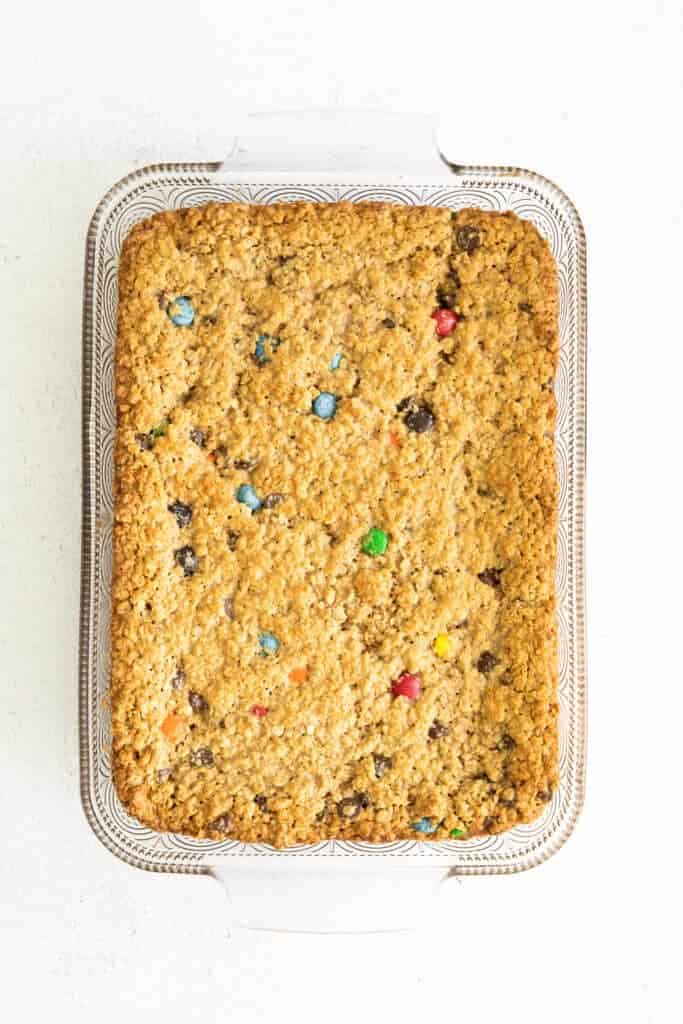 Storage
Let the cookie bars cool completely. Then, transfer them into an airtight container or gallon-size bag and store in a cool, dark place for up to 5 days. If your sheet pan has a lid, feel free to keep the monster cookie bars right in the sheet pan for storage.
Can I freeze monster cookie bars?
You have two options when it comes to freezing these monster cookie bars.
Dough –> Wrap dough in plastic wrap and then place in a freezer-safe gallon-size bag. Remove as much air as possible and freeze for up to 3 months.
Cookies –> Let pan of monster cookie bars cool completely, cut into individual bars and then transfer into a freezer-safe gallon-size bag. Remove as much air as possible and freeze for up to 3 months.