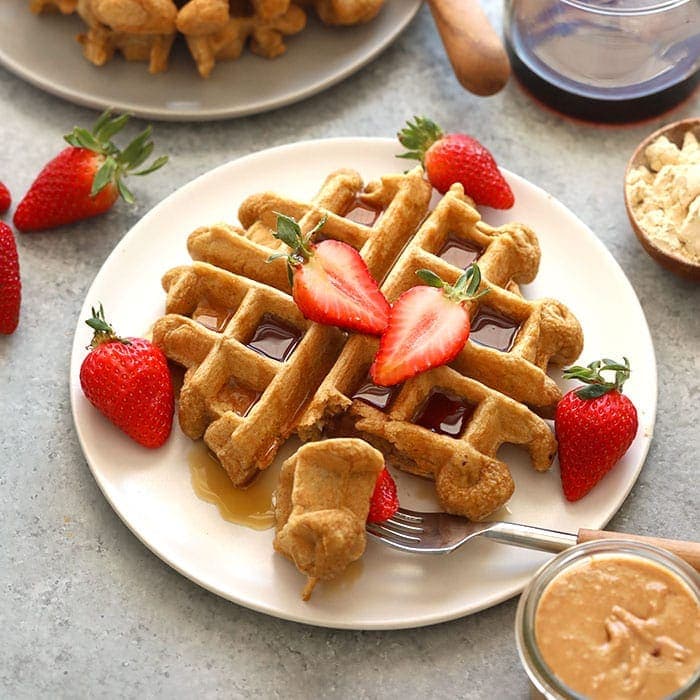 Finally, protein waffles that are fluffy and delicious! Get a whopping 12g of protein from these healthy Protein Waffles made with 100% whole grains and no added sugar.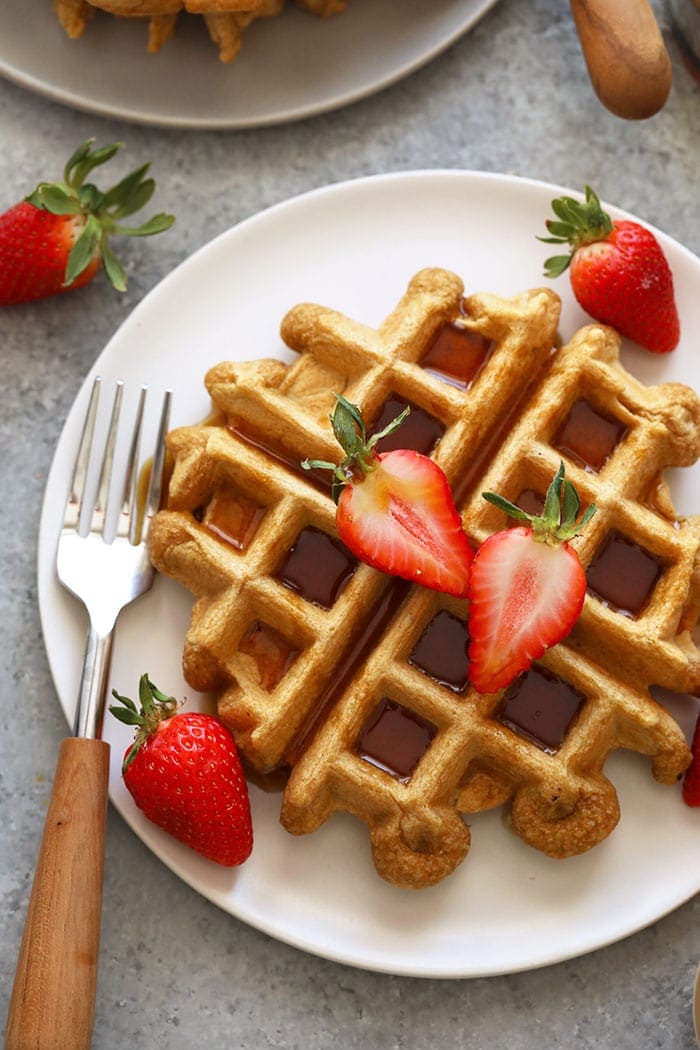 Protein waffles are a healthy breakfast idea made with whole grains, eggs, and coconut oil, and have 12g of protein per waffle.
Best Protein Waffle Recipe!
Want to know the best part about this protein waffles recipe? It makes 4 GIANT waffles, which means that if you're cooking for one, for the next 4 days you are guaranteed to get 12 grams of protein in your breakfast. Talk about starting your day off right.
Never ever did we think it would be possible to create a waffle recipe that had 12 grams of protein in one waffle that still tasted so fluffy and delicious. Often when we bake with whey protein powder, baked goods get a little too dense because of the makeup of the whey protein powder.
However, when you use a plant-based protein powder like we use in this recipe, baking with it actually ROCKS! It doesn't make the end result super thick or dense. You'll be eating fluffy protein waffles in no time.
PS: check out our Guide to Protein Powders to find the perfect protein powder for you!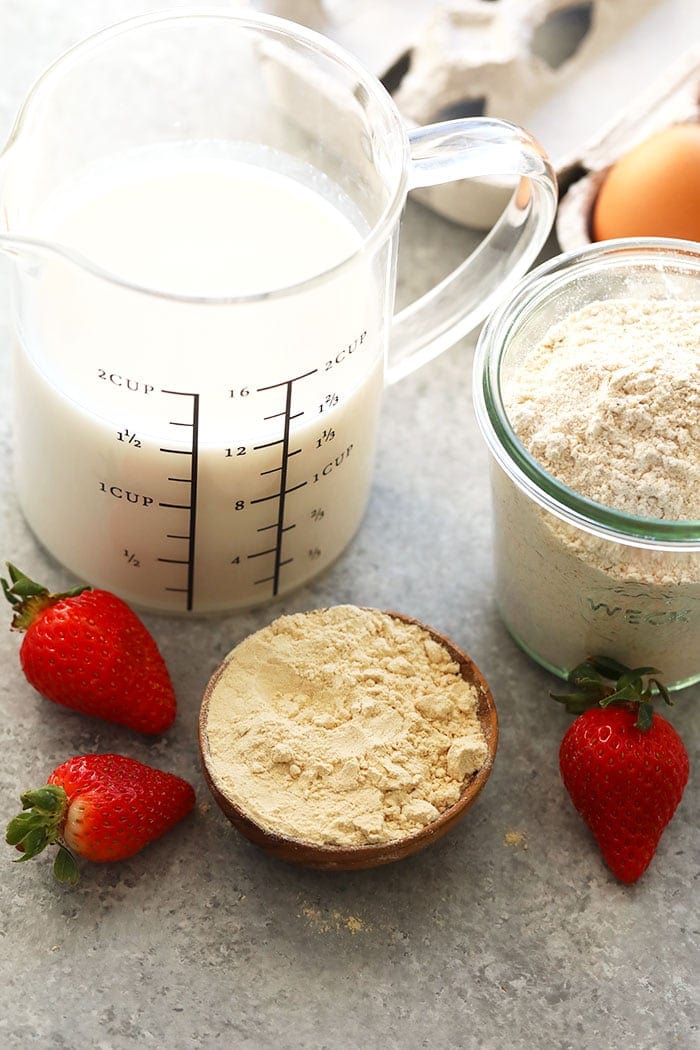 What kind of protein powder should I use in protein waffles?
When it comes to protein powder, you can really choose whatever product you prefer. The most important thing is that you like the flavor. Here are some of our favorites to use in protein waffles:
How To Make Protein Waffles
Step 1: Preheat Waffle Maker
Begin by preheating your waffle iron to medium heat.
Step 2: Mix Ingredients
Next, in a large bowl, mix together eggs, almond milk, and vanilla. Then, add in flour, protein powder (Make sure to use a plant-based protein powder! We used Garden Of Life), baking powder and baking soda.
Mix until combined. Then add in melted coconut oil and mix again. Depending on what plant-based protein powder you're using, you may have to add an additional splash or two of almond milk if your batter is too thick.
Step 3: Cook Waffles
Once your waffle maker is completely heated, lightly spray with non-stick cooking spray (we use coconut oil cooking spray) on both sides.
Then, pour about ½ cup of batter onto waffle maker, close, and flip. Let cook for about 1 and ½ to 2 minutes. Flip waffle maker and open. If it needs a little be more time to cook, close and flip over, let cook for about 20-30 seconds longer.
Step 4: Top & Enjoy
Use non-stick tongs to remove waffle from iron. Let cool for a few minutes because those things are going to be hot!
topping ideas
We topped our waffles with maple syrup and fresh strawberries. And then the next morning,  topped the leftovers with some almond butter and fresh strawberries (we'll get into how to reheat waffles below!). Here are a few more waffle toppings ideas as well:
nut butter
maple syrup
honey
walnuts
hemp hearts
fresh berries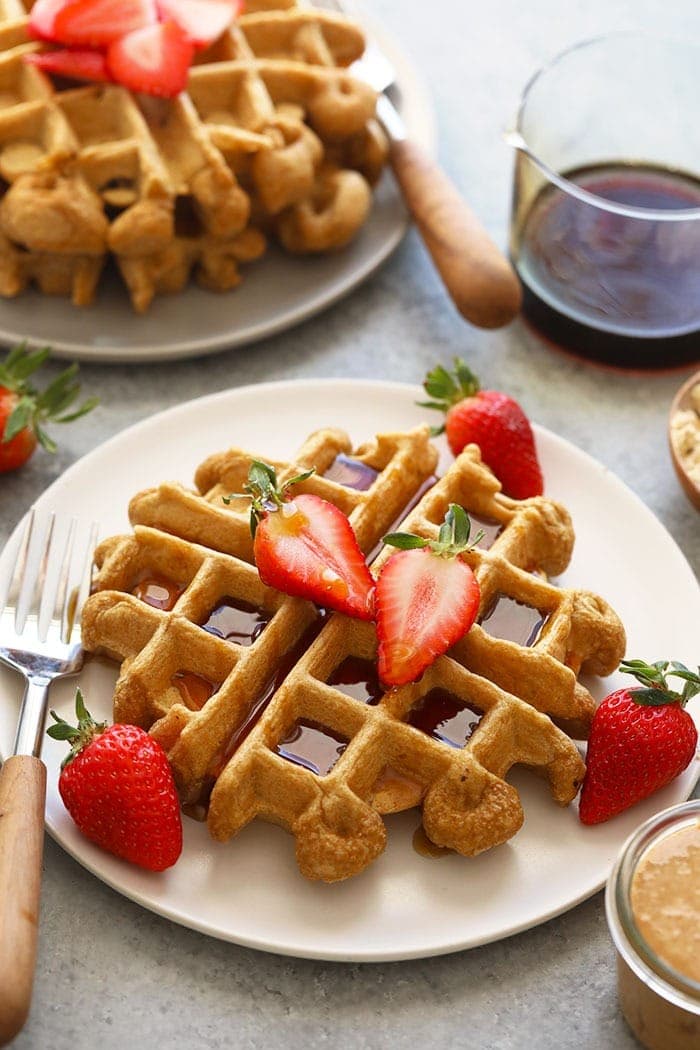 How to Freeze Waffles
This is a great recipe to either meal prep for the week or whip up a double or triple batch and then store in the freezer to have on hand whenever the healthy waffles mood strikes ya.
So, how do you freeze waffles?
First, let your waffles cool completely. The reason we do this is so that the waffles can come down to room temperature and stop producing so much moisture (steam). This will prevent freezer burn in the freezer and help your waffles stay nice and fresh.
Then, stack 2 servings of waffles (2 waffles) together. Tightly wrap them in a piece of plastic wrap, in a ziploc bag or in a Stasher bag. Make sure to remove as much air as possible, which will also help to prevent freezer burn.
Place waffles in the freezer and freeze for up to 3 months.
How do you reheat frozen waffles?
Option 1: Thaw waffles in the refrigerator overnight. Then, microwave for 60 seconds in the morning.
Option 2 (recommended): Cut frozen waffles in half and place in the toaster and toast on medium. We recommend this option as it will give you a crispier waffle, and who doesn't like a crispy waffle?!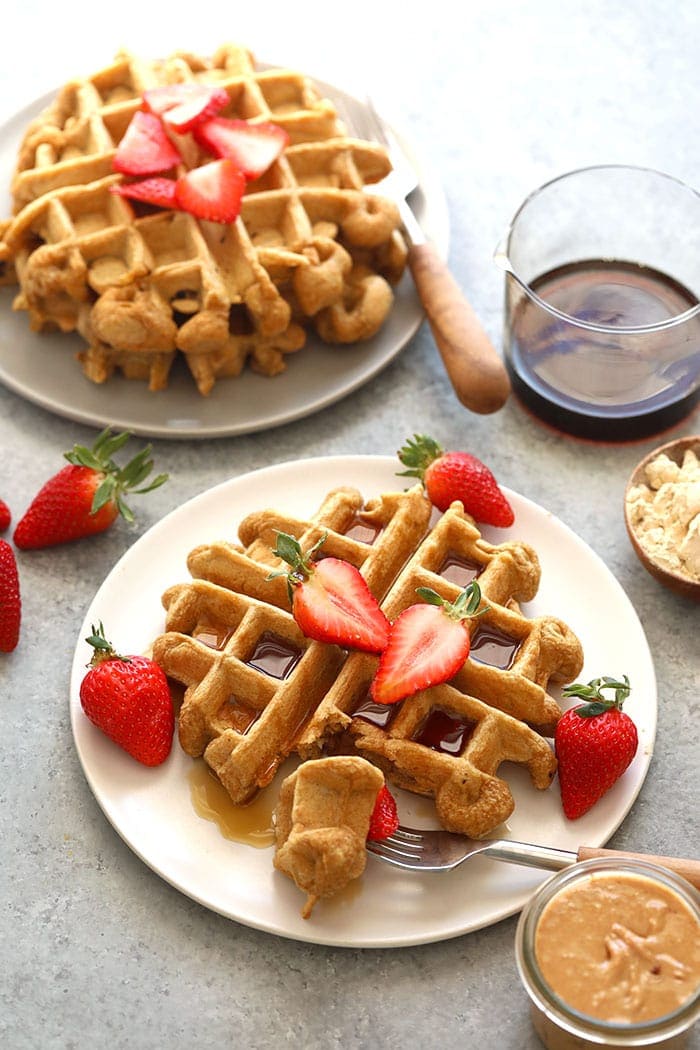 And let's not forget about the waffle's delicious cousin THE PANCAKE. We have many healthy pancake recipes for you to choose from on Fit Foodie Finds, including:
Healthy Pancake Recipes