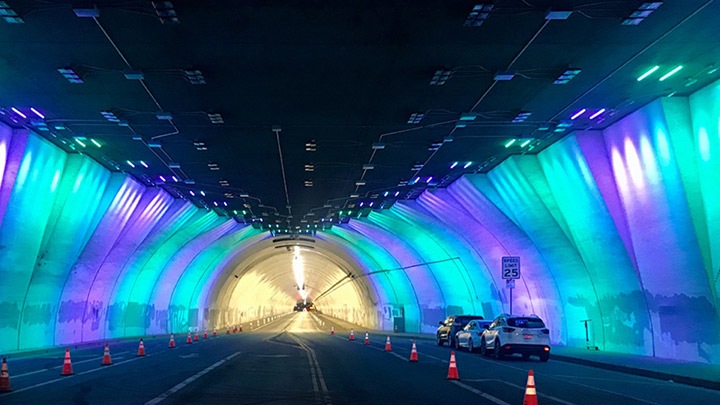 The Terminator, Kill Bill, Bon Jovi's "It's My Life" and the Weeknd's "Blinding Lights" – what do these movies and music videos have in common? All feature Los Angeles' (LA) 2nd Street Tunnel.
Dubbed the most recognizable city landmark most Americans have never heard of, the tunnel has evolved beyond its original design purpose of relieving traffic congestion into a staple within the entertainment world and LA community. And it recently underwent a major lighting upgrade!
Signify helped expand production possibilities and enhance commuter comfort with our Color Kinetics and Lumec solutions. Seeking to redesign the tunnel's entrance, The City of LA Bureau of Street Lighting wanted to blend the city's historical lighting with dramatic color on the west end of the tunnel.
We teamed up with Forman & Associates to create a flexible display of light that can support any production need. It can also help boost local engagement – bringing the community together by illuminating the city's special occasions, like sporting team victories or holidays. Our dynamic Color Kinetics exterior architectural lighting products offer uniform, high-quality white, pastel and saturated color light. Color Kinetics ColorBlast Intellihue Powercore gen4 and Color Kinetics Vaya Tube, RGB luminaires were selected for the project.