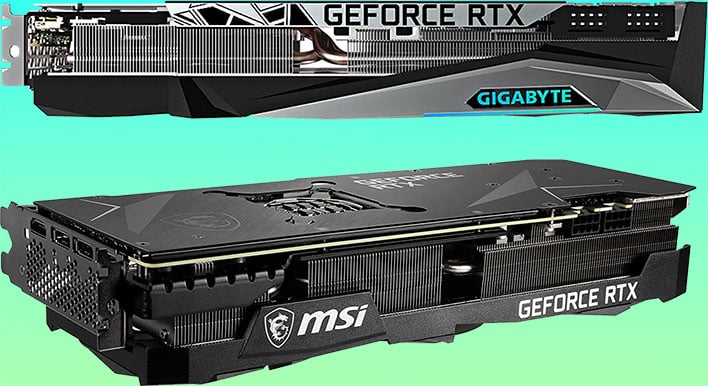 The top selling graphics card on Amazon is Gigabyte's
GeForce RTX 3080 Ti
Gaming OC with a factory overclock and custom 3X Windforce cooling solution. After that, MSI's GeForce RTX 3080 (LHR) is the next best-selling GPU, followed by Zotac's GeForce RTX 3060 Twin Edge OC. And so it goes for the top 10 best sellers—all are GeForce RTX 30 series graphics cards with nary an AMD GPU in sight.
Only two GPUs out of the top 20 best sellers are
AMD
graphics cards, both XFX Speedster cards: Radeon RX 6600 XT (No. 12) Radeon RX 6600 Core (No. 14). And if we expand the list to the top 50 best selling cards (while not accounting for odd entries like GPU braces and brackets),
NVIDIA
's GPUs account for 44 of those spots, or 88 percent.
Nevertheless, these lists at two major retailers paint and somewhat puzzling picture. We're not surprised that NVIDIA is taking the lion's share of GPU sales at retail, but to claim 44 and 49 spots of the top 50 best sellers at Amazon and Newegg, respectively, is a bit unexpected.