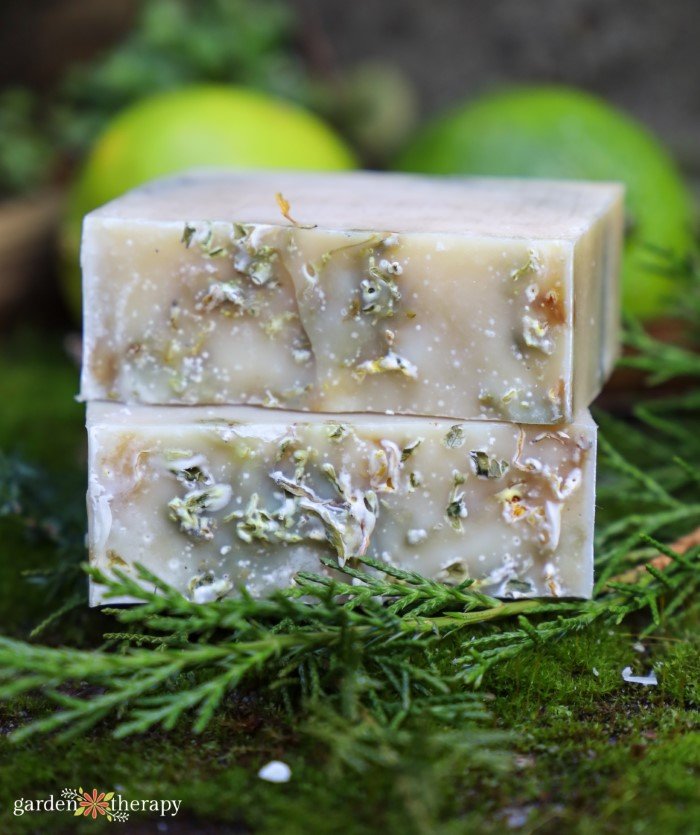 Made from the mighty cedar tree, cedarwood essential oil creates a relaxing aroma that can't be ignored. Once combined with the sweet yet tart fragrance of lime, you have a slightly masculine and refreshing soap. Delicately speckled with spirulina powder for colour, add this lime and cedarwood soap recipe to your winter crafting list.
If you're looking for a masculine essential oil blend for soap, you can't go wrong with the combination of cedarwood and lime. It's got the bright and fresh scent of lime coupled with the earthy, deep, and woodsy scent of cedarwood.
The blend creates a nice scent for the fall and winter months and makes a great gift for those who like those earthy masculine scents. This is a very clean and fresh soap that is good for deodorizing, but also cozy and nourishing.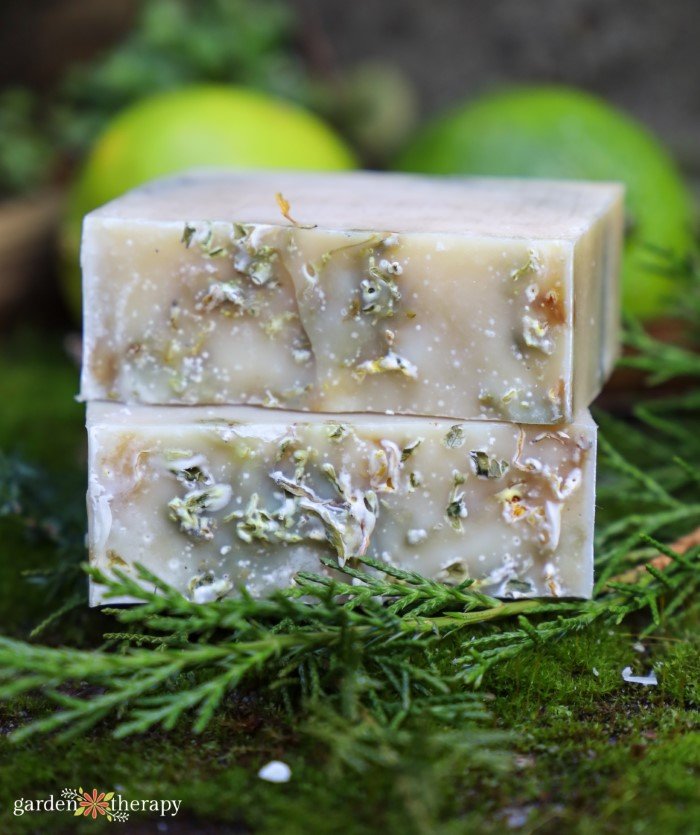 What Does Cedarwood Soap Smell Like?
When I think of cedarwood essential oil, my mind goes to a newly built deck, a fresh layer of mulch, an antique cedarwood chest, and perhaps most of all, pencils! Cedar trees have one of the strongest scents in nature and once it's cut, you can smell it from many feet away.
Over the years, cedarwood has turned into a more masculine scent as it is used in many aftershaves, deodorants, and other products tailored to men. While some may consider this a manly soap, I adore the scent and will use it any day of the week on myself.
The best way I can describe the scent of cedarwood would be the feeling of a deep walk through the wood. Sweet and woody, it has balsamic undertones and smells a little spicier than other wood oils. Keep in mind, there are many different types of cedarwood trees and each oil will smell a little different.
I can't get enough of cedarwood. In fact, I have another cedarwood-inspired winter forest soap perfect for the holiday season.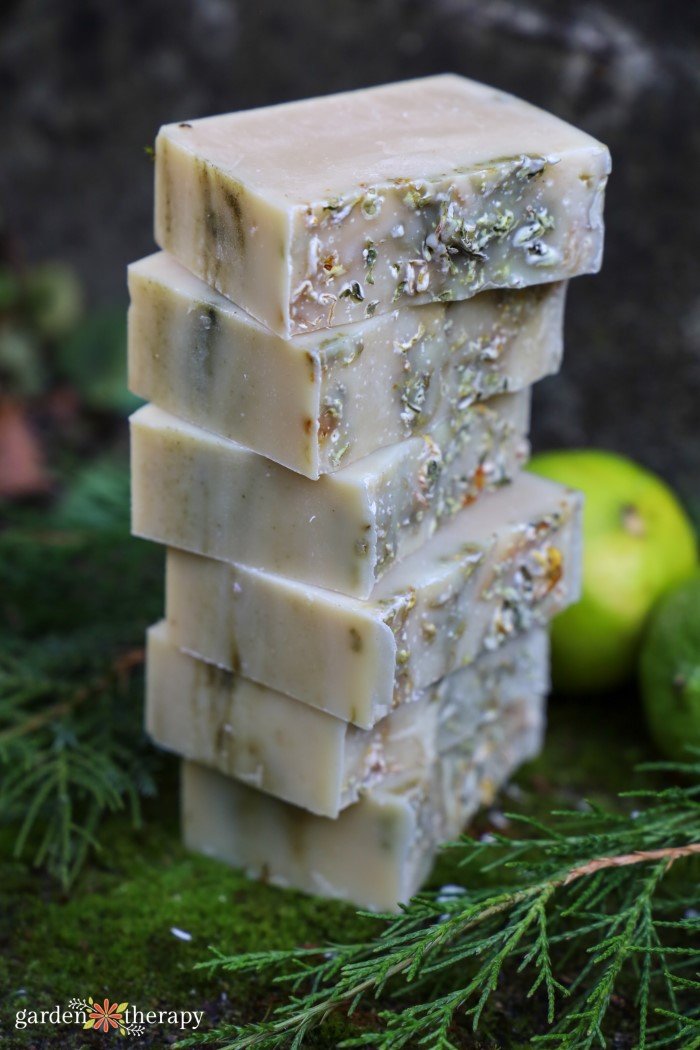 What is Cedarwood Soap Good For?
We can put a big checkmark next to the scent of cedarwood soap, but what exactly is it good for? The cedarwood essential oil is playing double duty in this recipe, providing both a refreshing scent as well as plenty of skin benefits.
The scent itself is extremely strong and works well for deodorizing. You can use the soap to refresh after the gym or a long day working outside in the garden. Your skin will carry a lighter version of the scent and leave you smelling like a walk in the woods.
The antibacterial properties of cedarwood essential oil also help to improve acne and other skin irritations by reducing pain, swelling, and inflammation.
Some people also use the scent for meditation. It is said to have metaphysical properties that can help increase a spiritual connection. The oil is known for being a sedative, working to decrease anxiety and encourage a night of better sleep.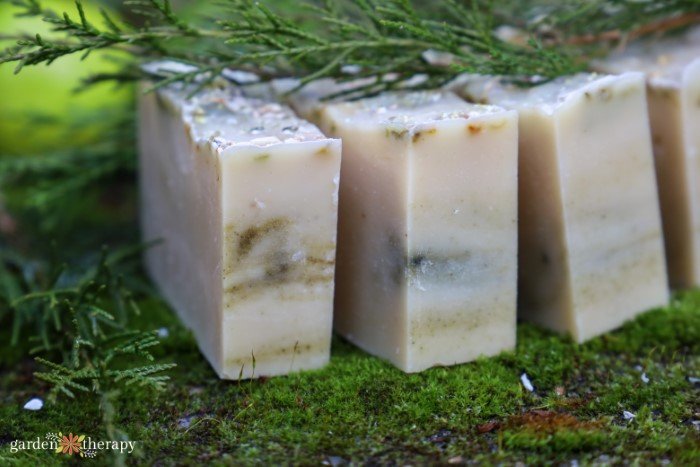 The Benefits of Lime Soap
Now we can't forget about the other half of this super duo! Much like its taste, lime has a zesty and slightly sour scent. And just like lemon, it's packed full of antioxidants that certainly can't hurt to apply to the skin.
A relatively affordable essential oil, lime is known most for its astringent and antiseptic properties. Many use it to purify and cleanse, as it's known for treating skin irritations such as acne and soothe inflamed surfaces.
While you can use this soap any time of the year, I especially like it for use in the winter.
This recipe is a very moisturizing lime soap that will help to keep your hands from drying out. After all, winter has a nasty habit of sucking out every ounce of moisture from our skin. This can result in cracking skin, which can fill with unwanted bacteria and create more skin problems.
But in comes the cleansing lime to save the day! Your winter skin will be more than happy to soak in the lather of this lime and cedarwood soap.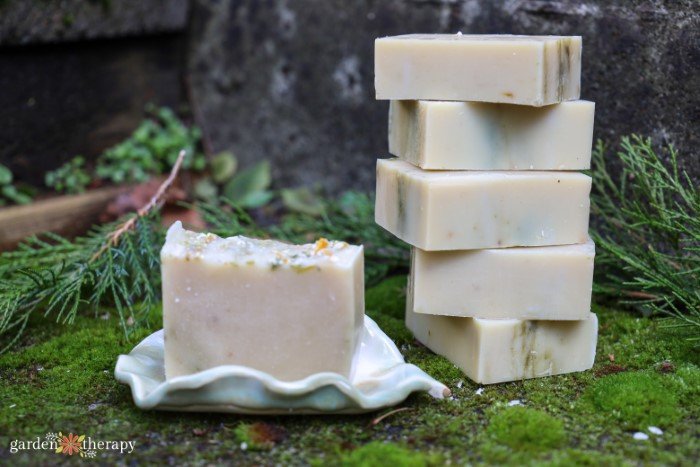 Lime and Cedarwood Soap Recipe
Delight the senses with this lime and cedar soap, perfect for mimicking the freshness of the cool season. This is one of the many soap recipes I have on Garden Therapy! For more detailed instructions, be sure to check out my basic cold process soap recipe.
This cedar soap is coloured with spirulina powder. Spirulina powder has a deep blue-green colour as it's dried algae. Keep in mind that the colour does fade over time.
Add it generously (I use 1 tsp) knowing that the colour will become less prominent the older the soap gets. I also topped it with calendula petals and dried parsley, both of which hold their colour really well in soap!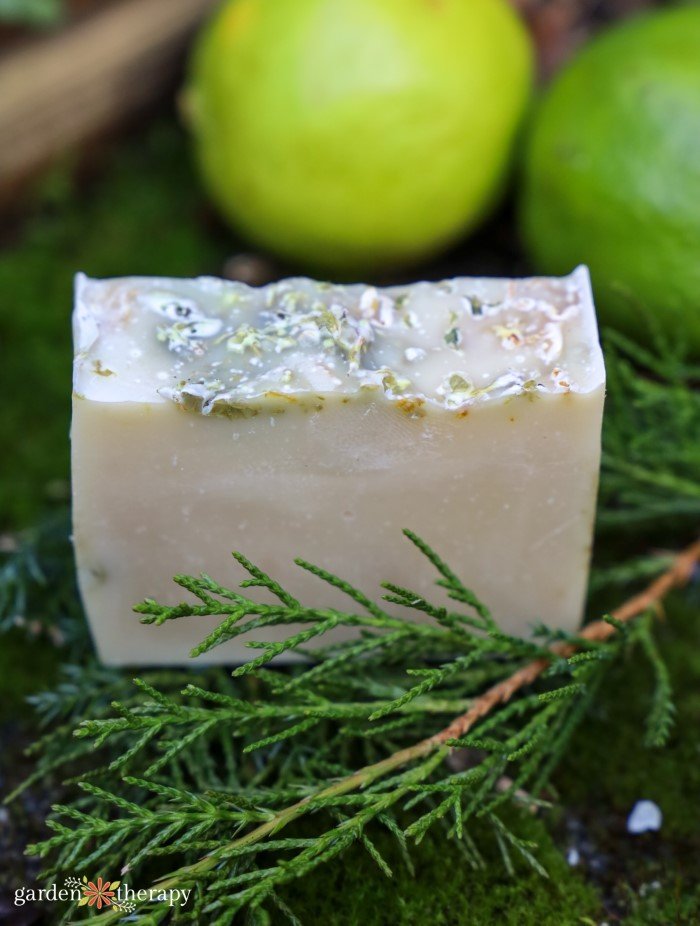 Ingredients
This recipe makes 2 lbs of soap. See the recipe card for exact measurements.
Materials
Make It!
Before you get started, measure out all your ingredients beforehand with a kitchen scale.
Melt all your oils and cocoa butter together over low heat. You want a temperature of 115° F.
While your oils are heating, make your lye water in the heatproof glass. Stir continuously in a well-ventilated area until completely dissolved. Move the glass to an ice bath until it also cools to a temperature of 115° F.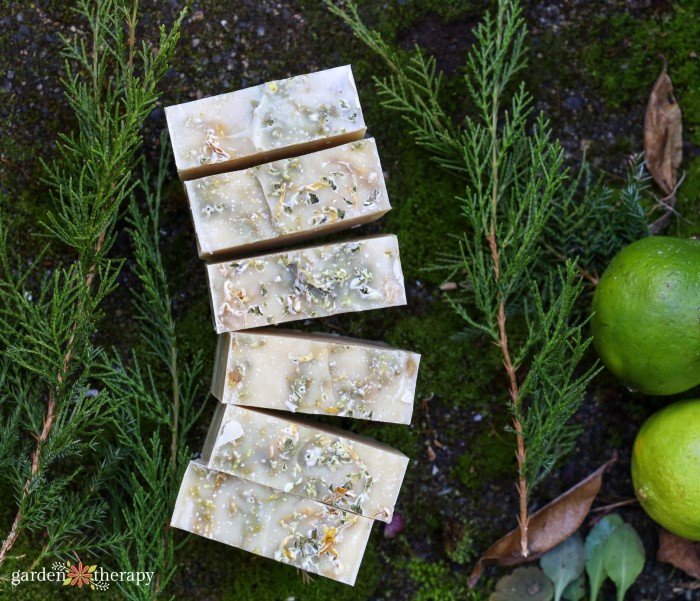 Ensure your oil and lye water are at the same temperature, and then slowly add the water to the oils in a large bowl. Use the immersion blender and blend until it reaches a light trace. Add in your essential oils and blend in well.
Next, I add a teaspoon of spirulina to one side of the bowl and use my spatula in small circles just along the edge of the bowl. This mixes the spirulina with the soap without spreading it throughout the entire mixture. Once the powder is mixed into a dark green circle at the edge of the bowl, I pull it through the soap once or twice before pouring it into the soap mold.
Sprinkle the top with calendula petals and dried parsley. Move the soap somewhere warm for 48 hours before unmolding the soap. You can then cut it into sections and let it cure in a cool dark place for 3 weeks before lathering up.
More Soap-Making Posts